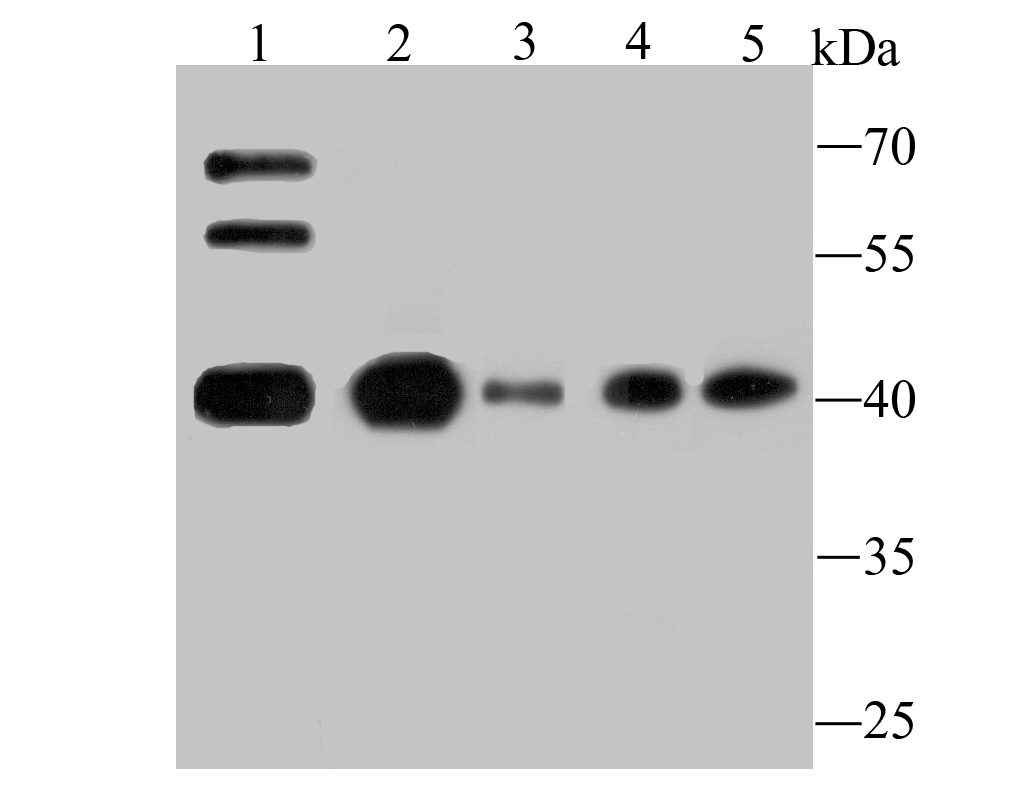 Western blot analysis of Apg3 on different lysates. Proteins were transferred to a PVDF membrane and blocked with 5% BSA in PBS for 1 hour at room temperature. The primary antibody (ET1706-29, 1/500) was used in 5% BSA at room temperature for 2 hours. Goat Anti-Rabbit IgG - HRP Secondary Antibody (HA1001) at 1:5,000 dilution was used for 1 hour at room temperature.
Positive control:
Lane 1: Mouse testis tissue
Lane 2: K562 cell lysate
Lane 3: HL-60 cell lysate
Lane 4: Hela cell lysate
Lane 5: Jurkat cell lysate
SPECIFICATIONS
Product Type
Recombinant Rabbit monoclonal primary
Product Name
Recombinant Apg3 Monoclonal Antibody (ET1706-29)
Positive Control
Mouse testis tissue lysate, K562, HL-60, Hela, Jurkat, human tonsil tissue, human thyroid gland tissue, human colon cancer tissue, mouse small intestine tissue.
PROPERTIES
Storage Condition
Store at +4C after thawing. Aliquot store at -20C or -80C. Avoid repeated freeze / thaw cycles.
Storage Buffer
1*TBS (pH7.4), 0.05% BSA, 40% Glycerol. Preservative: 0.05% Sodium Azide.
TARGET
SYNONYMS
2610016C12Rik antibody; Apg 3 antibody; APG3 antibody; APG3 autophagy 3 like antibody; APG3 like antibody; APG3, S. cerevisiae, homolog of antibody; APG3-like antibody; APG3L antibody; Apg3p antibody; ATG 3 antibody; ATG3 antibody; ATG3 autophagy related 3 homolog antibody; ATG3 autophagy related 3 homolog (S. cerevisiae) antibody; ATG3_HUMAN antibody; Autophagy 3, S. cerevisiae, homolog of antibody; Autophagy Apg3p/Aut1p like antibody; autophagy related 3 antibody; Autophagy related protein 3 antibody; Autophagy-related protein 3 antibody; DKFZp564M1178 antibody; FLJ22125 antibody; hApg3 antibody; MGC15201 antibody; OTTHUMP00000214547 antibody; OTTHUMP00000214548 antibody; PC3 96 antibody; Protein PC3-96 antibody; Ubiquitin-like-conjugating enzyme ATG3 antibody
SEQUENCE SIMILARITIES
Belongs to the ATG3 family.
TISSUE SPECIFICITY
Widely expressed, with a highest expression in heart, skeletal muscle, kidney, liver and placenta.
POST-TRANSLATIONAL MODIFICATION
Conjugated to ATG12 at Lys-243. ATG12-conjugation plays a role in regulation of mitochondrial homeostasis and cell death, while it is not involved in PE-conjugation to ATG8-like proteins and autophagy.; Cleaved by CASP8 upon death ligand binding such as tumor necrosis factor-alpha. CASP8 cleavage blocks survival-related autophagy and favors apoptosis.
FUNCTION
Atg3 (autophagy-related protein 3), also known as APG3-like, hAPG3 or PC3-96, is an E2-like enzyme that localizes to the cytoplasm and is expressed in a variety of tissues with predominant levels found in kidney, placenta, liver, heart and skeletal muscle. Atg3 catalyzes the formation of the Atg8-phosphatidylethanolamine (Atg8-PE) conjugate, a reaction that is essential for autophagy (a cellular process that allows for the degradation of organelles and bulk cellular proteins). The process of forming the Atg8-PE conjugate begins with the removal of the C-terminal arginine residue of Atg8 by Atg4, a cysteine protease. The, now exposed, glycine residue is then activated by Atg7 and is then transferred to Atg3 for the final conjugation to PE. This last step can be accelerated by the presence of the Atg12-Atg5 conjugate which functions similarly to an E3 enzyme.