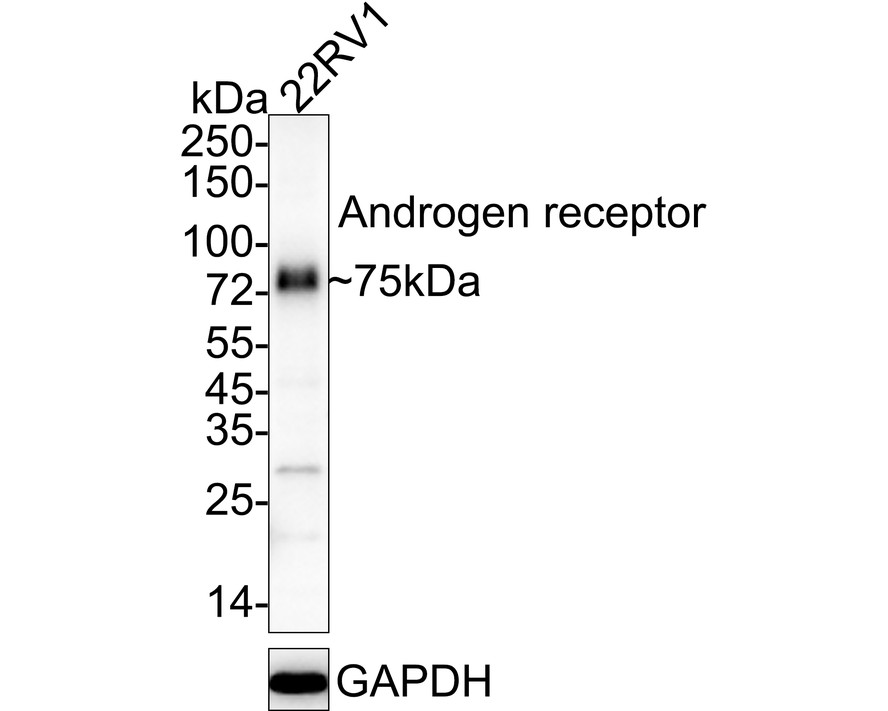 ICC staining Androgen receptor in PC-3M cells (green). The nuclear counter stain is DAPI (blue). Cells were fixed in paraformaldehyde, permeabilised with 0.25% Triton X100/PBS.
SPECIFICATIONS
Product Type
Recombinant Rabbit monoclonal primary
Product Name
Recombinant Androgen receptor Monoclonal Antibody (ET1609-18)
Immunogen
Synthetic peptide within c terminal of human androgen receptor (p10275-3).
PROPERTIES
Storage Condition
Store at +4C after thawing. Aliquot store at -20C or -80C. Avoid repeated freeze / thaw cycles.
Storage Buffer
1*TBS (pH7.4), 0.05% BSA, 40% Glycerol. Preservative: 0.05% Sodium Azide.
TARGET
SYNONYMS
AIS antibody; ANDR_HUMAN antibody; Androgen nuclear receptor variant 2 antibody; Androgen receptor (dihydrotestosterone receptor; testicular feminization; spinal and bulbar muscular atrophy; Kennedy disease) antibody; Androgen receptor antibody; androgen receptor splice variant 4b antibody; AR antibody; AR8 antibody; DHTR antibody; Dihydro testosterone receptor antibody; Dihydrotestosterone receptor (DHTR) antibody; Dihydrotestosterone receptor antibody; HUMARA antibody; HYSP1 antibody; KD antibody; Kennedy disease (KD) antibody; NR3C4 antibody; Nuclear receptor subfamily 3 group C member 4 (NR3C4) antibody; Nuclear receptor subfamily 3 group C member 4 antibody; SBMA antibody; SMAX1 antibody; Spinal and bulbar muscular atrophy (SBMA) antibody; Spinal and bulbar muscular atrophy antibody; Testicular Feminization (TFM) antibody; TFM antibody
SEQUENCE SIMILARITIES
Belongs to the nuclear hormone receptor family. NR3 subfamily.
TISSUE SPECIFICITY
Isoform 2 is mainly expressed in heart and skeletal muscle. Isoform 3 is expressed by basal and stromal cells of prostate (at protein level).
POST-TRANSLATIONAL MODIFICATION
Sumoylated on Lys-388 (major) and Lys-521. Ubiquitinated. Deubiquitinated by USP26. 'Lys-6' and 'Lys-27'-linked polyubiquitination by RNF6 modulates AR transcriptional activity and specificity.; Phosphorylated in prostate cancer cells in response to several growth factors including EGF. Phosphorylation is induced by c-Src kinase (CSK). Tyr-535 is one of the major phosphorylation sites and an increase in phosphorylation and Src kinase activity is associated with prostate cancer progression. Phosphorylation by TNK2 enhances the DNA-binding and transcriptional activity and may be responsible for androgen-independent progression of prostate cancer. Phosphorylation at Ser-83 by CDK9 regulates AR promoter selectivity and cell growth. Phosphorylation by PAK6 leads to AR-mediated transcription inhibition.; Palmitoylated by ZDHHC7 and ZDHHC21. Palmitoylation is required for plasma membrane targeting and for rapid intracellular signaling via ERK and AKT kinases and cAMP generation.
FUNCTION
Androgens exhibit a wide range of effects on the development, maintenance and regulation of male phenotype and male reproductive physiology. The androgen receptor (AR) is a member of the steroid superfamily of ligand-dependent transcription factors. ARs bind the two biologically active androgens, testosterone (T) and dihydrotestosterone (DHT), with high and nearly identical affinities; however, the rates of association and dissociation of T are about three times more rapid than those of DHT. This difference has resulted in speculation as to whether these differences in binding kinetics could account for the different physiological effects of T and DHT. A striking feature of AR is its rapid degradation in the absence of ligand. It is now well established that androgen binding results in an at least six-fold increase in androgen stability and that ligand-induced stabilization of AR is highly androgen- specific.