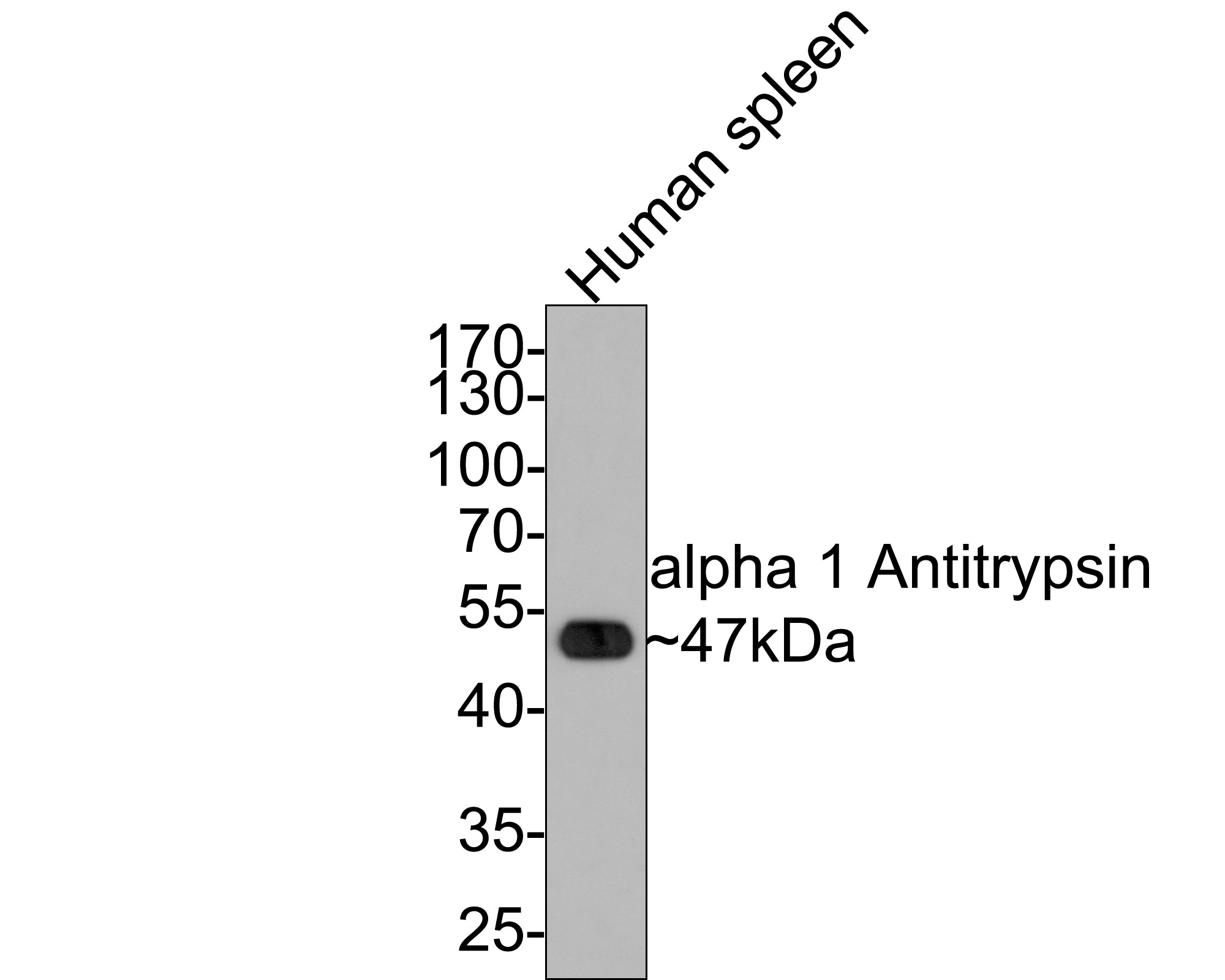 Western blot analysis of alpha 1 Antitrypsin on human spleen lysates using anti-alpha 1 Antitrypsin antibody at 1/1,000 dilution.
SPECIFICATIONS
Product Type
Recombinant Rabbit monoclonal primary
Product Name
Recombinant alpha 1 Antitrypsin Monoclonal Antibody (ET1702-87)
Positive Control
MCF-7, Hela, HepG2, human spleen tissue, human liver tissue, human breast carcinoma tissue.
PROPERTIES
Storage Condition
Store at +4C after thawing. Aliquot store at -20C or -80C. Avoid repeated freeze / thaw cycles.
Storage Buffer
1*TBS (pH7.4), 0.05% BSA, 40% Glycerol. Preservative: 0.05% Sodium Azide.
TARGET
SYNONYMS
A1A antibody; A1AT antibody; A1AT_HUMAN antibody; AAT antibody; Alpha 1 antiproteinase antibody; Alpha 1 antitrypsin antibody; Alpha 1 antitrypsin null antibody; Alpha 1 protease inhibitor antibody; Alpha-1 protease inhibitor antibody; Alpha-1-antiproteinase antibody; alpha1 proteinase inhibitor antibody; Alpha1AT antibody; Dom1 antibody; PI antibody; PI1 antibody; PRO2275 antibody; Serine (or cysteine) proteinase inhibitor clade A member 1 antibody; Serine protease inhibitor 1-1 antibody; Serine protease inhibitor A1a antibody; Serpin A1 antibody; Serpin A1a antibody; Serpin peptidase inhibitor clade A member 1 antibody; Serpina1 antibody; Short peptide from AAT antibody; SPAAT antibody; Spi1-1 antibody
SEQUENCE SIMILARITIES
Belongs to the serpin family.
TISSUE SPECIFICITY
Ubiquitous. Expressed in leukocytes and plasma.
POST-TRANSLATIONAL MODIFICATION
N-glycosylated. Differential glycosylation produces a number of isoforms. N-linked glycan at Asn-107 is alternatively di-antennary, tri-antennary or tetra-antennary. The glycan at Asn-70 is di-antennary with trace amounts of tri-antennary. Glycan at Asn-271 is exclusively di-antennary. Structure of glycans at Asn-70 and Asn-271 is Hex5HexNAc4. The structure of the antennae is Neu5Ac(alpha1-6)Gal(beta1-4)GlcNAc attached to the core structure Man(alpha1-6)[Man(alpha1-3)]Man(beta1-4)GlcNAc(beta1-4)GlcNAc. Some antennae are fucosylated, which forms a Lewis-X determinant.; Proteolytic processing may yield the truncated form that ranges from Asp-30 to Lys-418.; (Microbial infection) Proteolytically processed by Staphylococcus aureus seryl, cysteinyl, and metallo-proteases.
SUBCELLULAR LOCATION
Secreted, Endoplasmic reticulum.
FUNCTION
Cumulative damage to lung tissue by Neutrophil Elastase is responsible for the development of pulmonary emphysema, an irreversible lung disease characterized by loss of lung elasticity. a 1-antitrypsin (AAT), a 394 amino acid hepatic acute phase protein, predominantly inhibits Neutrophil Elastase. AAT is highly expressed in liver and in cultured hepatoma cells and, to a lesser extent, in macrophages. AAT is a highly polymorphic glycosylated serum protein with characteristic isoelectric-focusing patterns for most variants. The gene encoding AAT maps to a region of human chromosome 14 that includes a related serine protease inhibitor (serpin) gene which encodes corticosteroid-binding globulin. Oxidation of the methionine 358 residue in the active center of AAT results in a dramatic decrease in inhibitory activity towards elastase. AAT also has a moderate affinity for plasmin and Thrombin. AAT deficiency is associated with a 20-30 fold increased risk of precocious pulmonary emphysema.