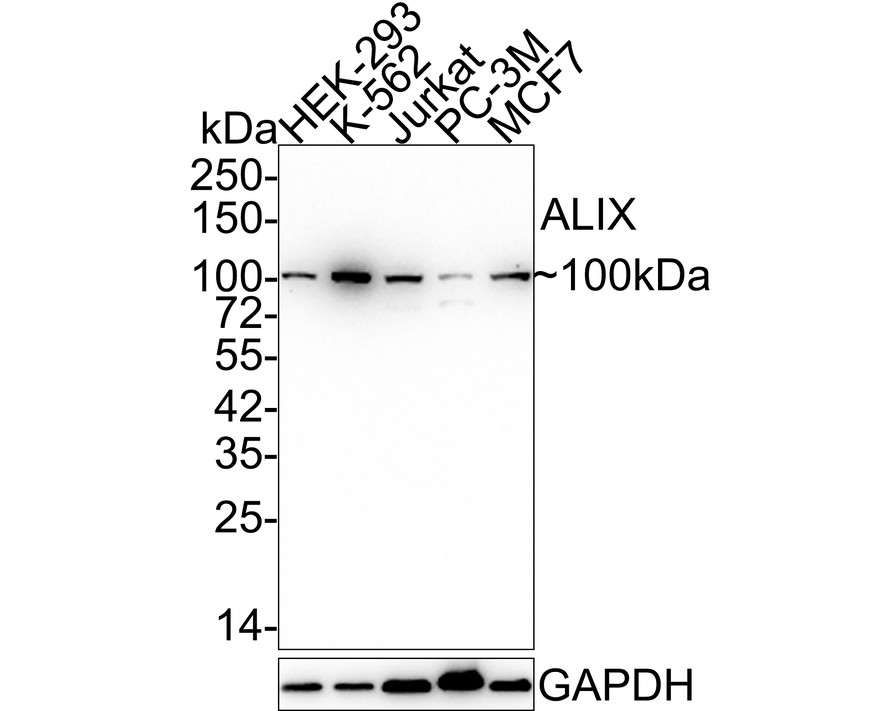 Western blot analysis of ALIX on different cell lysates using anti-ALIX antibody at 1/1,000 dilution.
Positive control:
Lane 1: Hela Lane 2: PC-12 Lane 3: NIH-3T3
SPECIFICATIONS
Product Type
Recombinant Rabbit monoclonal primary
Product Name
Recombinant ALIX Monoclonal Antibody (ET1705-74)
Positive Control
Hela, PC-12, NIH-3T3, rat stomach tissue, human colon cancer tissue, human prostate tissue, Jurkat.
PROPERTIES
Storage Condition
Store at +4C after thawing. Aliquot store at -20C or -80C. Avoid repeated freeze / thaw cycles.
Storage Buffer
1*TBS (pH7.4), 0.05% BSA, 40% Glycerol. Preservative: 0.05% Sodium Azide.
TARGET
PROTEIN NAME
Programmed cell death 6-interacting protein
SYNONYMS
PDCD6-interacting protein, PDCD6IP, AIP1, ALIX, KIAA1375
POST-TRANSLATIONAL MODIFICATION
May be phosphorylated on tyrosine residues by activated PDGFRB.
SUBCELLULAR LOCATION
Cytoplasm, cytosol. Cytoplasm, cytoskeleton, microtubule organizing center, centrosome. Secreted, extracellular exosome. Cell junction, tight junction. Note=Identified by mass spectrometry in melanosome fractions from stage I to stage IV. Colocalized with CEP55 at centrosomes of non-dividing cells. Component of the actomyosin-tight junction complex (By similarity). PDCD6IP targeting to the midbody requires the interaction with CEP55.
FUNCTION
Multifunctional protein involved in endocytosis, multivesicular body biogenesis, membrane repair, cytokinesis, apoptosis and maintenance of tight junction integrity. Class E VPS protein involved in concentration and sorting of cargo proteins of the multivesicular body (MVB) for incorporation into intralumenal vesicles (ILVs) that are generated by invagination and scission from the limiting membrane of the endosome. Binds to the phospholipid lysobisphosphatidic acid (LBPA) which is abundant in MVBs internal membranes. The MVB pathway requires the sequential function of ESCRT-O, -I,-II and -III complexes. The ESCRT machinery also functions in topologically equivalent membrane fission events, such as the terminal stages of cytokinesis. Adapter for a subset of ESCRT-III proteins, such as CHMP4, to function at distinct membranes. Required for completion of cytokinesis. May play a role in the regulation of both apoptosis and cell proliferation. Regulates exosome biogenesis in concert with SDC1/4 and SDCBP. By interacting with F-actin, PARD3 and TJP1 secures the proper assembly and positioning of actomyosin-tight junction complex at the apical sides of adjacent epithelial cells that defines a spatial membrane domain essential for the maintenance of epithelial cell polarity and barrier (By similarity).; (Microbial infection) Involved in HIV-1 virus budding. Can replace TSG101 it its role of supporting HIV-1 release; this function requires the interaction with CHMP4B. The ESCRT machinery also functions in topologically equivalent membrane fission events, such as enveloped virus budding (HIV-1 and other lentiviruses).