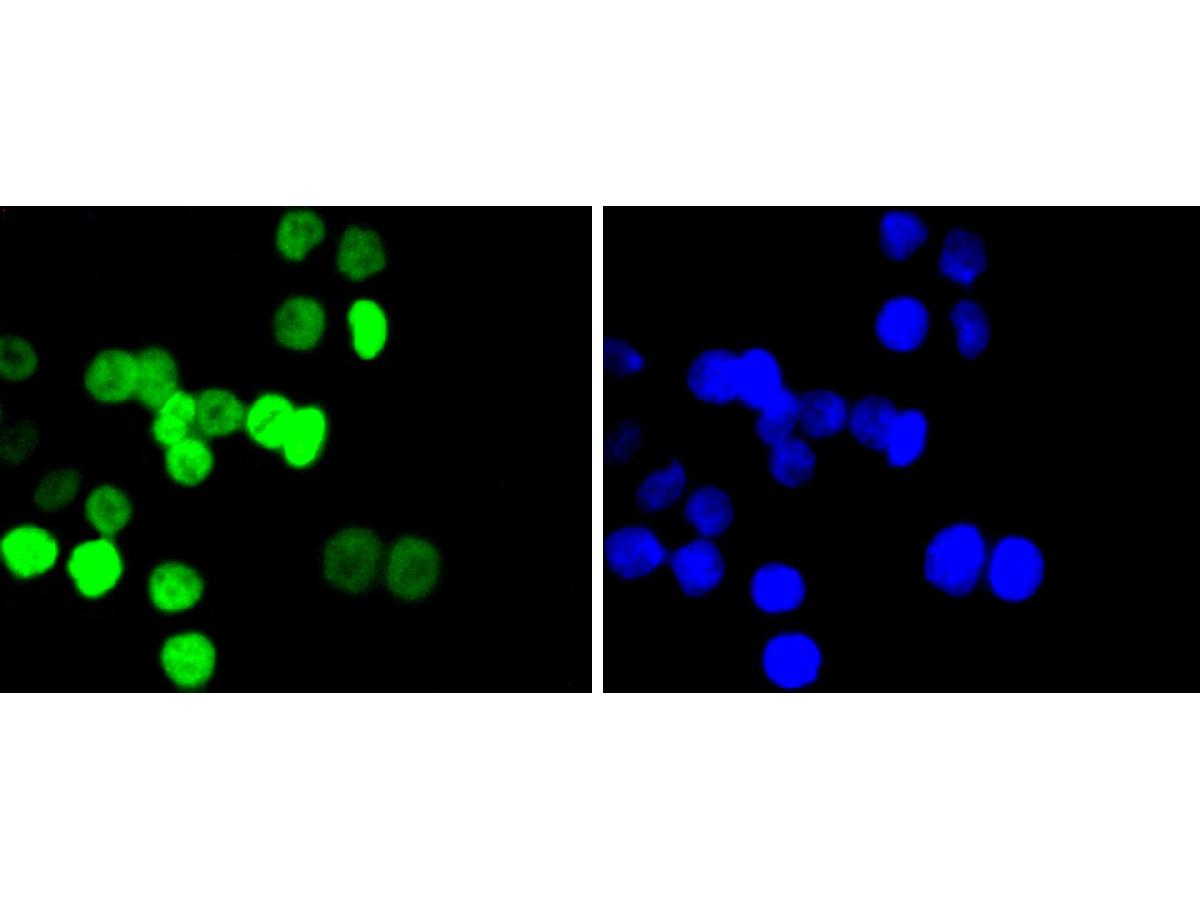 ICC staining Histone H2B(acetyl K20) in SW480 cells (green). The nuclear counter stain is DAPI (blue). Cells were fixed in paraformaldehyde, permeabilised with 0.25% Triton X100/PBS.
SPECIFICATIONS
Product Type
Recombinant Rabbit monoclonal primary
Product Name
Recombinant Acetyl Histone H2B (acetyl K20) Monoclonal Antibody (ET1611-48)
Positive Control
SW480, MCF-7, Hela, human tonsil tissue, human kidney tissue, human colon tissue, mouse colon tissue, human colon cancer tissue, mouse kidney tissue, human breast carcinoma tissue.
PROPERTIES
Storage Condition
Store at +4C after thawing. Aliquot store at -20C or -80C. Avoid repeated freeze / thaw cycles.
Storage Buffer
1*TBS (pH7.4), 0.05% BSA, 40% Glycerol. Preservative: 0.05% Sodium Azide.
TARGET
SYNONYMS
H2B 1A antibody; H2B antibody; H2B histone family antibody; H2B2f antibody; H2B2F_HUMAN antibody; H2Ba antibody; H2Bf antibody; HIST2H2BF antibody; histone H2B antibody; histone H2B type 1 antibody; Histone H2B type 2-F antibody; MGC131639 antibody
SEQUENCE SIMILARITIES
Belongs to the histone H2B family.
POST-TRANSLATIONAL MODIFICATION
Monoubiquitination at Lys-35 (H2BK34Ub) by the MSL1/MSL2 dimer is required for histone H3 'Lys-4' (H3K4me) and 'Lys-79' (H3K79me) methylation and transcription activation at specific gene loci, such as HOXA9 and MEIS1 loci. Similarly, monoubiquitination at Lys-121 (H2BK120Ub) by the RNF20/40 complex gives a specific tag for epigenetic transcriptional activation and is also prerequisite for histone H3 'Lys-4' and 'Lys-79' methylation. It also functions cooperatively with the FACT dimer to stimulate elongation by RNA polymerase II. H2BK120Ub also acts as a regulator of mRNA splicing: deubiquitination by USP49 is required for efficient cotranscriptional splicing of a large set of exons.; Phosphorylation at Ser-37 (H2BS36ph) by AMPK in response to stress promotes transcription (By similarity). Phosphorylated on Ser-15 (H2BS14ph) by STK4/MST1 during apoptosis; which facilitates apoptotic chromatin condensation. Also phosphorylated on Ser-15 in response to DNA double strand breaks (DSBs), and in correlation with somatic hypermutation and immunoglobulin class-switch recombination.; GlcNAcylation at Ser-113 promotes monoubiquitination of Lys-121. It fluctuates in response to extracellular glucose, and associates with transcribed genes (By similarity).; Crotonylation (Kcr) is specifically present in male germ cells and marks testis-specific genes in post-meiotic cells, including X-linked genes that escape sex chromosome inactivation in haploid cells. Crotonylation marks active promoters and enhancers and confers resistance to transcriptional repressors. It is also associated with post-meiotically activated genes on autosomes.
FUNCTION
Eukaryotic histones are basic and water soluble nuclear proteins that form hetero-octameric nucleosome particles by wrapping 146 base pairs of DNA in a left-handed super-helical turn sequentially to form chromosomal fiber. Two molecules of each of the four core histones (H2A, H2B, H3, and H4) form the octamer; formed of two H2A-H2B dimers and two H3-H4 dimers, forming two nearly symmetrical halves by tertiary structure. Over 80% of nucleosomes contain the linker Histone H1, derived from an intronless gene, that interacts with linker DNA between nucleosomes and mediates compaction into higher order chromatin. Histones are subject to posttranslational modification by enzymes primarily on their N-terminal tails, but also in their globular domains. Such modifications include methylation, citrullination, acetylation, phosphorylation, sumoylation, ubiquitination and ADP-ribosylation.
CITATIONS
Qin, Ge et al.

Panobinostat (LBH589) inhibits Wnt/�_-catenin signaling pathway via upregulating APCL expression in breast cancer. | Cellular Signalling [2019]