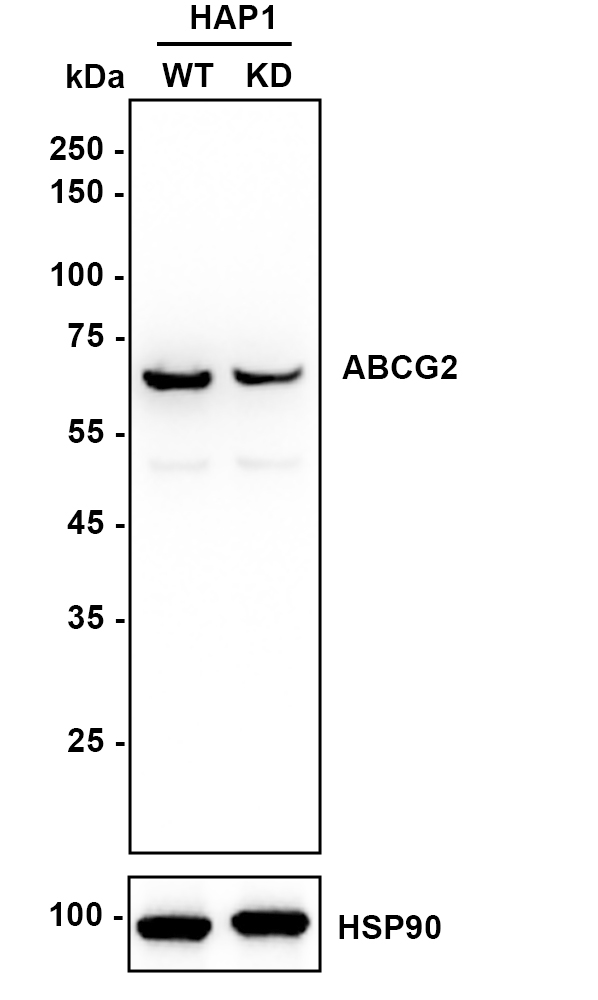 Western blot analysis of ABCG2 on different lysates using anti-ABCG2 antibody at 1/1,000 dilution.
Positive control:
Lane 1: HepG2
Lane 2: Human placenta
SPECIFICATIONS
Product Type
Recombinant Rabbit monoclonal primary
Product Name
Recombinant ABCG2 Monoclonal Antibody (ET1702-40)
Positive Control
293T, MCF-7, Hela, HepG2, human placenta tissue, mouse placenta tissue.
PROPERTIES
Storage Condition
Store at +4C after thawing. Aliquot store at -20C or -80C. Avoid repeated freeze / thaw cycles.
Storage Buffer
1*TBS (pH7.4), 0.05% BSA, 40% Glycerol. Preservative: 0.05% Sodium Azide.
TARGET
PROTEIN NAME
Broad substrate specificity ATP-binding cassette transporter ABCG2
SEQUENCE SIMILARITIES
Belongs to the ABC transporter superfamily. ABCG family. Eye pigment precursor importer (TC 3.A.1.204) subfamily.
TISSUE SPECIFICITY
Highly expressed in placenta. Low expression in small intestine, liver and colon. Expressed in brain (at protein level).
POST-TRANSLATIONAL MODIFICATION
N-glycosylated. Glycosylation-deficient ABCG2 is normally expressed and functional.; Phosphorylated. Phosphorylation at Thr-362 by PIM1 is induced by drugs like mitoxantrone and is associated with cells increased drug resistance. It regulates the localization to the plasma membrane, the homooligomerization and therefore, the activity of the transporter.
SUBCELLULAR LOCATION
Cell membrane; Multi-pass membrane protein; Multi-pass membrane protein; Multi-pass membrane protein.
FUNCTION
Broad substrate specificity ATP-dependent transporter of the ATP-binding cassette (ABC) family that actively extrudes a wide variety of physiological compounds, dietary toxins and xenobiotics from cells. Involved in porphyrin homeostasis, mediating the export of protoporphyrin IX (PPIX) from both mitochondria to cytosol and cytosol to extracellular space, it also functions in the cellular export of heme. Also mediates the efflux of sphingosine-1-P from cells. Acts as a urate exporter functioning in both renal and extrarenal urate excretion. In kidney, it also functions as a physiological exporter of the uremic toxin indoxyl sulfate (By similarity). Also involved in the excretion of steroids like estrone 3-sulfate/E1S, 3beta-sulfooxy-androst-5-en-17-one/DHEAS, and other sulfate conjugates. Mediates the secretion of the riboflavin and biotin vitamins into milk (By similarity). Extrudes pheophorbide a, a phototoxic porphyrin catabolite of chlorophyll, reducing its bioavailability (By similarity). Plays an important role in the exclusion of xenobiotics from the brain (Probable). It confers to cells a resistance to multiple drugs and other xenobiotics including mitoxantrone, pheophorbide, camptothecin, methotrexate, azidothymidine, and the anthracyclines daunorubicin and doxorubicin, through the control of their efflux. In placenta, it limits the penetration of drugs from the maternal plasma into the fetus (By similarity). May play a role in early stem cell self-renewal by blocking differentiation (By similarity).