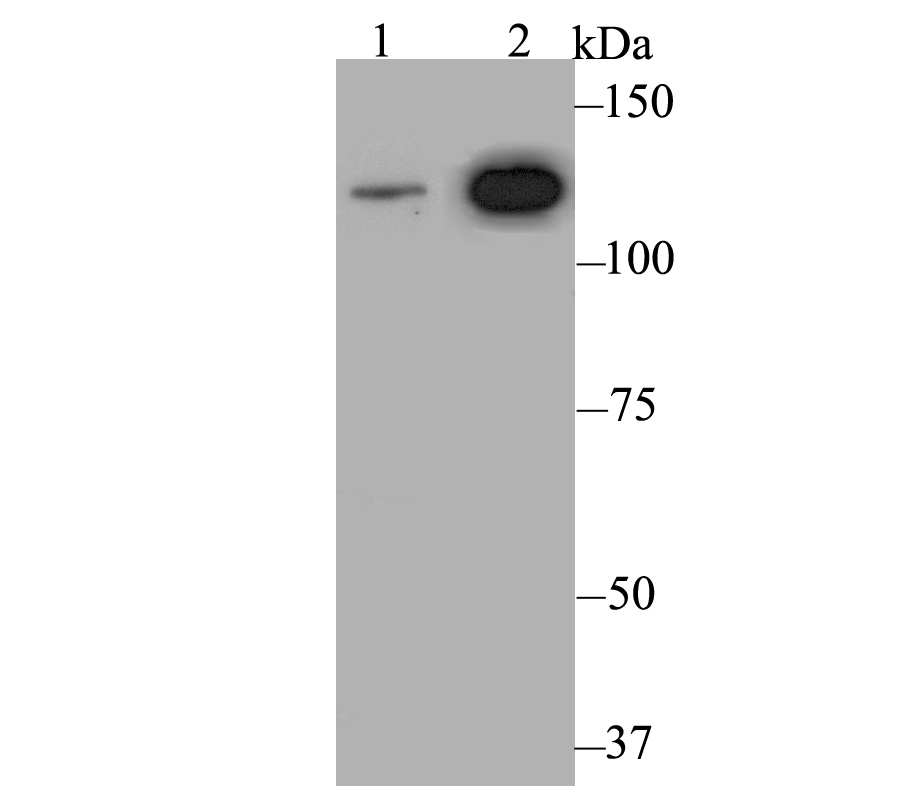 Western blot analysis of Rad21 on different lysates. Proteins were transferred to a PVDF membrane and blocked with 5% BSA in PBS for 1 hour at room temperature. The primary antibody was used at a 1:500 dilution in 5% BSA at room temperature for 2 hours. Goat Anti-Rabbit IgG - HRP Secondary Antibody (HA1001) at 1:5,000 dilution was used for 1 hour at room temperature.
Positive control:
Lane 1: Mouse ovary tissue lysate
Lane 2: Daudi cell lysate
SPECIFICATIONS
Product Type
Rabbit polyclonal primary
Product Name
Rad21 Antibody (ER1803-73)
Immunogen
Recombinant protein within human rad21 aa 250-440.
Positive Control
Mouse ovary tissue, Daudi, MG-63, SiHa, SK-Br-3, rat brain tissue, human thyroid gland cancer tissue, human colon tissue, mouse testis tissue.
PROPERTIES
Storage Condition
Store at +4C after thawing. Aliquot store at -20C. Avoid repeated freeze / thaw cycles.
Storage Buffer
1*PBS (pH7.4), 0.2% BSA, 50% Glycerol. Preservative: 0.05% Sodium Azide.
PURIFICATION
Protein affinity purified.
MOLECULAR WEIGHT
120 kDa, predicted band size 72 kDa
TARGET
PROTEIN NAME
Double-strand-break repair protein rad21 homolog
SYNONYMS
hHR21, NXP-1, RAD21, HR21, KIAA0078, NXP1, SCC1
SEQUENCE SIMILARITIES
Belongs to the rad21 family.
TISSUE SPECIFICITY
Expressed in the gut (at protein level).
DEVELOPMENTAL STAGE
Regulated in a cell cycle-dependent manner: expression increases in late S phase and reaches maximum in G2 at the nucleotide level. Not regulated during the cell cycle (at protein level).
POST-TRANSLATIONAL MODIFICATION
Cleaved by separase/ESPL1 at the onset of anaphase; this cleavage is required for sister chromatid separation and cytokinesis. Cleaved by caspase-3/CASP3 or caspase-7/CASP7 at the beginning of apoptosis.; Phosphorylated; becomes hyperphosphorylated in M phase of cell cycle. The large dissociation of cohesin from chromosome arms during prophase may be partly due to its phosphorylation by PLK1.
SUBCELLULAR LOCATION
[Double-strand-break repair protein rad21 homolog]: Nucleus. Nucleus matrix. Chromosome. Chromosome, centromere. Cytoplasm, cytoskeleton, spindle pole. Note=Associates with chromatin. Before prophase, scattered along chromosome arms. During prophase and prometaphase, most cohesins dissociate from the arms of condensing chromosome, possibly through PLK1-mediated phosphorylation. A small amount of cohesin remains in centromeric regions and is removed from chromosomes only at the onset of anaphase. At anaphase, cleavage by separase/ESPL1 leads to the dissociation of cohesin from chromosomes and chromosome separation.; [64-kDa C-terminal product]: Cytoplasm, cytosol. Nucleus.
FUNCTION
[Double-strand-break repair protein rad21 homolog]: As a member of the cohesin complex, involved in sister chromatid cohesion from the time of DNA replication in S phase to their segregation in mitosis, a function that is essential for proper chromosome segregation, post-replicative DNA repair, and the prevention of inappropriate recombination between repetitive regions. The cohesin complex may also play a role in spindle pole assembly during mitosis. In interphase, cohesins may function in the control of gene expression by binding to numerous sites within the genome (By similarity). May control RUNX1 gene expression (Probable). Binds to and represses APOB gene promoter. May play a role in embryonic gut development, possibly through the regulation of enteric neuron development (By similarity).; [64-kDa C-terminal product]: May promote apoptosis.