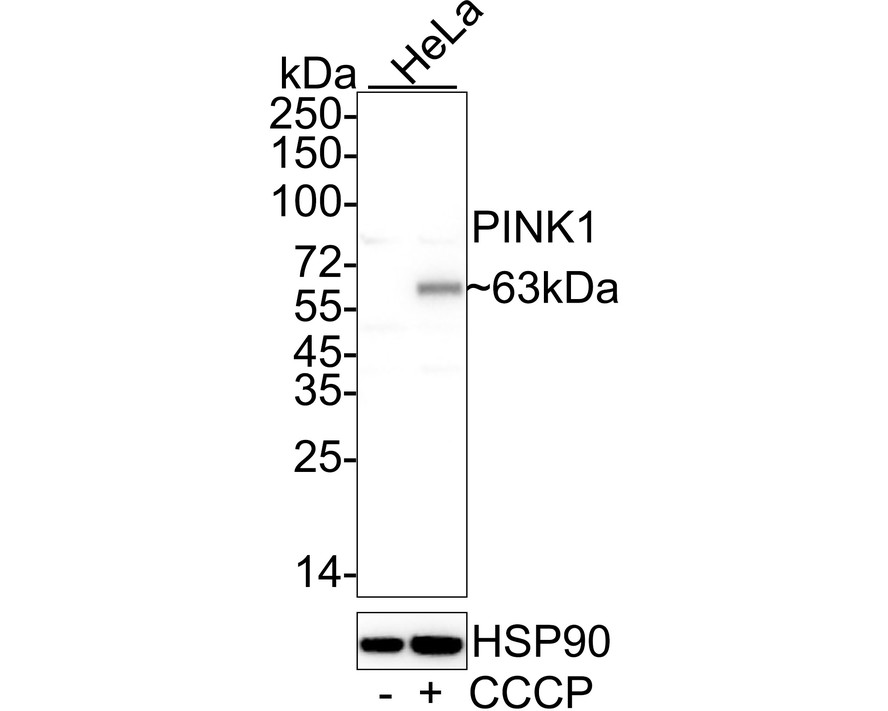 Western blot analysis of PINK1 on different lysates using anti-PINK1 antibody at 1/500 dilution.
Positive control:
Lane 1: A431 cell lysates
Lane 2: Mouse testis tissue lysates
Lane 3: Jurkat cell lysates
SPECIFICATIONS
Product Type
Rabbit polyclonal primary
Product Name
PINK1 Rabbit Polyclonal Antibody (ER1706-27)
Immunogen
Recombinant protein within human pink1 aa 126-320 / 581.
Positive Control
A431, mouse testis tissue lysate, Jurkat, Hela, PC-3M, SK-Br-3, human breast tissue, human placenta tissue, human stomach cancer tissue.
PROPERTIES
Storage Condition
Store at +4C after thawing. Aliquot store at -20C or -80C. Avoid repeated freeze / thaw cycles.
Storage Buffer
1*PBS (pH7.4), 0.2% BSA, 50% Glycerol. Preservative: 0.05% Sodium Azide.
PURIFICATION
Protein affinity purified
TARGET
SYNONYMS
BRPK antibody; FLJ27236 antibody; mitochondrial antibody; PARK 6 antibody; PARK6 antibody; Phosphatase and Tensin Homolog antibody; PINK 1 antibody; PINK1 antibody; PINK1_HUMAN antibody; Protein kinase BRPK antibody; PTEN induced putative kinase 1 antibody; PTEN induced putative kinase protein 1 antibody; PTEN-induced putative kinase protein 1 antibody; Serine/threonine kinase PINK1 mitochondrial antibody; Serine/threonine protein kinase PINK1 mitochondrial antibody; Serine/threonine-protein kinase PINK1 antibody
SEQUENCE SIMILARITIES
Belongs to the protein kinase superfamily. Ser/Thr protein kinase family.
TISSUE SPECIFICITY
Highly expressed in heart, skeletal muscle and testis, and at lower levels in brain, placenta, liver, kidney, pancreas, prostate, ovary and small intestine. Present in the embryonic testis from an early stage of development.
POST-TRANSLATIONAL MODIFICATION
Autophosphorylation at Ser-228 and Ser-402 is essential for Parkin/PRKN recruitment to depolarized mitochondria.; Two shorter forms of 55 kDa and 48 kDa seem to be produced by proteolytic cleavage and localize mainly in cytosol. Processed into a 52 kDa mature form by PARL or AFG3L2 following the cleavage by mitochondrial-processing peptidase (MPP) during mitochondrial import. In depolarized mitochondria, cleaved by OMA1 that acts as a backup protease, promoting its subsequent degradation by the proteasome.
SUBCELLULAR LOCATION
Mitochondrion outer membrane. Cytoplasm.
FUNCTION
A member of the serine / threonine protein kinase family, PTEN induced putative kinase 1 (PINK1) is a tumor suppressor. PINK1 is primarily located in mitochondria, and is ubiquitously expressed in testis, skeletal muscle, and heart tissue. at lower levels in pancreas, ovary, brain, placenta, kidney, liver, prostate and small intestine. During cellular stress PINK1 protects against mitochondrial dysfunction by inducing phosphorylation mitochondrial proteins. PINK1 mutations may give rise to different autophosphorylation activity. Mutations in the PINK1 gene (PARK6) are associated with early onset Parkinson's disease, a recessive neurodegenerative disorder characterized by resting tremor, muscular rigidity, bradykinesia and postural instability. Parkinson's disease generally involves the presence of intraneuronal accumulations of aggregated proteins (Lewy bodies) in brain neurons.