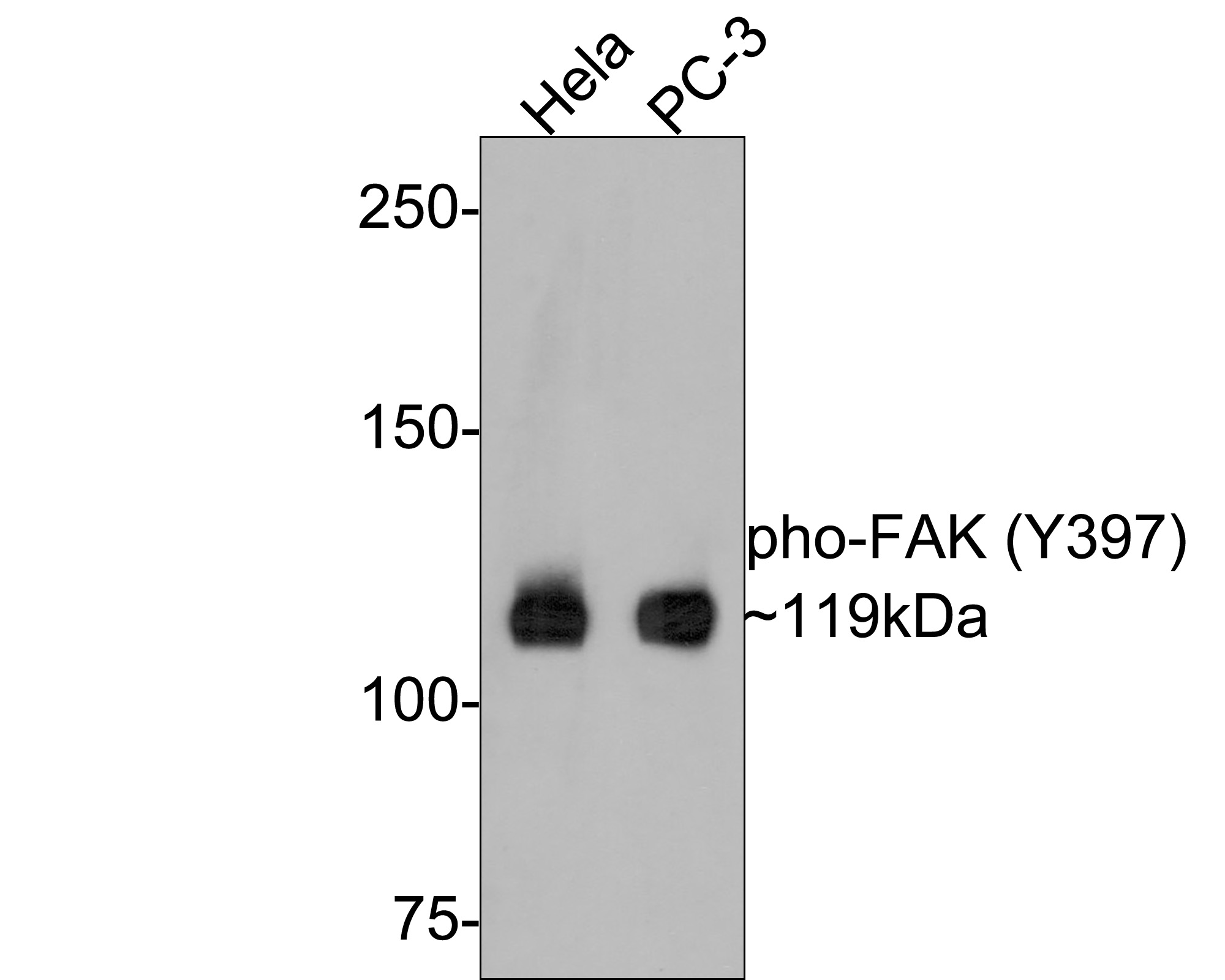 Western blot analysis of Phospho-FAK (Y397) on K562 cell lysates. Proteins were transferred to a PVDF membrane and blocked with 5% BSA in PBS for 1 hour at room temperature. The primary antibody (ET1610-34, 1/500) was used in 5% BSA at room temperature for 2 hours. Goat Anti-Rabbit IgG - HRP Secondary Antibody (HA1001) at 1:5,000 dilution was used for 1 hour at room temperature.
SPECIFICATIONS
Product Type
Recombinant Rabbit monoclonal primary
Product Name
Phospho-FAK (Y397) Recombinant Rabbit Monoclonal Antibody [SC54-07] (ET1610-34)
Immunogen
Synthetic phospho-peptide corresponding to residues surrounding tyr397 of human fak.
Positive Control
K562 cell lysates, Hela, N2A, NIH/3T3.
PROPERTIES
Storage Condition
Store at +4C after thawing. Aliquot store at -20C or -80C. Avoid repeated freeze / thaw cycles.
Storage Buffer
1*TBS (pH7.4), 0.05% BSA, 40% Glycerol. Preservative: 0.05% Sodium Azide.
PURIFICATION
Protein A affinity purified.
TARGET
SYNONYMS
FADK 1 antibody; FADK antibody; FAK related non kinase polypeptide antibody; FAK1 antibody; FAK1_HUMAN antibody; Focal adhesion kinase 1 antibody; Focal adhesion Kinase antibody; Focal adhesion kinase isoform FAK Del33 antibody; Focal adhesion kinase related nonkinase antibody; FRNK antibody; p125FAK antibody; pp125FAK antibody; PPP1R71 antibody; Protein phosphatase 1 regulatory subunit 71 antibody; Protein tyrosine kinase 2 antibody; Protein-tyrosine kinase 2 antibody; Ptk2 antibody; PTK2 protein tyrosine kinase 2 antibody
SEQUENCE SIMILARITIES
Belongs to the protein kinase superfamily. Tyr protein kinase family. FAK subfamily.
TISSUE SPECIFICITY
Detected in B and T-lymphocytes. Isoform 1 and isoform 6 are detected in lung fibroblasts (at protein level). Ubiquitous. Expressed in epithelial cells (at protein level).
DEVELOPMENTAL STAGE
[Isoform 6]: Detected in cultured cells, immediately after seeding and before formation of focal adhesions (at protein level).
POST-TRANSLATIONAL MODIFICATION
Phosphorylated on tyrosine residues upon activation, e.g. upon integrin signaling. Tyr-397 is the major autophosphorylation site, but other kinases can also phosphorylate this residue. Phosphorylation at Tyr-397 promotes interaction with SRC and SRC family members, leading to phosphorylation at Tyr-576, Tyr-577 and at additional tyrosine residues. FGR promotes phosphorylation at Tyr-397 and Tyr-576. FER promotes phosphorylation at Tyr-577, Tyr-861 and Tyr-925, even when cells are not adherent. Tyr-397, Tyr-576 and Ser-722 are phosphorylated only when cells are adherent. Phosphorylation at Tyr-397 is important for interaction with BMX, PIK3R1 and SHC1. Phosphorylation at Tyr-925 is important for interaction with GRB2. Dephosphorylated by PTPN11; PTPN11 is recruited to PTK2 via EPHA2 (tyrosine phosphorylated). Microtubule-induced dephosphorylation at Tyr-397 is crucial for the induction of focal adhesion disassembly; this dephosphorylation could be catalyzed by PTPN11 and regulated by ZFYVE21. Phosphorylation on tyrosine residues is enhanced by NTN1 (By similarity).; Sumoylated; this enhances autophosphorylation.
SUBCELLULAR LOCATION
Cytoplasm, Nucleus, Cell membrane, Cell junction.
FUNCTION
Activation of integrins in the extracellular matrix (ECM) of eukaryotic cells promotes the formation of membrane adhesion complexes, known as focal adhesions, which can include cytoskeletal proteins and protein tyrosine kinases, such as focal adhesion kinase (FAK). Phosphorylation events occurring within focal adhesions influence numerous processes that include mitogenic signaling, cell survival, and cell motility. FAK is a non-receptor tyrosine kinase that is ubiquitously expressed and highly conserved between species. FAK is recruited by Integrin clusters and variably phosphorylated depending on the effector molecules present in the focal adhesion. Phosphorylation of FAK Tyr 397 decreases during serum starvation, contact inhibition, and cell cycle arrest, all conditions under which activating FAK Tyr 407 phosphorylation increases.
CITATIONS
Guo, Piao et al.

Cytosolic phospholipase A2α modulates cell-matrix adhesion via the FAK/paxillin pathway in hepatocellular carcinoma. | Cancer Biology & Medicine [2019]