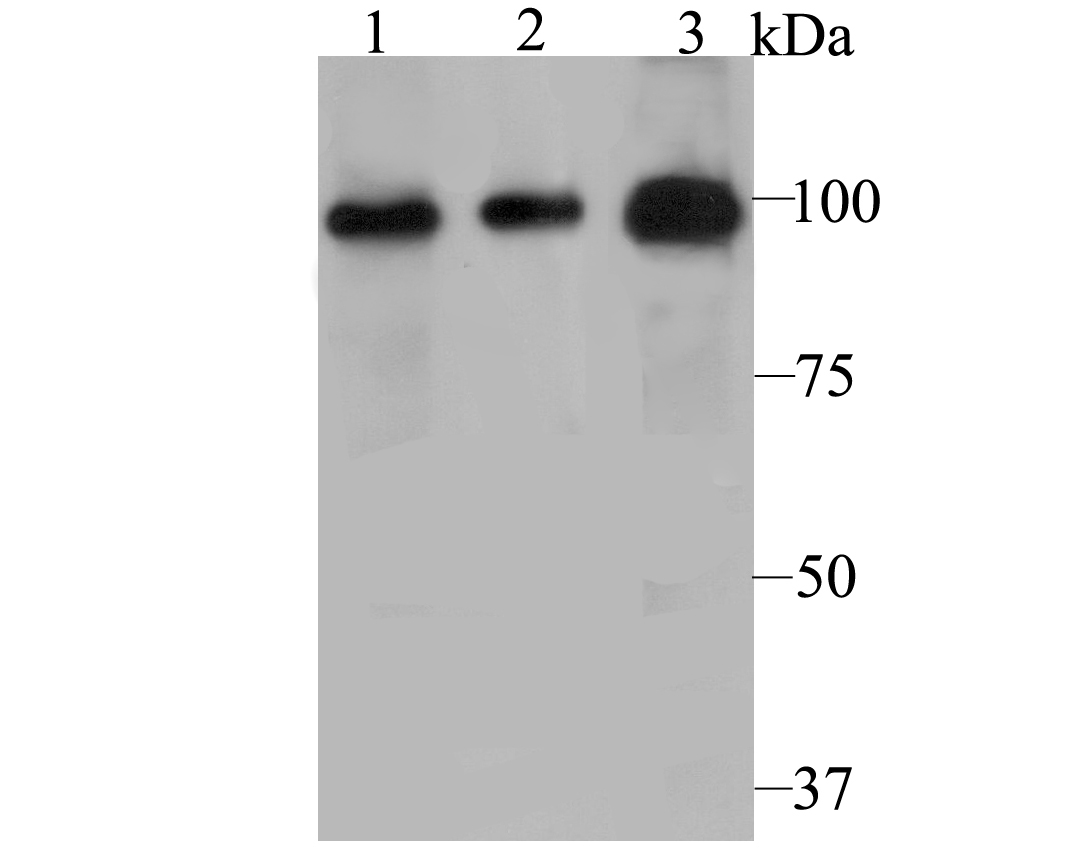 Western blot analysis of PHF8 on different cell lysate using anti-PHF8 antibody at 1/500 dilution.
Positive control:
Lane 1: PC-3M
Lane 2: A431
Lane 3: Human kidney tissue

SPECIFICATIONS
Product Type
Rabbit polyclonal primary
Product Name
PHF8 Antibody (ER1803-37)
Immunogen
Recombinant protein within human phf8 aa 150-350.
Positive Control
PC-3M, A431, Hela, JAR, rat brain tissue , human lung cancer tissue, human colon tissue, mouse brain tissue, human kidney tissue, Siha.
PROPERTIES
Storage Condition
Store at +4C after thawing. Aliquot store at -20C. Avoid repeated freeze / thaw cycles.
Storage Buffer
1*PBS (pH7.4), 0.2% BSA, 50% Glycerol. Preservative: 0.05% Sodium Azide.
PURIFICATION
Protein affinity purified.
TARGET
PROTEIN NAME
Histone lysine demethylase PHF8
SEQUENCE SIMILARITIES
Belongs to the JHDM1 histone demethylase family. JHDM1D subfamily.
POST-TRANSLATIONAL MODIFICATION
Phosphorylation at Ser-69 and Ser-120 are required for dissociation from chromatin and accumulation of H4K20Me1 levels during prophase.
SUBCELLULAR LOCATION
Nucleus. Nucleus, nucleolus. Note=Recruited to H3K4me3 sites on chromatin during interphase. Dissociates from chromatin when cells enter mitosis.
FUNCTION
Histone lysine demethylase with selectivity for the di- and monomethyl states that plays a key role cell cycle progression, rDNA transcription and brain development. Demethylates mono- and dimethylated histone H3 'Lys-9' residue (H3K9Me1 and H3K9Me2), dimethylated H3 'Lys-27' (H3K27Me2) and monomethylated histone H4 'Lys-20' residue (H4K20Me1). Acts as a transcription activator as H3K9Me1, H3K9Me2, H3K27Me2 and H4K20Me1 are epigenetic repressive marks. Involved in cell cycle progression by being required to control G1-S transition. Acts as a coactivator of rDNA transcription, by activating polymerase I (pol I) mediated transcription of rRNA genes. Required for brain development, probably by regulating expression of neuron-specific genes. Only has activity toward H4K20Me1 when nucleosome is used as a substrate and when not histone octamer is used as substrate. May also have weak activity toward dimethylated H3 'Lys-36' (H3K36Me2), however, the relevance of this result remains unsure in vivo. Specifically binds trimethylated 'Lys-4' of histone H3 (H3K4me3), affecting histone demethylase specificity: has weak activity toward H3K9Me2 in absence of H3K4me3, while it has high activity toward H3K9me2 when binding H3K4me3.