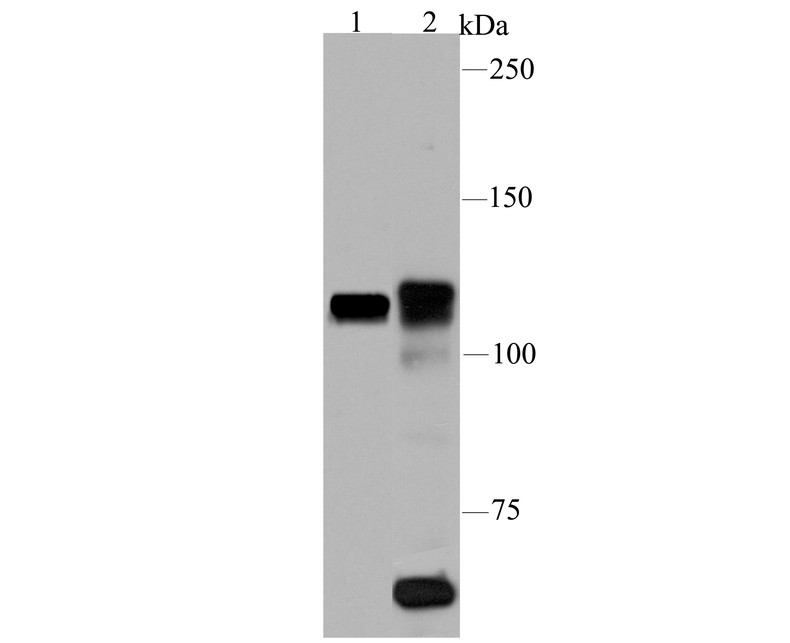 Western blot analysis of PARP1 on different lysates using anti-PARP1 antibody at 1/100 dilution.
Positive control:
Lane 1: Daudi
Lane 2: Rat spleen tissue
SPECIFICATIONS
Product Name
PARP1 Monoclonal Antibody (EM1701-16)
Positive Control
Daudi, rat spleen tissue lysate, rat brain tissue, human tonsil tissue, human pancreas tissue, mouse testis tissue.
PROPERTIES
Storage Condition
Store at +4C after thawing. Aliquot store at -20C or -80C. Avoid repeated freeze / thaw cycles.
Storage Buffer
1*PBS (pH7.4), 0.2% BSA, 50% Glycerol. Preservative: 0.05% Sodium Azide.
PURIFICATION
Peptide affinity purified
TARGET
PROTEIN NAME
Poly [ADP-ribose] polymerase 1
SYNONYMS
PARP-1, ARTD1, ADPRT 1, PARP1, ADPRT, PPOL
POST-TRANSLATIONAL MODIFICATION
Phosphorylated by PRKDC and TXK.; Poly-ADP-ribosylated on glutamate and aspartate residues by autocatalysis. Poly-ADP-ribosylated by PARP2; poly-ADP-ribosylation mediates the recruitment of CHD1L to DNA damage sites. ADP-ribosylated on serine by autocatalysis; serine ADP-ribosylation takes place following interaction with HPF1.; S-nitrosylated, leading to inhibit transcription regulation activity.
SUBCELLULAR LOCATION
Nucleus. Nucleus, nucleolus. Chromosome. Note=Localizes to sites of DNA damage.
FUNCTION
Poly-ADP-ribosyltransferase that mediates poly-ADP-ribosylation of proteins and plays a key role in DNA repair. Mainly mediates glutamate and aspartate ADP-ribosylation of target proteins: the ADP-D-ribosyl group of NAD(+) is transferred to the acceptor carboxyl group of glutamate and aspartate residues and further ADP-ribosyl groups are transferred to the 2'-position of the terminal adenosine moiety, building up a polymer with an average chain length of 20-30 units. Mediates the poly(ADP-ribosyl)ation of a number of proteins, including itself, APLF and CHFR. Also mediates serine ADP-ribosylation of target proteins following interaction with HPF1; HPF1 conferring serine specificity. Probably also catalyzes tyrosine ADP-ribosylation of target proteins following interaction with HPF1. Catalyzes the poly-ADP-ribosylation of histones in a HPF1-dependent manner. Involved in the base excision repair (BER) pathway by catalyzing the poly-ADP-ribosylation of a limited number of acceptor proteins involved in chromatin architecture and in DNA metabolism. ADP-ribosylation follows DNA damage and appears as an obligatory step in a detection/signaling pathway leading to the reparation of DNA strand breaks. In addition to base excision repair (BER) pathway, also involved in double-strand breaks (DSBs) repair: together with TIMELESS, accumulates at DNA damage sites and promotes homologous recombination repair by mediating poly-ADP-ribosylation. In addition to proteins, also able to ADP-ribosylate DNA: catalyzes ADP-ribosylation of DNA strand break termini containing terminal phosphates and a 2'-OH group in single- and double-stranded DNA, respectively. Required for PARP9 and DTX3L recruitment to DNA damage sites. PARP1-dependent PARP9-DTX3L-mediated ubiquitination promotes the rapid and specific recruitment of 53BP1/TP53BP1, UIMC1/RAP80, and BRCA1 to DNA damage sites. Acts as a regulator of transcription: positively regulates the transcription of MTUS1 and negatively regulates the transcription of MTUS2/TIP150. With EEF1A1 and TXK, forms a complex that acts as a T-helper 1 (Th1) cell-specific transcription factor and binds the promoter of IFN-gamma to directly regulate its transcription, and is thus involved importantly in Th1 cytokine production. Involved in the synthesis of ATP in the nucleus, together with NMNAT1, PARG and NUDT5. Nuclear ATP generation is required for extensive chromatin remodeling events that are energy-consuming.