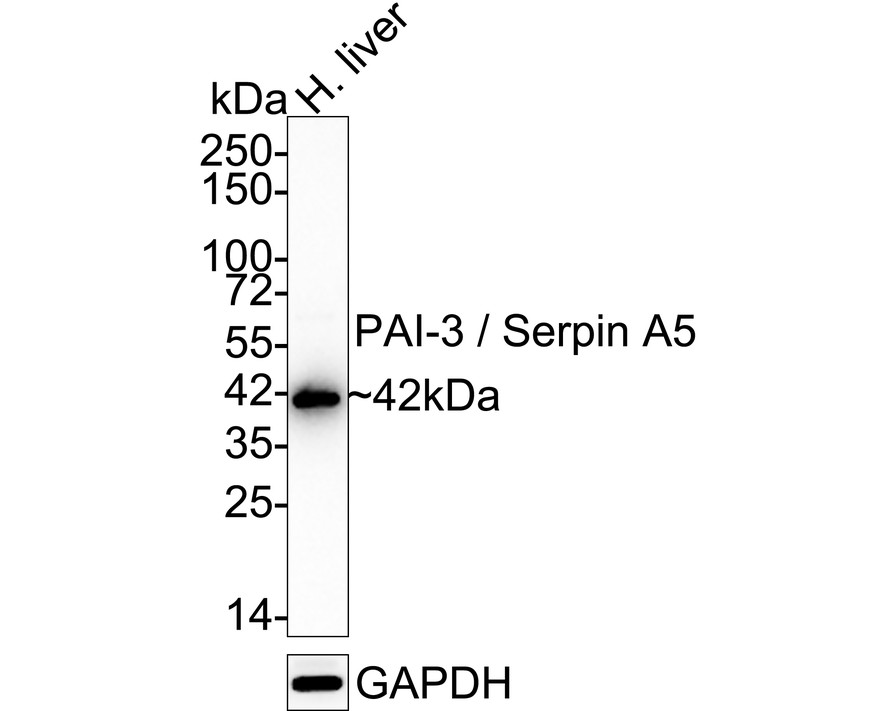 Western blot analysis on human liver using anti-PAI3 polyclonal antibody.
SPECIFICATIONS
Product Type
Rabbit polyclonal primary
PROPERTIES
Storage Condition
Store at +4C after thawing. Aliquot store at -20C or -80C. Avoid repeated freeze / thaw cycles.
Storage Buffer
1*PBS (pH7.4), 0.2% BSA, 40% Glycerol. Preservative: 0.05% Sodium Azide.
PURIFICATION
Immunogen affinity purified
TARGET
PROTEIN NAME
Plasma serine protease inhibitor
SEQUENCE SIMILARITIES
Belongs to the serpin family.
TISSUE SPECIFICITY
Predominantly expressed in the epithelium of seminal vesicles. Expressed in the proximal tubular epithelium of the kidney. Expressed in the superficial and more differentiated epidermal keratinocytes of the skin. Expressed in megakaryocytes and platelets. Expressed poorly in kidney tumor cells compared to non tumor kidney tissues. Expressed in spermatozoa. Present in very high concentration in seminal plasma. Present in high concentration in plasma, synovial and Graaf follicle fluids. Present in low concentration in breast milk and in amniotic fluids. Present in very low concentration in urine, cerebrospinal fluids, saliva and tears (at protein level). Strongly expressed in liver. Expressed in kidney, spleen, pancreas, skeletal muscle, heart, testes, ovary, interstitial Leydig cells, epididymal glands, seminal vesicles and prostate.
POST-TRANSLATIONAL MODIFICATION
N- and O-glycosylated. N-glycosylation consists of a mixture of sialylated bi- (including sialyl-Lewis X epitopes), tri- and tetra-antennary complex-type chains; affects the maximal heparin- and thrombomodulin-enhanced rates of thrombin inhibition. O-glycosylated with core 1 or possibly core 8 glycans. Further modified with 2 sialic acid residues.; Proteolytically cleaved. Inhibition of proteases is accompanied by formation of a stable enzyme-inhibitor complex and by degradation of the serpin to lower molecular weight derivatives. Proteolytically cleaved at the N-terminus; inhibits slightly the heparin- and thrombomodulin-enhanced rates of thrombin inhibition.
SUBCELLULAR LOCATION
Secreted, extracellular space. Note=Localized on the plasma membrane overlying the acrosomal head of spermatozoa of ependymal spermatozoa and ejaculated sperm. Localized at the equatorial segment of acrosome-reacted spematozoa. Localized in alpha granules in resting platelets and on the external plasma membrane and within the surface-connected cannalicular system in activated platelets.
FUNCTION
Heparin-dependent serine protease inhibitor acting in body fluids and secretions. Inactivates serine proteases by binding irreversibly to their serine activation site. Involved in the regulation of intravascular and extravascular proteolytic activities. Plays hemostatic roles in the blood plasma. Acts as a procoagulant and proinflammatory factor by inhibiting the anticoagulant activated protein C factor as well as the generation of activated protein C factor by the thrombin/thrombomodulin complex. Acts as an anticoagulant factor by inhibiting blood coagulation factors like prothrombin, factor XI, factor Xa, plasma kallikrein and fibrinolytic enzymes such as tissue- and urinary-type plasminogen activators. In seminal plasma, inactivates several serine proteases implicated in the reproductive system. Inhibits the serpin acrosin; indirectly protects component of the male genital tract from being degraded by excessive released acrosin. Inhibits tissue- and urinary-type plasminogen activator, prostate-specific antigen and kallikrein activities; has a control on the sperm motility and fertilization. Inhibits the activated protein C-catalyzed degradation of SEMG1 and SEMG2; regulates the degradation of semenogelin during the process of transfer of spermatozoa from the male reproductive tract into the female tract. In urine, inhibits urinary-type plasminogen activator and kallikrein activities. Inactivates membrane-anchored serine proteases activities such as MPRSS7 and TMPRSS11E. Inhibits urinary-type plasminogen activator-dependent tumor cell invasion and metastasis. May also play a non-inhibitory role in seminal plasma and urine as a hydrophobic hormone carrier by its binding to retinoic acid.