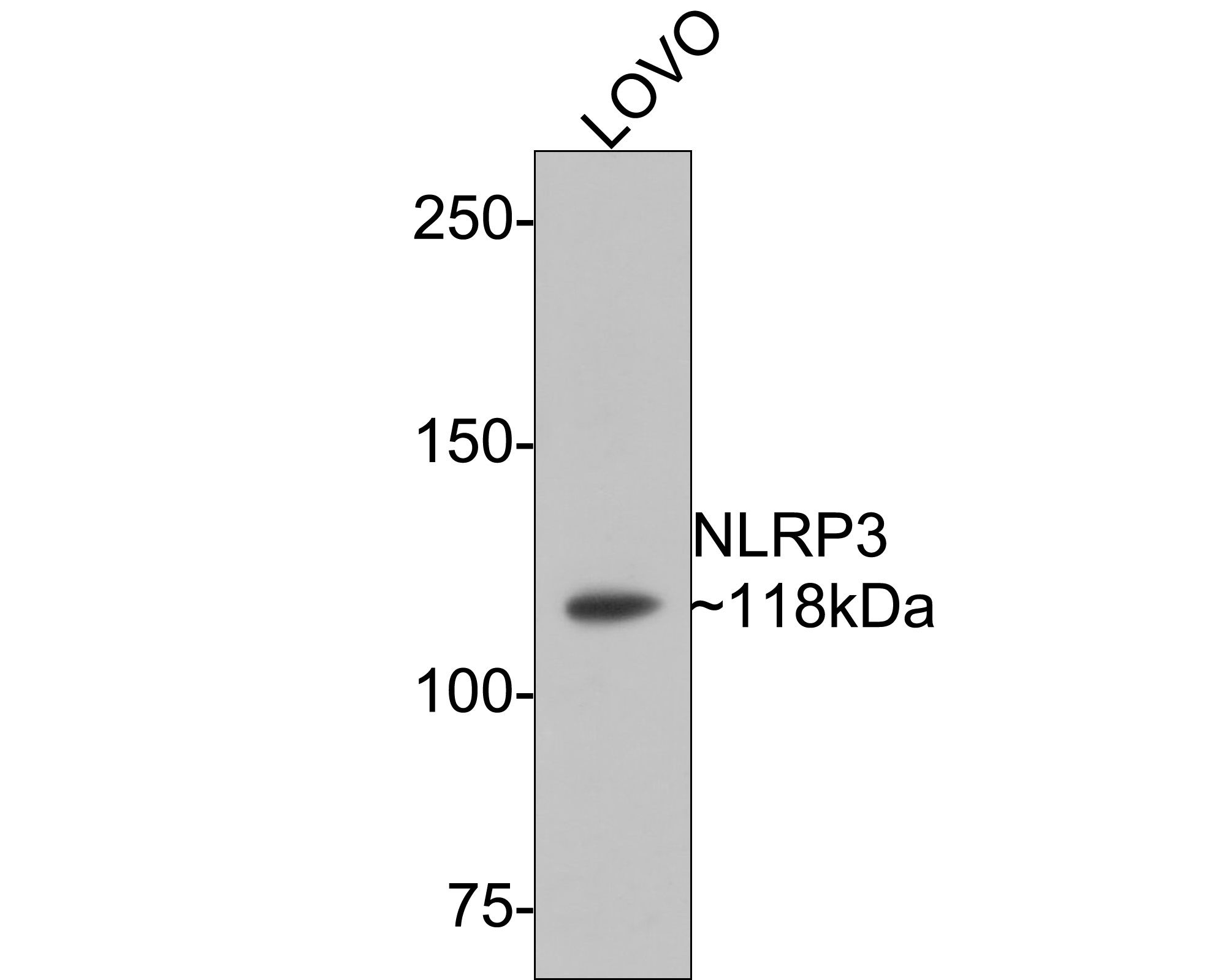 Western blot analysis of NLRP3 on different lysates using anti-NLRP3 antibody at 1/1,000 dilution.
Positive control:
Lane 1: Human lung
Lane 2: Mouse thymus
Lane 3: THP-1

SPECIFICATIONS
Product Type
Rabbit polyclonal primary
Product Name
NLRP3 Antibody (ER1706-72)
Positive Control
Human lung tissue lysate, mouse thymus tissue lysate, THP-1, A431, HepG2, LOVO, human liver cancer tissue, human colon cancer tissue, human placenta tissue, mouse brain tissue, mouse kidney tissue, Jurkat.
PROPERTIES
Storage Condition
Store at +4C after thawing. Aliquot store at -20C or -80C. Avoid repeated freeze / thaw cycles.
Storage Buffer
1*PBS (pH7.4), 0.2% BSA, 50% Glycerol. Preservative: 0.05% Sodium Azide.
PURIFICATION
Peptide affinity purified
TARGET
PROTEIN NAME
NACHT, LRR and PYD domains-containing protein 3
SYNONYMS
CLR1.1, NLRP3, C1orf7, CIAS1, NALP3, PYPAF1
SEQUENCE SIMILARITIES
Belongs to the NLRP family.
TISSUE SPECIFICITY
Predominantly expressed in macrophages. Also expressed in dendritic cells, B- and T-cells (at protein level). Expressed in LPS-treated granulocytes, but not in resting cells (at protein level). Expression in monocytes is very weak (at protein level). Expressed in stratified non-keratinizing squamous epithelium, including oral, esophageal and ectocervical mucosa and in the Hassall's corpuscles in the thymus. Also, detected in the stratified epithelium covering the bladder and ureter (transitional mucosa) (at protein level). Expressed in lung epithelial cells (at protein level). Expressed in chondrocytes. Expressed at low levels in resting osteoblasts.
POST-TRANSLATIONAL MODIFICATION
The disulfide bond in the pyrin domain might play a role in reactive oxygen species-mediated activation.; Ubiquitinated; undergoes both 'Lys-48'- and 'Lys-63'-linked polyubiquitination. Ubiquitination does not lead to degradation, but inhibits inflammasome activation (By similarity). Deubiquitination is catalyzed by BRCC3 and associated with NLRP3 activation and inflammasome assembly. This process can be induced by the activation of Toll-like receptors (by LPS), through a non-transcriptional pathway dependent on the mitochondrial production of reactive oxygen species, and by ATP.
SUBCELLULAR LOCATION
Cytoplasm, cytosol. Inflammasome. Endoplasmic reticulum. Nucleus.; Golgi apparatus membrane. Note=(Microbial infection) Upon HRSV infection, the protein is mainly located in lipid rafts in the Golgi membrane.
FUNCTION
As the sensor component of the NLRP3 inflammasome, plays a crucial role in innate immunity and inflammation. In response to pathogens and other damage-associated signals, initiates the formation of the inflammasome polymeric complex, made of NLRP3, PYCARD and CASP1 (and possibly CASP4 and CASP5). Recruitment of proCASP1 to the inflammasome promotes its activation and CASP1-catalyzed IL1B and IL18 maturation and secretion in the extracellular milieu. Activation of NLRP3 inflammasome is also required for HMGB1 secretion. The active cytokines and HMGB1 stimulate inflammatory responses. Inflammasomes can also induce pyroptosis, an inflammatory form of programmed cell death. Under resting conditions, NLRP3 is autoinhibited. NLRP3 activation stimuli include extracellular ATP, reactive oxygen species, K(+) efflux, crystals of monosodium urate or cholesterol, amyloid-beta fibers, environmental or industrial particles and nanoparticles, cytosolic dsRNA, etc. However, it is unclear what constitutes the direct NLRP3 activator. Activation in presence of cytosolic dsRNA is mediated by DHX33. Independently of inflammasome activation, regulates the differentiation of T helper 2 (Th2) cells and has a role in Th2 cell-dependent asthma and tumor growth (By similarity). During Th2 differentiation, required for optimal IRF4 binding to IL4 promoter and for IRF4-dependent IL4 transcription. Binds to the consensus DNA sequence 5'-GRRGGNRGAG-3'. May also participate in the transcription of IL5, IL13, GATA3, CCR3, CCR4 and MAF (By similarity).