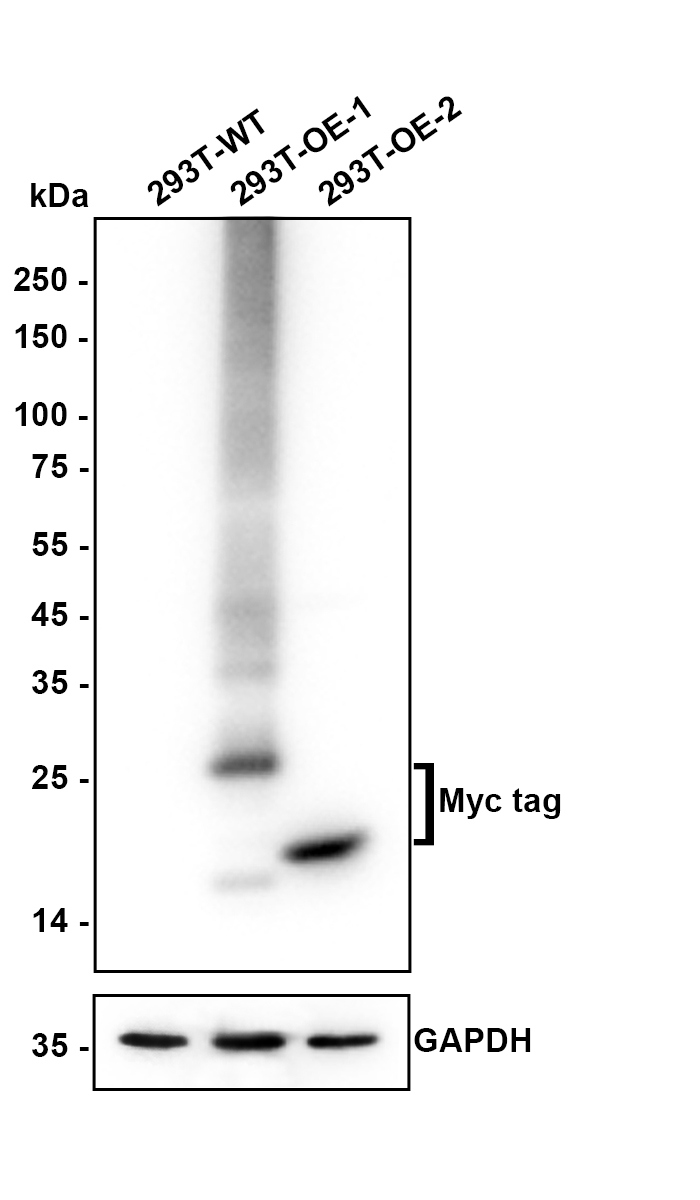 Western blot analysis of Myc-Tag on PG-CM lysates. Proteins were transferred to a PVDF membrane and blocked with 5% BSA in PBS for 1 hour at room temperature. The primary antibody (R1208-1, 1/1,000) was used in 5% BSA at room temperature for 2 hours. Goat Anti-Rabbit IgG - HRP Secondary Antibody (HA1001) at 1:5,000 dilution was used for 1 hour at room temperature.
SPECIFICATIONS
Product Type
Rabbit polyclonal primary
Product Name
Myc-Tag Rabbit Polyclonal Antibody (R1208-1)
Positive Control
PG-CM cell lysates, C-terminal Myc-tagged recombinant protein, N-terminal Myc-tagged recombinant protein.
PROPERTIES
Storage Condition
Store at +4C after thawing. Aliquot store at -20C or -80C. Avoid repeated freeze / thaw cycles.
Storage Buffer
1*PBS (pH7.4), 0.2% BSA, 40% Glycerol. Preservative: 0.05% Sodium Azide.
PURIFICATION
Immunogen affinity purified
TARGET
SYNONYMS
avian myelocytomatosis viral oncogene homolog antibody; bHLHe39 antibody; c-Myc antibody; class E basic helix-loop-helix protein 39 antibody; MRTL antibody; MYC antibody; Myc Epitope Tag antibody; myc proto-oncogene protein antibody; myc-related translation/localization regulatory factor antibody; oncogene c-Myc antibody; proto-oncogene c-Myc antibody; protooncogene homologous to myelocytomatosis virus antibody; transcription factor p64 antibody; v-myc avian myelocytomatosis viral oncogene homolog antibody; v-myc myelocytomatosis viral oncogene homolog (avian) antibody
POST-TRANSLATIONAL MODIFICATION
Phosphorylated by PRKDC. Phosphorylation at Ser-329 by PIM2 leads to the stabilization of MYC (By similarity). Phosphorylation at Ser-62 by CDK2 prevents Ras-induced senescence. Phosphorylated at Ser-62 by DYRK2; this primes the protein for subsequent phosphorylation by GSK3B at Thr-58. Phosphorylation at Thr-58 and Ser-62 by GSK3 is required for ubiquitination and degradation by the proteasome.; Ubiquitinated by the SCF(FBXW7) complex when phosphorylated at Thr-58 and Ser-62, leading to its degradation by the proteasome. In the nucleoplasm, ubiquitination is counteracted by USP28, which interacts with isoform 1 of FBXW7 (FBW7alpha), leading to its deubiquitination and preventing degradation. In the nucleolus, however, ubiquitination is not counteracted by USP28 but by USP36, due to the lack of interaction between isoform 3 of FBXW7 (FBW7gamma) and USP28, explaining the selective MYC degradation in the nucleolus. Also polyubiquitinated by the DCX(TRUSS) complex. Ubiquitinated by TRIM6 in a phosphorylation-independent manner (By similarity).
FUNCTION
Myc gene encodes for a transcription factor that is believed to regulate expression of 15% of all genes through binding on Enhancer Box sequences (E-boxes) and recruiting histone acetyltransferases (HATs). c-Myc is commonly activated in a variety of tumor cells and plays an important role in cellular proliferation, differentiation, apoptosis and cell cycle progression. This Myc-Tag antibody detects Myc-tagged fusion proteins.
CITATIONS
Cao, Jingjing et al.

Circovirus transport proceeds via direct interaction of the cytoplasmic dynein IC1 subunit with the viral capsid protein. | Journal of Virology [2015]

Lv, Xian-Bo et al.

PARD3 induces TAZ activation and cell growth by promoting LATS1 and PP1 interaction. | Embo Reports [2015]

Xu, Yunbin et al.

The co-chaperone Cdc37 regulates the rabies virus phosphoprotein stability by targeting to Hsp90AA1 machinery. | Scientific Reports [2016]

Guo, Chuansheng et al.

Bile Acids Control Inflammation and Metabolic Disorder through Inhibition of NLRP3 Inflammasome. | Immunity [2016]

Lin, Cui et al.

Caspase-Dependent Apoptosis Induction via Viral Protein ORF4 of Porcine Circovirus 2 Binding to Mitochondrial Adenine Nucleotide Translocase 3. | Journal of Virology [2018]

Wu, Huansheng et al.

Ubiquitination Is Essential for Avibirnavirus Replication by Supporting VP1 Polymerase Activity. | Journal of Virology [2019]

You, Zhiyuan et al.

TP53INP2 contributes to autophagosome formation by promoting LC3-ATG7 interaction. | Autophagy [2019]

Bi, Zhenwei et al.

Insights into species-specific regulation of ANP32A on the mammalian-restricted influenza virus polymerase activity. | Emerging Microbes & Infections [2019]

Huang, Bao et al.

The RCAN1.4-calcineurin/NFAT signaling pathway is essential for hypoxic adaption of intervertebral discs. | Experimental & Molecular Medicine [2020]

Zhou, Jianwei et al.

Protein Interactions Network of Porcine Circovirus Type 2 Capsid With Host Proteins. | Frontiers in Microbiology [2020]

Zhang, Qiang et al.

The MAP3K13-TRIM25-FBXW7� axis affects c-Myc protein stability and tumor development. | Cell Death and Differentiation [2020]