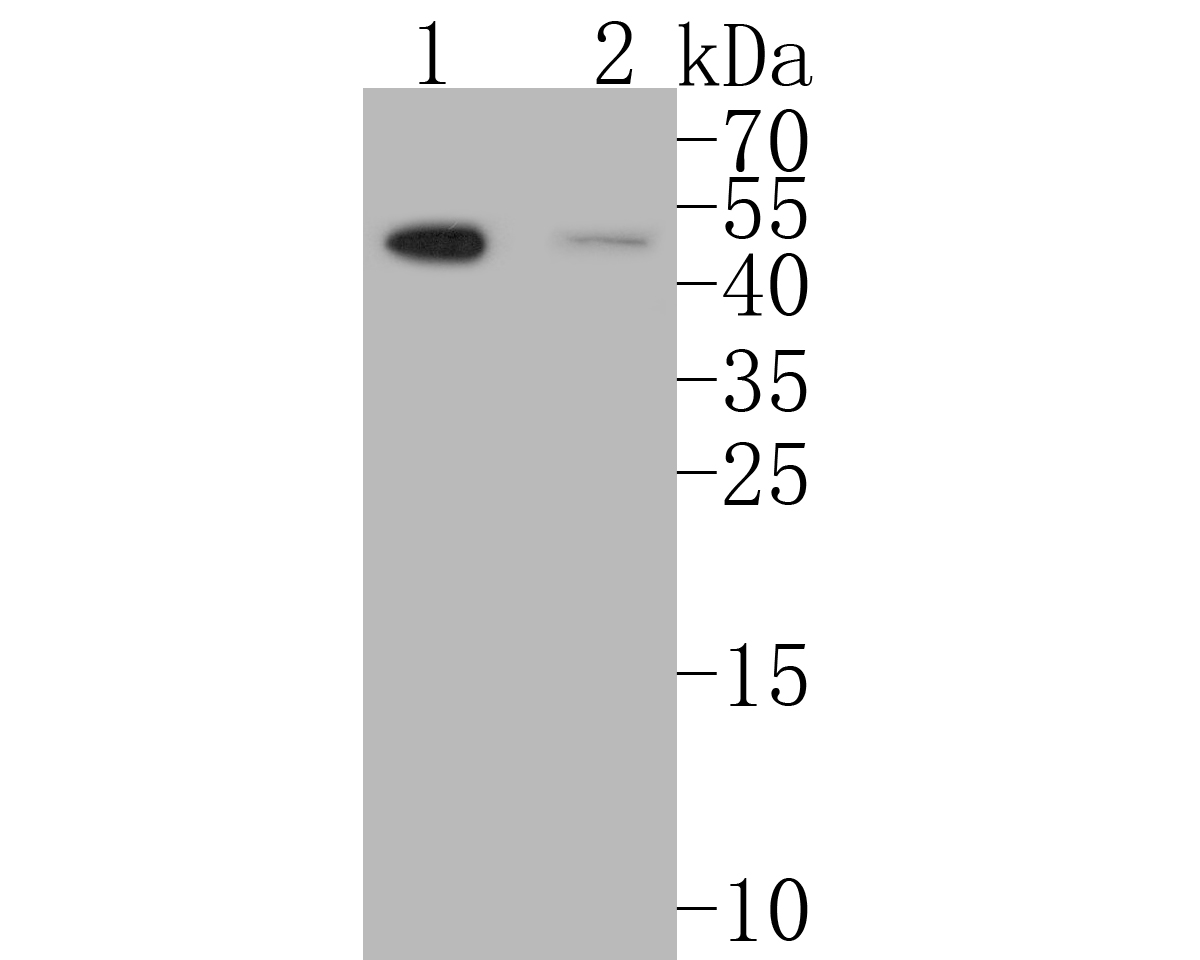 Western blot analysis of MDM2 on different lysates. Proteins were transferred to a PVDF membrane and blocked with 5% BSA in PBS for 1 hour at room temperature. The primary antibody (ER1902-14, 1/500) was used in 5% BSA at room temperature for 2 hours. Goat Anti-Rabbit IgG - HRP Secondary Antibody (HA1001) at 1:5,000 dilution was used for 1 hour at room temperature.
Positive control:
Lane 1: human lung tissue lysate
Lane 2: Daudi cell lysate
SPECIFICATIONS
Product Type
Rabbit polyclonal primary
Product Name
MDM2 Antibody (ER1902-14)
Immunogen
Recombinant protein within human mdm2 aa 1-100.
Positive Control
Human lung tissue lysate, Daudi cell lysate, HepG2, JAR, MCF-7, human thyroid tissue, human skin tissue, human breast carcinoma tissue, human small intestine tissue, human pancreas tissue, Daudi.
PROPERTIES
Storage Condition
Store at +4C after thawing. Aliquot store at -20C. Avoid repeated freeze / thaw cycles.
Storage Buffer
1*PBS (pH7.4), 0.2% BSA, 50% Glycerol. Preservative: 0.05% Sodium Azide.
PURIFICATION
Protein A affinity purified.
TARGET
PROTEIN NAME
E3 ubiquitin-protein ligase Mdm2
SEQUENCE SIMILARITIES
Belongs to the MDM2/MDM4 family.
TISSUE SPECIFICITY
Ubiquitous. Isoform Mdm2-A, isoform Mdm2-B, isoform Mdm2-C, isoform Mdm2-D, isoform Mdm2-E, isoform Mdm2-F and isoform Mdm2-G are observed in a range of cancers but absent in normal tissues.
POST-TRANSLATIONAL MODIFICATION
Phosphorylation on Ser-166 by SGK1 activates ubiquitination of p53/TP53. Phosphorylated at multiple sites near the RING domain by ATM upon DNA damage; this prevents oligomerization and E3 ligase processivity and impedes constitutive p53/TP53 degradation.; Autoubiquitination leads to proteasomal degradation; resulting in p53/TP53 activation it may be regulated by SFN. Also ubiquitinated by TRIM13. Deubiquitinated by USP2 leads to its accumulation and increases deubiquitination and degradation of p53/TP53. Deubiquitinated by USP7 leading to its stabilization.
SUBCELLULAR LOCATION
Nucleus, nucleoplasm. Cytoplasm. Nucleus, nucleolus. Note=Expressed predominantly in the nucleoplasm. Interaction with ARF(P14) results in the localization of both proteins to the nucleolus. The nucleolar localization signals in both ARF(P14) and MDM2 may be necessary to allow efficient nucleolar localization of both proteins. Colocalizes with RASSF1 isoform A in the nucleus.
FUNCTION
E3 ubiquitin-protein ligase that mediates ubiquitination of p53/TP53, leading to its degradation by the proteasome. Inhibits p53/TP53- and p73/TP73-mediated cell cycle arrest and apoptosis by binding its transcriptional activation domain. Also acts as a ubiquitin ligase E3 toward itself and ARRB1. Permits the nuclear export of p53/TP53. Promotes proteasome-dependent ubiquitin-independent degradation of retinoblastoma RB1 protein. Inhibits DAXX-mediated apoptosis by inducing its ubiquitination and degradation. Component of the TRIM28/KAP1-MDM2-p53/TP53 complex involved in stabilizing p53/TP53. Also component of the TRIM28/KAP1-ERBB4-MDM2 complex which links growth factor and DNA damage response pathways. Mediates ubiquitination and subsequent proteasome degradation of DYRK2 in nucleus. Ubiquitinates IGF1R and SNAI1 and promotes them to proteasomal degradation. Ubiquitinates DCX, leading to DCX degradation and reduction of the dendritic spine density of olfactory bulb granule cells (By similarity). Ubiquitinates DLG4, leading to proteasomal degradation of DLG4 which is required for AMPA receptor endocytosis (By similarity).