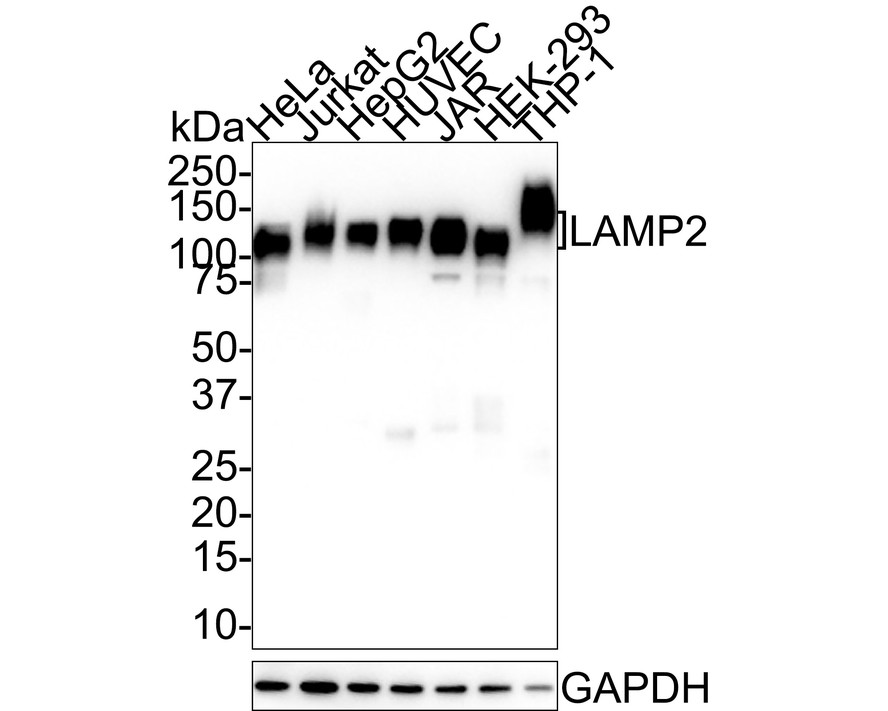 Western blot analysis of LAMP2 on SiHa cell lysates. Proteins were transferred to a PVDF membrane and blocked with 5% BSA in PBS for 1 hour at room temperature. The primary antibody (EM1901-62, 1/500) was used in 5% BSA at room temperature for 2 hours. Goat Anti-Mouse IgG - HRP Secondary Antibody (HA1006) at 1:5,000 dilution was used for 1 hour at room temperature.
SPECIFICATIONS
Product Name
LAMP2 Monoclonal Antibody (EM1901-62)
Immunogen
Recombinant protein within human lamp2 aa 1-300.
Positive Control
SiHa cell lysates, A549 cell, HT-29 cell, human liver carcinoma tissue, human prostate tissue, human placenta tissue, SiHa.
PROPERTIES
Storage Condition
Store at +4C after thawing. Aliquot store at -20C. Avoid repeated freeze / thaw cycles.
Storage Buffer
1*PBS (pH7.4), 0.2% BSA, 50% Glycerol. Preservative: 0.05% Sodium Azide.
PURIFICATION
Protein G affinity purified.
MOLECULAR WEIGHT
Predicted band size 45 kDa
TARGET
PROTEIN NAME
Lysosome-associated membrane glycoprotein 2
SEQUENCE SIMILARITIES
Belongs to the LAMP family.
TISSUE SPECIFICITY
Isoform LAMP-2A is highly expressed in placenta, lung and liver, less in kidney and pancreas, low in brain and skeletal muscle. Isoform LAMP-2B is detected in spleen, thymus, prostate, testis, small intestine, colon, skeletal muscle, brain, placenta, lung, kidney, ovary and pancreas and liver. Isoform LAMP-2C is detected in small intestine, colon, heart, brain, skeletal muscle, and at lower levels in kidney and placenta.
POST-TRANSLATIONAL MODIFICATION
O- and N-glycosylated; some of the 16 N-linked glycans are polylactosaminoglycans.
SUBCELLULAR LOCATION
Cell membrane; Single-pass type I membrane protein. Endosome membrane; Single-pass type I membrane protein. Lysosome membrane; Single-pass type I membrane protein. Cytoplasmic vesicle, autophagosome membrane. Note=This protein shuttles between lysosomes, endosomes, and the plasma membrane.
FUNCTION
Plays an important role in chaperone-mediated autophagy, a process that mediates lysosomal degradation of proteins in response to various stresses and as part of the normal turnover of proteins with a long biological half-live. Functions by binding target proteins, such as GAPDH and MLLT11, and targeting them for lysosomal degradation. Plays a role in lysosomal protein degradation in response to starvation (By similarity). Required for the fusion of autophagosomes with lysosomes during autophagy. Cells that lack LAMP2 express normal levels of VAMP8, but fail to accumulate STX17 on autophagosomes, which is the most likely explanation for the lack of fusion between autophagosomes and lysosomes. Required for normal degradation of the contents of autophagosomes. Required for efficient MHCII-mediated presentation of exogenous antigens via its function in lysosomal protein degradation; antigenic peptides generated by proteases in the endosomal/lysosomal compartment are captured by nascent MHCII subunits. Is not required for efficient MHCII-mediated presentation of endogenous antigens.; [Isoform LAMP-2C]: Modulates chaperone-mediated autophagy. Decreases presentation of endogenous antigens by MHCII. Does not play a role in the presentation of exogenous and membrane-derived antigens by MHCII.