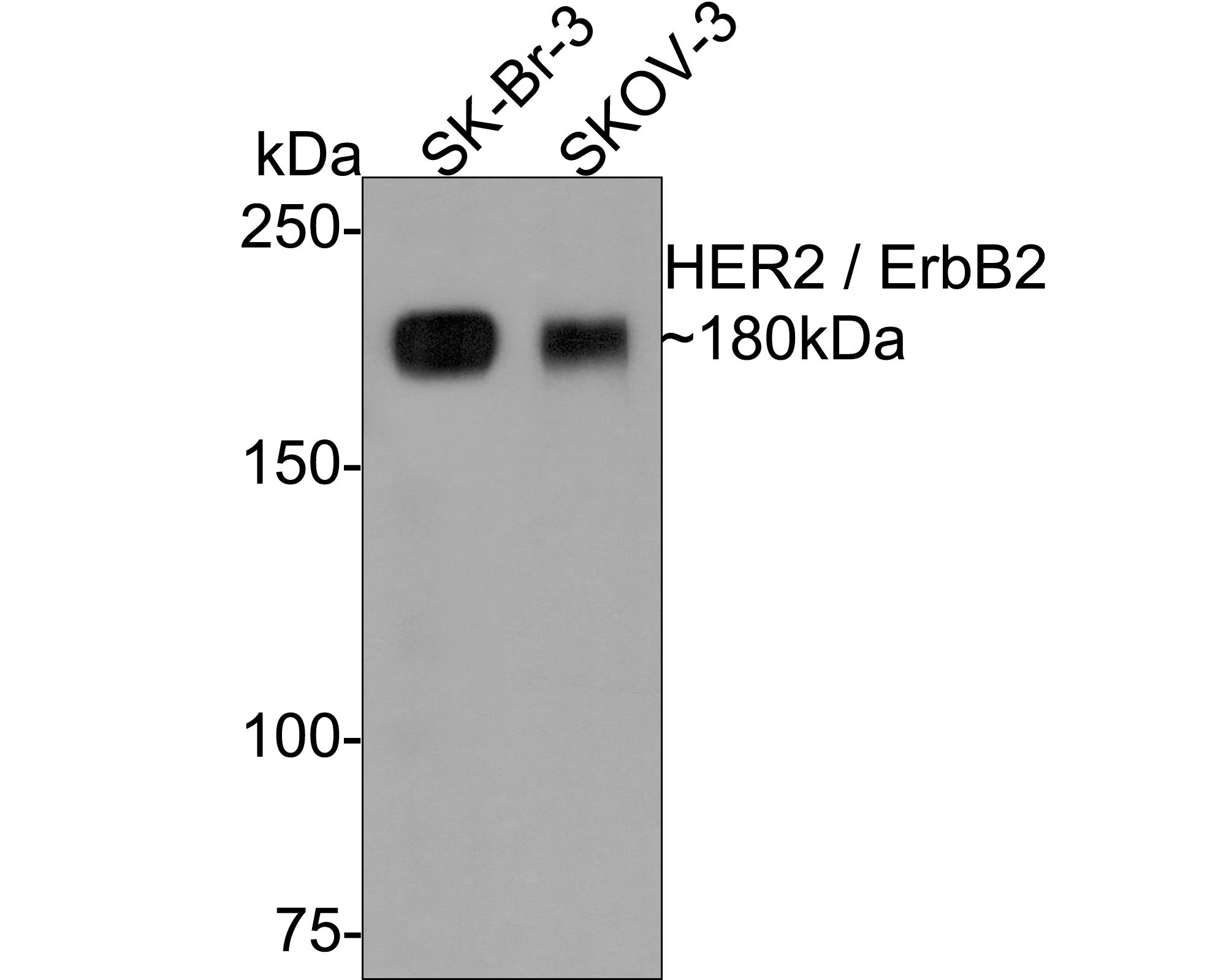 Western blot analysis of ErbB2 on different cell lysates using anti- ErbB2 antibody at 1/500 dilution.
Positive control:
Lane 1: SKOV-3
Lane 2: SKBR-3
SPECIFICATIONS
Product Type
Rabbit polyclonal primary
Product Name
HER2 / ErbB2 Antibody (ER0106)
Positive Control
SKOV-3, SKBR-3, human stomach carcinoma tissue
PROPERTIES
Storage Condition
Store at +4C after thawing. Aliquot store at -20C or -80C. Avoid repeated freeze / thaw cycles.
Storage Buffer
1*PBS (pH7.4), 0.2% BSA, 40% Glycerol. Preservative: 0.05% Sodium Azide.
PURIFICATION
Peptide affinity purified
TARGET
PROTEIN NAME
Receptor tyrosine-protein kinase erbB-2
SEQUENCE SIMILARITIES
Belongs to the protein kinase superfamily. Tyr protein kinase family. EGF receptor subfamily.
TISSUE SPECIFICITY
Expressed in a variety of tumor tissues including primary breast tumors and tumors from small bowel, esophagus, kidney and mouth.
POST-TRANSLATIONAL MODIFICATION
Autophosphorylated. Autophosphorylation occurs in trans, i.e. one subunit of the dimeric receptor phosphorylates tyrosine residues on the other subunit (Probable). Ligand-binding increases phosphorylation on tyrosine residues. Signaling via SEMA4C promotes phosphorylation at Tyr-1248. Dephosphorylated by PTPN12.
SUBCELLULAR LOCATION
[Isoform 1]: Cell membrane; Single-pass type I membrane protein. Early endosome. Cytoplasm, perinuclear region. Nucleus. Note=Translocation to the nucleus requires endocytosis, probably endosomal sorting and is mediated by importin beta-1/KPNB1. Also detected in VPS35-positive endosome-to-TGN retrograde vesicles.; [Isoform 2]: Cytoplasm. Nucleus.; [Isoform 3]: Cytoplasm. Nucleus.
FUNCTION
Protein tyrosine kinase that is part of several cell surface receptor complexes, but that apparently needs a coreceptor for ligand binding. Essential component of a neuregulin-receptor complex, although neuregulins do not interact with it alone. GP30 is a potential ligand for this receptor. Regulates outgrowth and stabilization of peripheral microtubules (MTs). Upon ERBB2 activation, the MEMO1-RHOA-DIAPH1 signaling pathway elicits the phosphorylation and thus the inhibition of GSK3B at cell membrane. This prevents the phosphorylation of APC and CLASP2, allowing its association with the cell membrane. In turn, membrane-bound APC allows the localization of MACF1 to the cell membrane, which is required for microtubule capture and stabilization.; In the nucleus is involved in transcriptional regulation. Associates with the 5'-TCAAATTC-3' sequence in the PTGS2/COX-2 promoter and activates its transcription. Implicated in transcriptional activation of CDKN1A; the function involves STAT3 and SRC. Involved in the transcription of rRNA genes by RNA Pol I and enhances protein synthesis and cell growth.