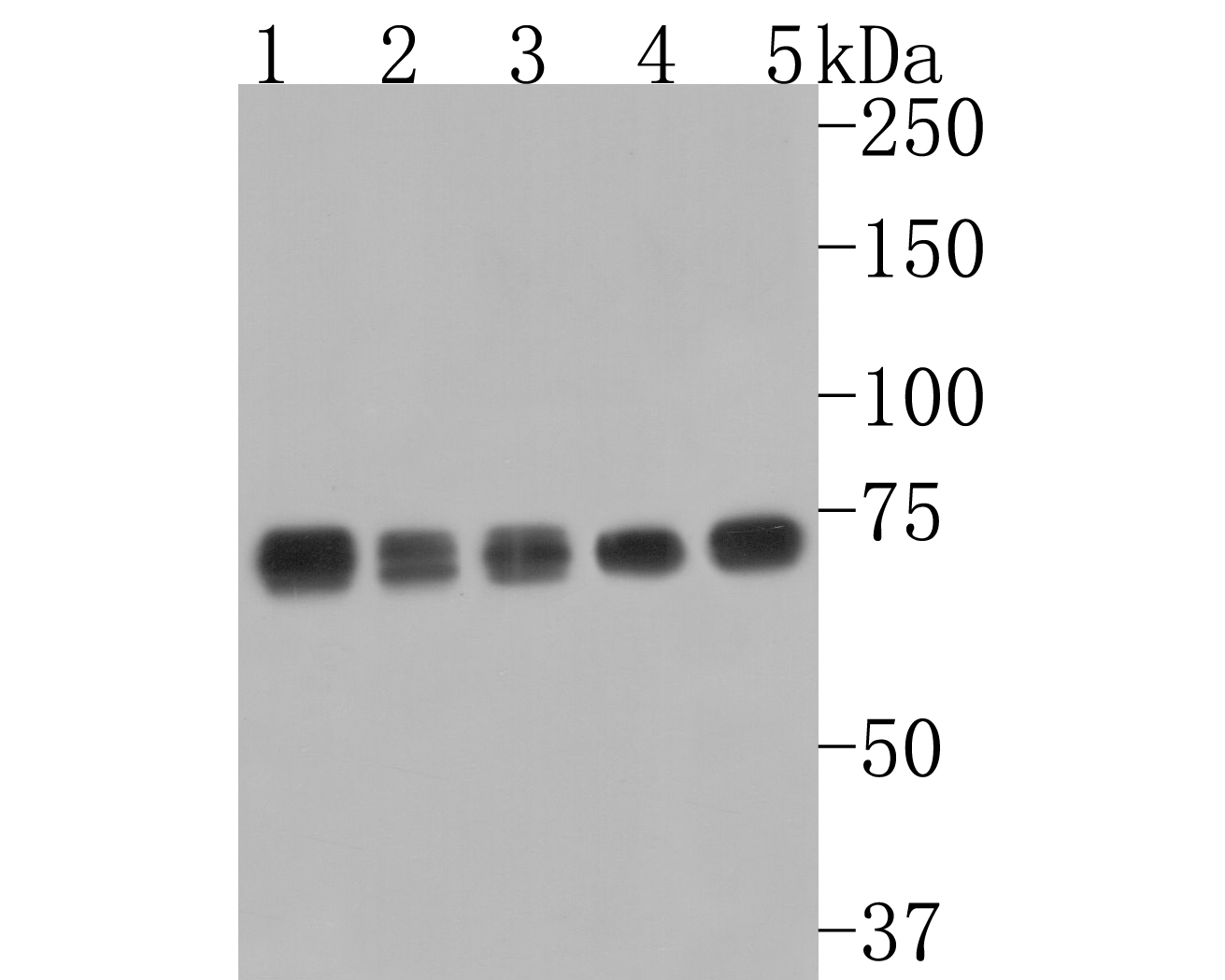 Western blot analysis of GRP78 on different cell lysates using anti-GRP78 antibody at 1/2000 dilution.
SPECIFICATIONS
Product Type
Rabbit polyclonal primary
Product Name
GRP78 Rabbit Polyclonal Antibody (ER40402)
Immunogen
Synthetic peptide within c-terminal human grp78.
Positive Control
Hela, PC12, HepG2, SK-BR-3, human liver tissue, rat epencephalon tissue, mouse liver tissue, rat small intestine tissue, mouse small intestine, human colon cancer tissue, human breast carcinoma tissue.
PROPERTIES
Storage Condition
Store at +4C after thawing. Aliquot store at -20C or -80C. Avoid repeated freeze / thaw cycles.
Storage Buffer
1*PBS (pH7.4), 0.2% BSA, 40% Glycerol. Preservative: 0.05% Sodium Azide.
PURIFICATION
Peptide affinity purified
TARGET
SYNONYMS
78 kDa glucose regulated protein antibody; 78 kDa glucose-regulated protein antibody; AL022860 antibody; AU019543 antibody; BIP antibody; D2Wsu141e antibody; D2Wsu17e antibody; Endoplasmic reticulum lumenal Ca(2+)-binding protein grp78 antibody; Endoplasmic reticulum lumenal Ca2+ binding protein grp78 antibody; Epididymis secretory sperm binding protein Li 89n antibody; FLJ26106 antibody; Glucose Regulated Protein 78kDa antibody; GRP 78 antibody; GRP-78 antibody; GRP78 antibody; GRP78_HUMAN antibody; Heat shock 70 kDa protein 5 antibody; Heat Shock 70kDa Protein 5 antibody; Heat shock protein family A (Hsp70) member 5 antibody; HEL S 89n antibody; Hsce70 antibody; HSPA 5 antibody; HSPA5 antibody; Immunoglobulin Heavy Chain Binding Protein antibody; Immunoglobulin heavy chain-binding protein antibody; mBiP antibody; MIF2 antibody; Sez7 antibody
SEQUENCE SIMILARITIES
Belongs to the heat shock protein 70 family.
POST-TRANSLATIONAL MODIFICATION
AMPylated by FICD. In unstressed cells, AMPylation at Thr-518 by FICD inactivates the chaperome activity: AMPylated form is locked in a relatively inert state and only weakly stimulated by J domain-containing proteins (By similarity). In response to endoplasmic reticulum stress, de-AMPylation by the same protein, FICD, restores the chaperone activity (By similarity).
SUBCELLULAR LOCATION
Cytoplasm, endoplasmic reticulum lumen
FUNCTION
Binding immunoglobulin protein (BiP) also known as 78 kDa glucose-regulated protein (GRP-78) or heat shock 70 kDa protein 5 (HSPA5) is a protein that in humans is encoded by the HSPA5 gene. BiP is a HSP70 molecular chaperone located in the lumen of the endoplasmic reticulum (ER) that binds newly synthesized proteins as they are translocated into the ER, and maintains them in a state competent for subsequent folding and oligomerization. BiP is also an essential component of the translocation machinery, as well as playing a role in retrograde transport across the ER membrane of aberrant proteins destined for degradation by the proteasome. Like many stress and heat shock proteins, BiP/GRP78 has potent immunological activity when released from the internal environment of the cell into the extracelluar space.specifically, it feeds anti-inflammatory and pro-resolutory signals into immune networks, thus helping to resolve inflammation.