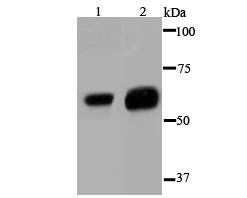 Western blot analysis of Glypican-1 on different cell lysate using anti- Glypican-1 antibody at 1/1,000 dilution.
Positive control:
Lane 1: Hela
Lane 2: SK-Br-3
SPECIFICATIONS
Product Type
Rabbit polyclonal primary
Product Name
GPC1 Rabbit Polyclonal Antibody (R1512-15)
Positive Control
Hela, SK-Br-3, MCF-7, PANC-1, human breast tissue, human breast cancer tissue.
PROPERTIES
Storage Condition
Store at +4Cafter thawing. Aliquot store at -20Cor -80C. Avoid repeated freeze / thaw cycles.
Storage Buffer
1*PBS (pH7.4), 0.2% BSA, 50% Glycerol. Preservative: 0.05% Sodium Azide.
PURIFICATION
Peptide affinity purified
TARGET
SYNONYMS
FLJ38078 antibody; glypican antibody; Glypican proteoglycan 1 antibody; glypican1 antibody; GPC 1 antibody; Gpc1 antibody; GPC1_HUMAN antibody; Secreted glypican-1 antibody
SEQUENCE SIMILARITIES
Belongs to the glypican family.
POST-TRANSLATIONAL MODIFICATION
S-nitrosylated in a Cu(2+)-dependent manner. Nitric acid (NO) is released from the nitrosylated cysteines by ascorbate or by some other reducing agent, in a Cu(2+) or Zn(2+) dependent manner. This free nitric oxide is then capable of cleaving the heparan sulfate side chains.; N- and O-glycosylated. N-glycosylation is mainly of the complex type containing sialic acid. O-glycosylated with heparan sulfate. The heparan sulfate chains can be cleaved either by the action of heparanase or, degraded by a deaminative process that uses nitric oxide (NO) released from the S-nitrosylated cysteines. This process is triggered by ascorbate, or by some other reducing agent, in a Cu(2+)- or Zn(2+) dependent manner. Cu(2+) ions are provided by ceruloproteins such as APP, PRNP or CP which associate with GCP1 in intracellular compartments or lipid rafts.; This cell-associated glypican is further processed to give rise to a medium-released species.
FUNCTION
Glypican-1 (GPC1), a member of the glycosylphosphatidilinositol anchored cell surface heparan sulfate proteoglycans, is involved with cell adhesion and migration, lipoprotein metabolism, modulation of growth factor activites and anticoagulation. Glypican-1 binds to and modulates the activity of several fibroblast growth factors (FGFs) including FGF-1, FGF-2 and FGF-7. Glypican-1 acts as an extracellular chaperone for VEGF165 to help restore receptor binding ability after oxidation. The heparan sulfate chains of glypican-1 mediate specific binding of glypican-1 to VEGF165. When present on the surface of marrow stromal cells, glypican-1 may aid in the maintenance and development of hematopoietic stem and progenitor cells. Human pancreatic cancer cells express a large amount of glypican-1 when compared to glypican-1 levels in normal pancreatic cells. Glypican-1 may play an important role in the response of pancreatic cancer cells to mitogenic stimuli, such as FGF-2. The gene encoding human glypican-1 maps to chromosome 2q37.3.