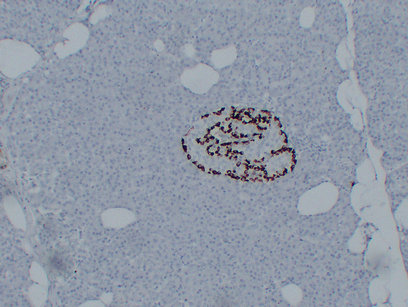 Western blot analysis of Glucagon on mouse kidney tissue lysate using anti-Glucagon antibody at 1/500 dilution.
SPECIFICATIONS
Product Name
Glucagon Mouse Monoclonal Antibody [5F1] (EM1701-34)
Positive Control
Mouse kidney tissue lysate, LOVO, PANC-1, SH-SY5Y, mouse pancreas tissue, rat pancreas tissue.
PROPERTIES
Storage Condition
Store at +4C after thawing. Aliquot store at -20C or -80C. Avoid repeated freeze / thaw cycles.
Storage Buffer
1*PBS (pH7.4), 0.2% BSA, 50% Glycerol. Preservative: 0.05% Sodium Azide.
MOLECULAR WEIGHT
21 kDa, additional band 55kDa
TARGET
SEQUENCE SIMILARITIES
Belongs to the glucagon family.
TISSUE SPECIFICITY
Glucagon is secreted in the A cells of the islets of Langerhans. GLP-1, GLP-2, oxyntomodulin and glicentin are secreted from enteroendocrine cells throughout the gastrointestinal tract. GLP-1 and GLP-2 are also secreted in selected neurons in the brain.
POST-TRANSLATIONAL MODIFICATION
Proglucagon is post-translationally processed in a tissue-specific manner in pancreatic A cells and intestinal L cells. In pancreatic A cells, the major bioactive hormone is glucagon cleaved by PCSK2/PC2. In the intestinal L cells PCSK1/PC1 liberates GLP-1, GLP-2, glicentin and oxyntomodulin. GLP-1 is further N-terminally truncated by post-translational processing in the intestinal L cells resulting in GLP-1(7-37) GLP-1-(7-36)amide. The C-terminal amidation is neither important for the metabolism of GLP-1 nor for its effects on the endocrine pancreas.
FUNCTION
Glucagon is a pancreatic hormone that functions as an antagonist to insulin, stimulating the conversion of glycogen to glucose and increasing blood sugar levels. Glucagon-like peptide-1 (GLP-1), Glucagon-like peptide-2 (GLP-2), VIP (vasoactive intestinal peptide) and PACAP (pituitary adenylate cyclase activating polypeptide) are members of the glucagon family of hormones. GLP-1 functions as a transmitter in the central nervous system, inhibiting feeding and drinking behavior, whereas GLP-2 is a stimulator of intestinal epithelial growth. VIP causes vasodilation resulting in the lowering of blood pressure. PACAP is abundant in the hypothalamus and has been shown to increase the synthesis of several hormones, including growth hormone.