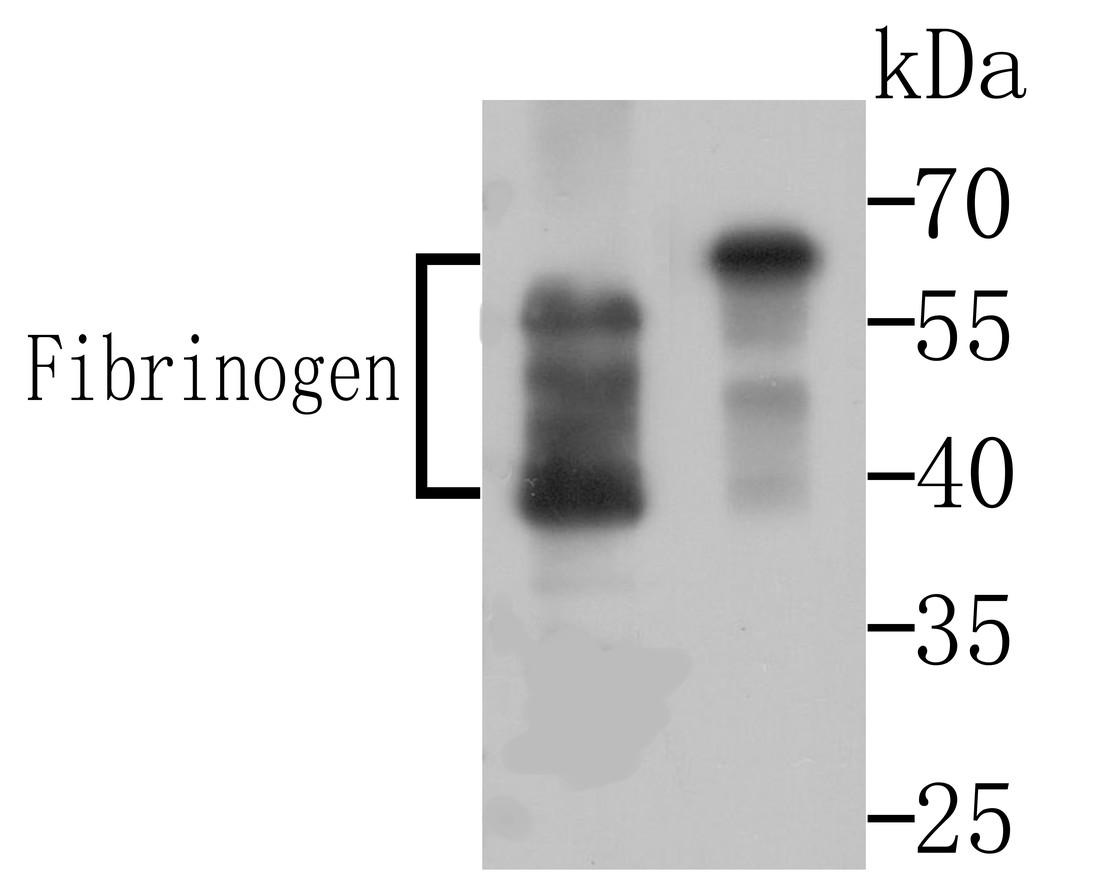 Western blot analysis of Fibrinogen on mouse bone marrow and human kidney tissue lysates using anti-Fibrinogen antibody at 1/500 dilution.
SPECIFICATIONS
Product Type
Rabbit polyclonal primary
Product Name
Fibrinogen Antibody (ER1802-26)
Positive Control
Mouse bone marrow and human kidney tissue lysates, A549, NIH-3T3.
PROPERTIES
Storage Condition
Store at +4C after thawing. Aliquot store at -20C or -80C. Avoid repeated freeze / thaw cycles.
Storage Buffer
1*PBS (pH7.4), 0.2% BSA, 50% Glycerol. Preservative: 0.05% Sodium Azide.
TARGET
PROTEIN NAME
Fibrinogen alpha chain [Cleaved into: Fibrinopeptide A; Fibrinogen alpha chain]
TISSUE SPECIFICITY
Detected in blood plasma (at protein level).
POST-TRANSLATIONAL MODIFICATION
The alpha chain is normally not N-glycosylated. It is well known that heterologous expression of isolated domains can lead to adventitious protein modifications. Besides, glycosylation at Asn-686 is supported by large-scale glycoproteomics studies (PubMed:16335952 and PubMed:19159218), but the evidence is still quite tenuous. Most likely, Asn-686 is not glycosylated in the healthy human body, or only with low efficiency.; O-glycosylated.; Forms F13A-mediated cross-links between a glutamine and the epsilon-amino group of a lysine residue, forming fibronectin-fibrinogen heteropolymers.; About one-third of the alpha chains in the molecules in blood were found to be phosphorylated.; Conversion of fibrinogen to fibrin is triggered by thrombin, which cleaves fibrinopeptides A and B from alpha and beta chains, and thus exposes the N-terminal polymerization sites responsible for the formation of the soft clot. The soft clot is converted into the hard clot by factor XIIIA which catalyzes the epsilon-(gamma-glutamyl)lysine cross-linking between gamma chains (stronger) and between alpha chains (weaker) of different monomers.; Phosphorylated by FAM20C in the extracellular medium.
FUNCTION
Cleaved by the protease thrombin to yield monomers which, together with fibrinogen beta (FGB) and fibrinogen gamma (FGG), polymerize to form an insoluble fibrin matrix. Fibrin has a major function in hemostasis as one of the primary components of blood clots. In addition, functions during the early stages of wound repair to stabilize the lesion and guide cell migration during re-epithelialization. Was originally thought to be essential for platelet aggregation, based on in vitro studies using anticoagulated blood. However, subsequent studies have shown that it is not absolutely required for thrombus formation in vivo. Enhances expression of SELP in activated platelets via an ITGB3-dependent pathway. Maternal fibrinogen is essential for successful pregnancy. Fibrin deposition is also associated with infection, where it protects against IFNG-mediated hemorrhage. May also facilitate the immune response via both innate and T-cell mediated pathways.