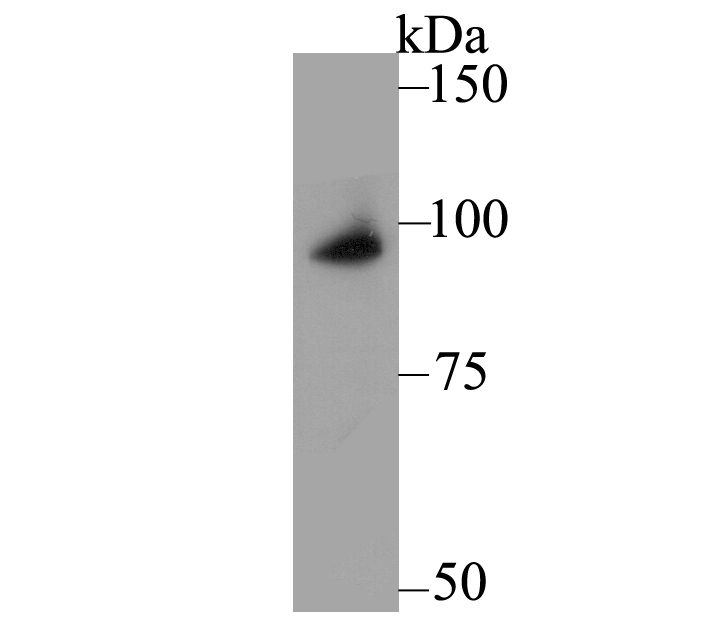 Western blot analysis of delta 1 Catenin/CAS on A431 cell lysate. Proteins were transferred to a PVDF membrane and blocked with 5% BSA in PBS for 1 hour at room temperature. The primary antibody was used at a 1:500 dilution in 5% BSA at room temperature for 2 hours. Goat Anti-Rabbit IgG - HRP Secondary Antibody (HA1001) at 1:5,000 dilution was used for 1 hour at room temperature.
SPECIFICATIONS
Product Type
Rabbit polyclonal primary
Product Name
delta 1 Catenin/CAS Antibody (ER1803-71)
Immunogen
Recombinant protein within human delta 1 catenin/cas aa 130-320.
PROPERTIES
Storage Condition
Store at +4C after thawing. Aliquot store at -20C. Avoid repeated freeze / thaw cycles.
Storage Buffer
1*PBS (pH7.4), 0.2% BSA, 50% Glycerol. Preservative: 0.05% Sodium Azide.
TARGET
SYNONYMS
Cadherin associated Src substrate antibody; Cadherin-associated Src substrate antibody; CAS antibody; Catenin (cadherin associated protein) delta 1 antibody; Catenin delta 1 antibody; Catenin delta antibody; Catenin delta-1 antibody; CTND1_HUMAN antibody; CTNND 1 antibody; CTNND antibody; CTNND1 antibody; delta 1 Catenin antibody; KIAA0384 antibody; p120 antibody; P120 CAS antibody; p120 catenin antibody; P120 CTN antibody; p120(cas) antibody; p120(ctn) antibody; P120CAS antibody; P120CTN antibody
SEQUENCE SIMILARITIES
Belongs to the beta-catenin family.
TISSUE SPECIFICITY
Expressed in vascular endothelium. Melanocytes and melanoma cells primarily express the long isoform 1A, whereas keratinocytes express shorter isoforms, especially 3A. The shortest isoform 4A, is detected in normal keratinocytes and melanocytes, and generally lost from cells derived from squamous cell carcinomas or melanomas. The C-terminal alternatively spliced exon B is present in the p120ctn transcripts in the colon, intestine and prostate, but lost in several tumor tissues derived from these organs.
POST-TRANSLATIONAL MODIFICATION
Phosphorylated by FER and other protein-tyrosine kinases. Phosphorylated at Ser-288 by PAK5. Dephosphorylated by PTPRJ.
SUBCELLULAR LOCATION
Cell membrane, Cytoplasm, Membrane, Nucleus. Interaction with GLIS2 promotes nuclear translocation (By similarity). NANOS1 induces its translocation from sites of cell-cell contact to the cytoplasm.
FUNCTION
This gene encodes a member of the Armadillo protein family, which function in adhesion between cells and signal transduction. Multiple translation initiation codons and alternative splicing result in many different isoforms being translated. Not all of the full-length natures of the described transcript variants have been determined. Read-through transcription also exists between this gene and the neighboring upstream thioredoxin-related transmembrane protein 2 (TMX2) gene. Binds to and inhibits the transcriptional repressor ZBTB33, which may lead to activation of target genes of the Wnt signaling pathway (By similarity). Associates with and regulates the cell adhesion properties of both C-, E- and N-cadherins, being critical for their surface stability. Implicated both in cell transformation by SRC and in ligand-induced receptor signaling through the EGF, PDGF, CSF-1 and ERBB2 receptors. Promotes GLIS2 C-terminal cleavage.