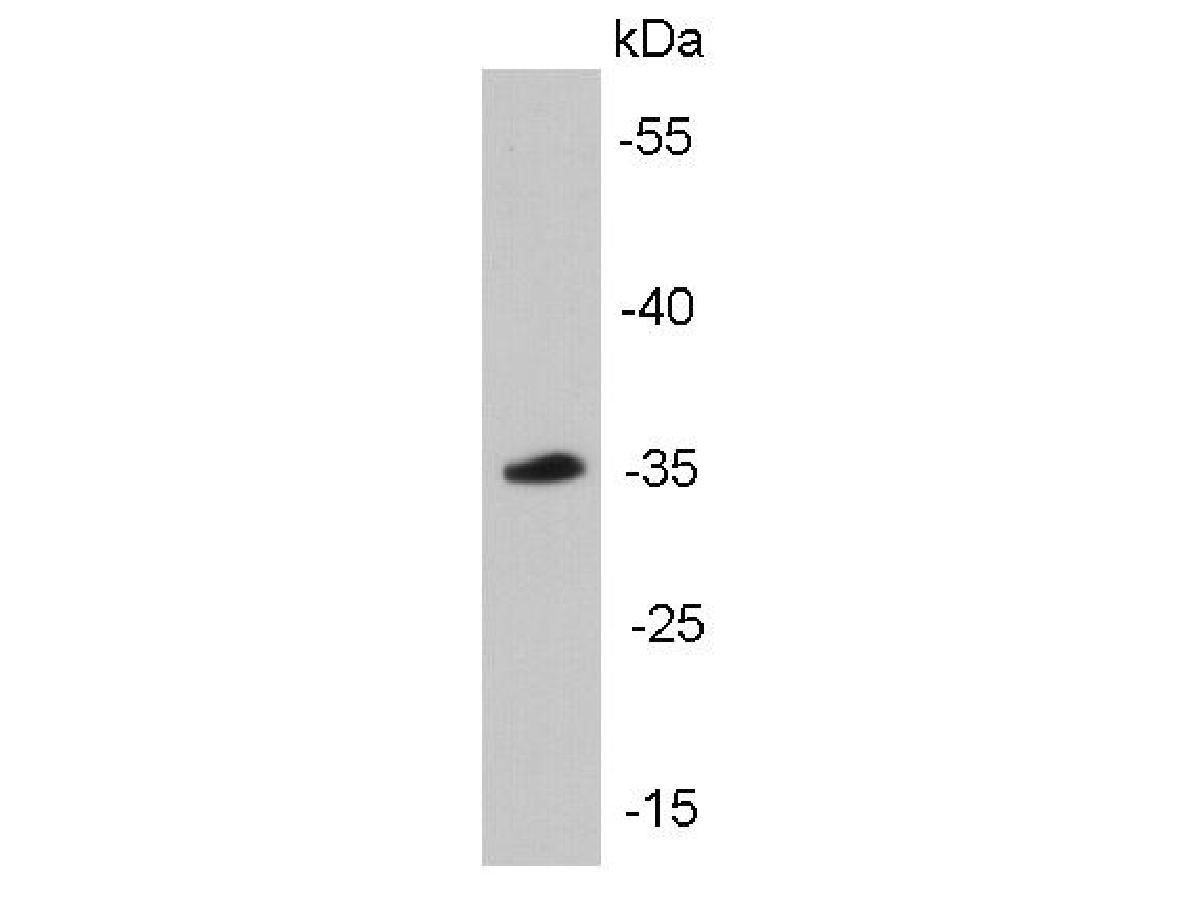 Western blot analysis of cyclin D1 on mouse brain tissue lysates using anti-Cyclin D1 antibody at 1/5000 dilution.
Positive control: mouse brain
SPECIFICATIONS
Product Type
Rabbit polyclonal primary
Product Name
Cyclin D1 Antibody (ER0722)
Positive Control
Mouse brain, human tonsil tissue, human liver carcinoma tissue
PROPERTIES
Storage Condition
Store at +4C after thawing. Aliquot store at -20C or -80C. Avoid repeated freeze / thaw cycles.
Storage Buffer
1*PBS (pH7.4), 0.2% BSA, 40% Glycerol. Preservative: 0.05% Sodium Azide.
PURIFICATION
Peptide affinity purified
TARGET
SEQUENCE SIMILARITIES
Belongs to the cyclin family. Cyclin D subfamily.
POST-TRANSLATIONAL MODIFICATION
Phosphorylation at Thr-286 by MAP kinases is required for ubiquitination and degradation following DNA damage. It probably plays an essential role for recognition by the FBXO31 component of SCF (SKP1-cullin-F-box) protein ligase complex (By similarity).; Ubiquitinated, primarily as 'Lys-48'-linked polyubiquitination. Ubiquitinated by a SCF (SKP1-CUL1-F-box protein) ubiquitin-protein ligase complex containing FBXO4 and CRYAB. Following DNA damage it is ubiquitinated by some SCF (SKP1-cullin-F-box) protein ligase complex containing FBXO31. SCF-type ubiquitination is dependent on Thr-286 phosphorylation. Ubiquitinated also by UHRF2 apparently in a phosphorylation-independent manner (By similarity). Ubiquitination leads to its degradation and G1 arrest. Deubiquitinated by USP2; leading to its stabilization.
SUBCELLULAR LOCATION
Nucleus. Cytoplasm. Nucleus membrane. Note=Cyclin D-CDK4 complexes accumulate at the nuclear membrane and are then translocated into the nucleus through interaction with KIP/CIP family members.
FUNCTION
Regulatory component of the cyclin D1-CDK4 (DC) complex that phosphorylates and inhibits members of the retinoblastoma (RB) protein family including RB1 and regulates the cell-cycle during G(1)/S transition. Phosphorylation of RB1 allows dissociation of the transcription factor E2F from the RB/E2F complex and the subsequent transcription of E2F target genes which are responsible for the progression through the G(1) phase. Hypophosphorylates RB1 in early G(1) phase. Cyclin D-CDK4 complexes are major integrators of various mitogenenic and antimitogenic signals. Also substrate for SMAD3, phosphorylating SMAD3 in a cell-cycle-dependent manner and repressing its transcriptional activity. Component of the ternary complex, cyclin D1/CDK4/CDKN1B, required for nuclear translocation and activity of the cyclin D-CDK4 complex. Exhibits transcriptional corepressor activity with INSM1 on the NEUROD1 and INS promoters in a cell cycle-independent manner (By similarity).