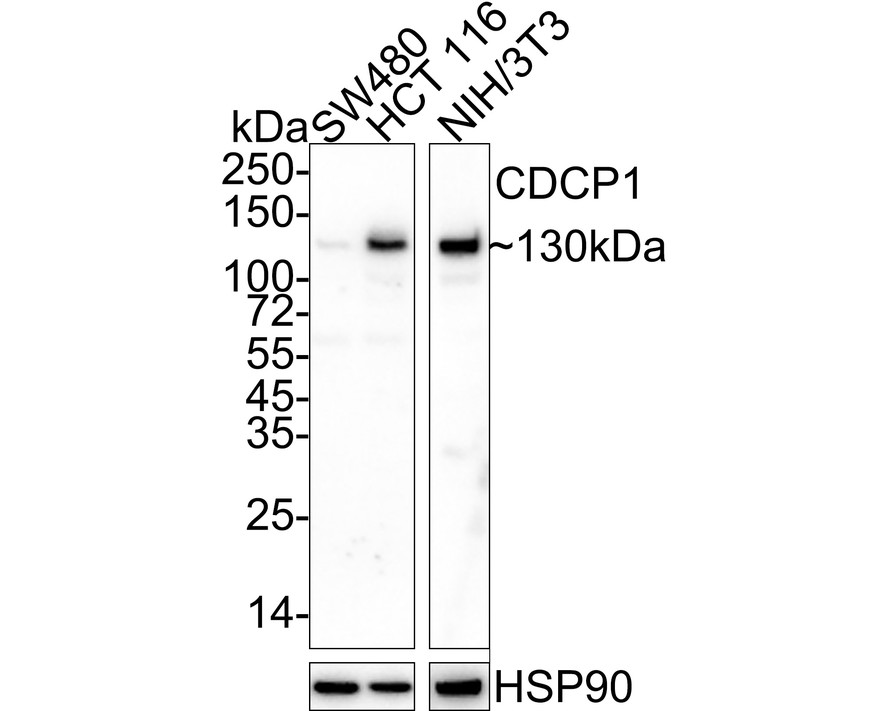 Western blot analysis of CDCP1 on K562 cell lysates using anti-CDCP1 antibody at 1/200 dilution.
SPECIFICATIONS
Product Name
CUB domain-containing protein 1 Mouse Monoclonal Antibody [B2-E6] (EM1701-84)
Positive Control
A549, LOVO, K562, rat skeletal muscle tissue, human tonsil tissue, human colon cancer tissue, mouse colon tissue, human breast cancer tissue.
PROPERTIES
Storage Condition
Store at +4C after thawing. Aliquot store at -20C. Avoid repeated freeze / thaw cycles.
Storage Buffer
1*PBS (pH7.4), 0.2% BSA, 50% Glycerol. Preservative: 0.05% Sodium Azide.
PURIFICATION
Protein affinity purified.
TARGET
PROTEIN NAME
CUB domain-containing protein 1
SYNONYMS
9030022E12Rik antibody; AA409659 antibody; CD 318 antibody; CD_antigen=CD318 antibody; CD318 antibody; CD318 antigen antibody; CDCP 1 antibody; Cdcp1 antibody; CDCP1_HUMAN antibody; CUB domain containing protein 1 antibody; CUB domain-containing protein 1 antibody; E030027H19Rik antibody; FLJ13772 antibody; FLJ22375 antibody; FLJ22969 antibody; Membrane glycoprotein gp140 antibody; MGC31813 antibody; OTTHUMP00000164120 antibody; OTTHUMP00000209568 antibody; RGD1305578 antibody; SIMA 135 antibody; SIMA135 antibody; Subtractive immunization M plus HEp3 associated 135 kDa protein antibody; Subtractive immunization M plus HEp3-associated 135 kDa protein antibody; Transmembrane and associated with src kinases antibody; TRASK antibody
TISSUE SPECIFICITY
Highly expressed in mitotic cells with low expression during interphase. Detected at highest levels in skeletal muscle and colon with lower levels in kidney, small intestine, placenta and lung. Up-regulated in a number of human tumor cell lines, as well as in colorectal cancer, breast carcinoma and lung cancer. Also expressed in cells with phenotypes reminiscent of mesenchymal stem cells and neural stem cells.
POST-TRANSLATIONAL MODIFICATION
Phosphorylated on tyrosine by kinases of the SRC family such as SRC and YES as well as by the protein kinase C gamma/PRKCG. Dephosphorylated by phosphotyrosine phosphatases. Also phosphorylated by suramin, a heparin analog. Tyrosine phosphorylated in response to dissociation of integrin alpha-6 beta-4 from laminin-5.; N-glycosylated.; A soluble form may also be produced by proteolytic cleavage at the cell surface (shedding). Another peptide of 80 kDa (p80) is present in cultured keratinocytes probably due to tryptic cleavage at an unidentified site on its N-terminal side. Converted to p80 by plasmin, a trypsin-like protease.
FUNCTION
CDCP1 (CUB-domain-containing protein 1) contains three extracellular CUB domains, a transmembrane domain, and two putative cytoplasmic tyrosine phosphorylation sites. Phosphorylation of the gp140 and p80 proteins is mediated by Src family kinases at various tyrosine residues, including Tyr 734. PTP family members mediate the desphosphorylation of CDCP1. The conversion of gp140 to p80 prolongs the phosphorylation state, which may affect signaling in epithelial wounds. CDCP1 acts as a marker for hematopoetic cells and also exhibits high expression in metastatic colon and breast tumors.