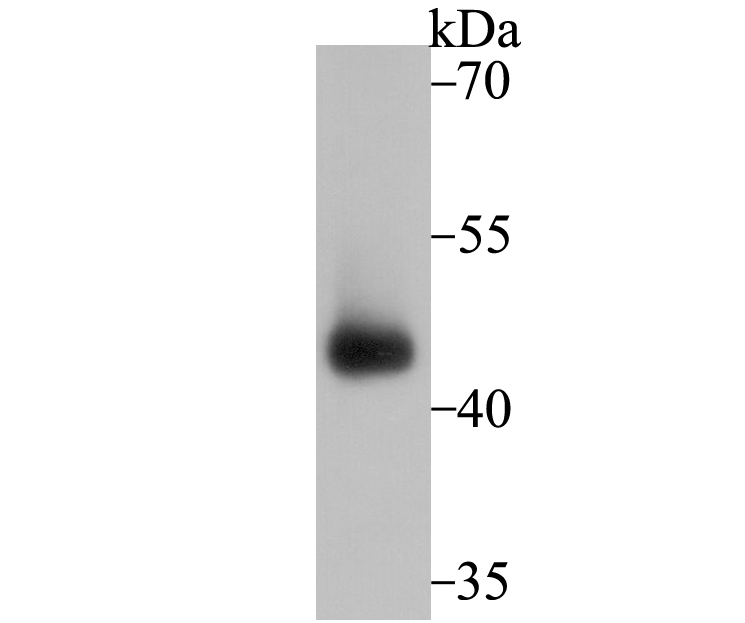 Western blot analysis of Connexin 43 on mouse testis tissue lysate using anti-Connexin 43 antibody at 1/2,000 dilution.
SPECIFICATIONS
Product Type
Rabbit polyclonal primary
Product Name
Connexin 43 Rabbit Polyclonal Antibody (ER1802-88)
Immunogen
Synthetic peptide within c-terminal human connexin 43.
Positive Control
Mouse testis tissue lysate, human skin tissue, human heart tissue, mouse brain tissue, SH-SY-5Y.
PROPERTIES
Storage Condition
Store at +4C after thawing. Aliquot store at -20C. Avoid repeated freeze / thaw cycles.
Storage Buffer
1*PBS (pH7.4), 0.2% BSA, 50% Glycerol. Preservative: 0.05% Sodium Azide.
PURIFICATION
Peptide affinity purified.
TARGET
SYNONYMS
Connexin 43 antibody; Connexin-43 antibody; Cx 43 antibody; Cx43 antibody; CXA1_HUMAN antibody; DFNB38 antibody; Gap junction 43 kDa heart protein antibody; Gap junction alpha-1 protein antibody; Gap junction protein alpha 1 43kDa (connexin 43) antibody; Gap junction protein alpha 1 43kDa antibody; Gap junction protein alpha like antibody; GJA 1 antibody; Gja1 antibody; GJAL antibody; ODD antibody; ODDD antibody; ODOD antibody; SDTY3 antibody
SEQUENCE SIMILARITIES
Belongs to the connexin family. Alpha-type (group II) subfamily.
TISSUE SPECIFICITY
Expressed in the heart and fetal cochlea.
POST-TRANSLATIONAL MODIFICATION
Phosphorylated at Ser-368 by PRKCG; phosphorylation induces disassembly of gap junction plaques and inhibition of gap junction activity (By similarity). Phosphorylation at Ser-325, Ser-328 and Ser-330 by CK1 modulates gap junction assembly. Phosphorylation at Ser-368 by PRKCD triggers its internalization into small vesicles leading to proteasome-mediated degradation (By similarity).; Sumoylated with SUMO1, SUMO2 and SUMO3, which may regulate the level of functional Cx43 gap junctions at the plasma membrane. May be desumoylated by SENP1 or SENP2.; S-nitrosylation at Cys-271 is enriched at the muscle endothelial gap junction in arteries, it augments channel permeability and may regulate of smooth muscle cell to endothelial cell communication.; Acetylated in the developing cortex; leading to delocalization from the cell membrane.
SUBCELLULAR LOCATION
Plasma membrane. Endoplasmic reticulum. Gap junction.
FUNCTION
The connexins are a group of gap junction proteins which form a hexamer to compose a connexon. Clusters of connexons form a gap junction through which low molecular weight proteins may diffuse from cell to cell. Several mammalian cells with malignant phenotypes exhibit decreased connexin expression and gap junction communication. In Src transformed cells, there is a decrease in gap junctional communication, which appears to be associated with tyrosine phosphorylation of connexin 43. Activated c-Src phosphorylates the C-terminal tail of connexin 43 on Tyr 265, resulting in a stable interaction between both proteins, which leads to inhibition of gap junctional communication. In addition to tyrosine phosphorylation, connexin 43 has also been shown to be phosphorylated on serine in the absence of Src kinases and on both serine and tyrosine in cells expressing Src kinases, such as c-Src and/or pp60v-Src. In human vascular endothelial cells, connexin 43 is posttranslationally modified during mitosis. Mitosis-specific phosphorylation of connexin 43 correlates with the transient loss of gap junction intercellular communication and redistribution of connexin 43.
CITATIONS
Zhang, B., Lian, W., Zhao, ...

DL0410 Alleviates Memory Impairment in D-Galactose-Induced Aging Rats by Suppressing Neuroinflammation via the TLR4/MyD88/NF-κB Pathway

Xue, M. Y., Wu, J. J., Xie,...

Investigation of fiber utilization in the rumen of dairy cows based on metagenome-assembled genomes and single-cell RNA sequencing