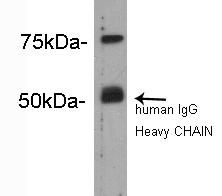 Western blot analysis on human serum using anti-complement C4 polyclonal antibody.
SPECIFICATIONS
Product Type
Rabbit polyclonal primary
Product Name
Complement C4 (beta chain) Antibody (0809-9)
PROPERTIES
Storage Condition
Store at +4C after thawing. Aliquot store at -20C or -80C. Avoid repeated freeze / thaw cycles.
Storage Buffer
1*PBS (pH7.4), 0.2% BSA, 40% Glycerol. Preservative: 0.05% Sodium Azide.
PURIFICATION
Immunogen affinity purified
TARGET
SYNONYMS
Acidic C4 antibody; Acidic complement C4 antibody; Basic C4 antibody; Basic complement C4 antibody; C3 and PZP-like alpha-2-macroglobulin domain-containing protein 2 antibody; C3 and PZP-like alpha-2-macroglobulin domain-containing protein 3 antibody; C4, Chido form antibody; C4, Rodgers from antibody; C4A anaphylatoxin antibody; C4A antibody; C4A2 antibody; C4A3 antibody; C4A4 antibody; C4A6 antibody; C4AD antibody; C4B antibody; C4B_2 antibody; C4B1 antibody; C4B12 antibody; C4B2 antibody; C4B3 antibody; C4BD antibody; C4F antibody; C4S antibody; CH antibody; Chido form of C4 antibody; CO4 antibody; CO4A_HUMAN antibody; Complement C4 gamma chain antibody; complement C4-A antibody; complement C4-B antibody; complement C4-B-like antibody; complement C4B1a antibody; Complement component 4A (Rodgers blood group) antibody; Complement component 4A antibody; complement component 4B (Chido blood group), copy 2 antibody; Complement component 4B (Childo blood group) antibody; Complement component 4B antibody; Complement component 4F antibody; Complement component 4S antibody; CPAMD2 antibody; CPAMD3 antibody; RG antibody; Rodgers form of C4 antibody
TISSUE SPECIFICITY
Complement component C4 is expressed at highest levels in the liver, at moderate levels in the adrenal cortex, adrenal medulla, thyroid gland, and the kidney, and at lowest levels in the heart, ovary, small intestine, thymus, pancreas and spleen. The extra-hepatic sites of expression may be important for the local protection and inflammatory response.
POST-TRANSLATIONAL MODIFICATION
Prior to secretion, the single-chain precursor is enzymatically cleaved to yield non-identical chains alpha, beta and gamma. During activation, the alpha chain is cleaved by C1 into C4a and C4b, and C4b stays linked to the beta and gamma chains. Further degradation of C4b by C1 into the inactive fragments C4c and C4d blocks the generation of C3 convertase. The proteolytic cleavages often are incomplete so that many structural forms can be found in plasma.; N- and O-glycosylated. O-glycosylated with a core 1 or possibly core 8 glycan.
FUNCTION
Complement component C4 is an essential component of humoral immune response. C4 plays a central role in the activation of the classical pathway of the complement system. It is processed by activated C1 which removes from the alpha chain the C4a anaphylatoxin. The remaining alpha chain fragment C4b is the major activation product and is an essential subunit of the C3 convertase (C4b2a) and the C5 convertase (C3bC4b2a) enzymes of the classical complement pathway. Each C4 contains beta chain, alpha chain,C4a anaphyltoxin, C4b and gamma chain.