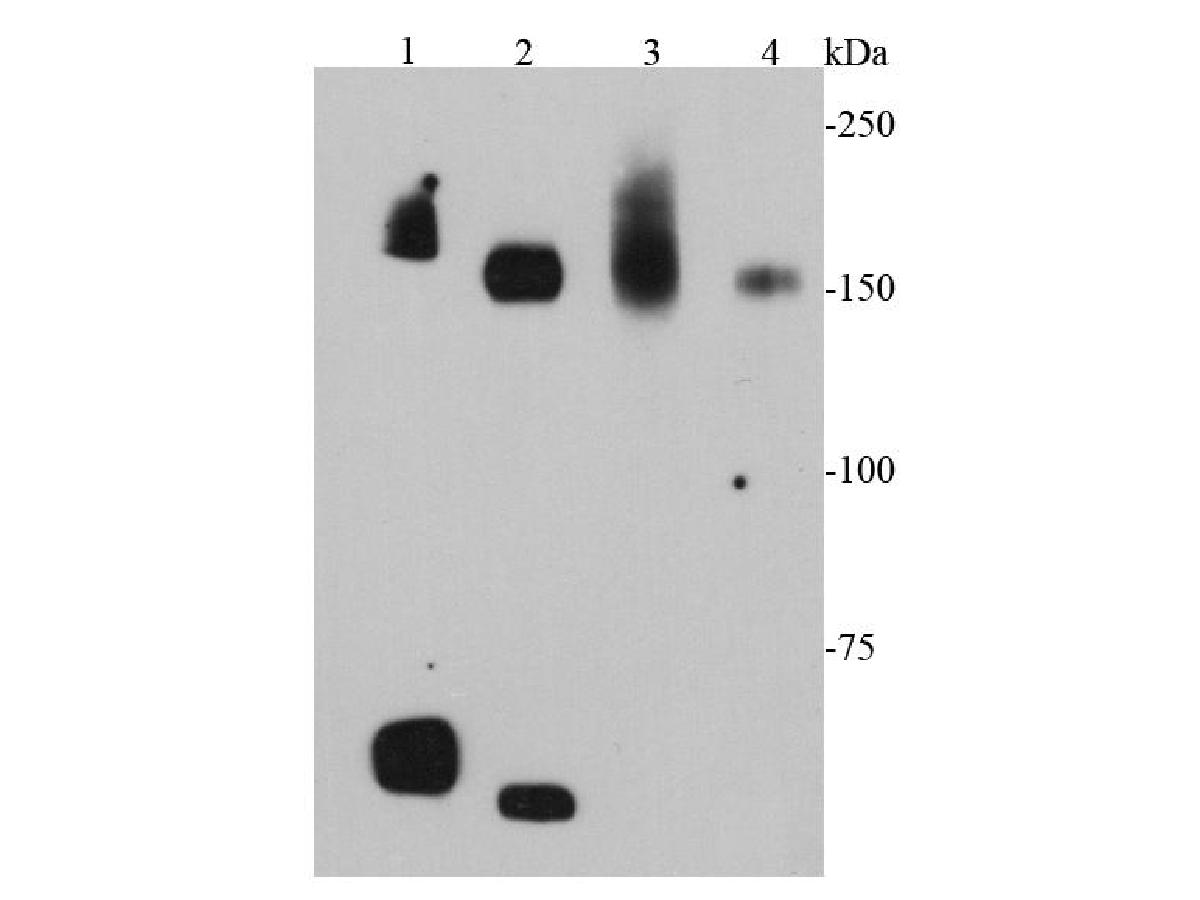 Western blot analysis of cMet on different cell lysates using anti-cMet antibody at 1/1000 dilution.
Positive control:
Lane 1: Mouse liver
Lane 2: Mouse kidney
Lane 3: D3
Lane 4: MEF
SPECIFICATIONS
Product Type
Rabbit polyclonal primary
Immunogen
Synthetic peptide within mouse cmet aa 650-690.
Positive Control
D3, MEF, Hela, N2A, mouse liver tissue, mouse kidney tissue, human colon cancer, rat liver tissue, rat spleen tissue.
PROPERTIES
Storage Condition
Store at +4C after thawing. Aliquot store at -20C or -80C. Avoid repeated freeze / thaw cycles.
Storage Buffer
1*PBS (pH7.4), 0.2% BSA, 40% Glycerol. Preservative: 0.05% Sodium Azide.
PURIFICATION
Peptide affinity purified
TARGET
PROTEIN NAME
Hepatocyte growth factor receptor
SYNONYMS
c-Met,HGF receptor,SF receptor
SEQUENCE SIMILARITIES
Belongs to the protein kinase superfamily. Tyr protein kinase family.
DEVELOPMENTAL STAGE
Low though detectable expression at 10 dpc. From 15 dpc at least until 17 dpc, expression strongly increases. Down-regulated in the adult.
POST-TRANSLATIONAL MODIFICATION
Autophosphorylated in response to ligand binding on Tyr-1232 and Tyr-1233 in the kinase domain leading to further phosphorylation of Tyr-1347 and Tyr-1354 in the C-terminal multifunctional docking site. Dephosphorylated by PTPRJ at Tyr-1347 and Tyr-1363 (By similarity). Dephosphorylated by PTPN1 and PTPN2 (By similarity).; Ubiquitinated. Ubiquitination by CBL regulates MET endocytosis, resulting in decreasing plasma membrane receptor abundance, and in endosomal degradation and/or recycling of internalized receptors.; (Microbial infection) Tyrosine phosphorylation is stimulated by L.monocytogenes InlB.
SUBCELLULAR LOCATION
Membrane; Single-pass type I membrane protein.
FUNCTION
Receptor tyrosine kinase that transduces signals from the extracellular matrix into the cytoplasm by binding to hepatocyte growth factor/HGF ligand. Regulates many physiological processes including proliferation, scattering, morphogenesis and survival. Ligand binding at the cell surface induces autophosphorylation of MET on its intracellular domain that provides docking sites for downstream signaling molecules. Following activation by ligand, interacts with the PI3-kinase subunit PIK3R1, PLCG1, SRC, GRB2, STAT3 or the adapter GAB1. Recruitment of these downstream effectors by MET leads to the activation of several signaling cascades including the RAS-ERK, PI3 kinase-AKT, or PLCgamma-PKC. The RAS-ERK activation is associated with the morphogenetic effects while PI3K/AKT coordinates prosurvival effects. During embryonic development, MET signaling plays a role in gastrulation, development and migration of muscles and neuronal precursors, angiogenesis and kidney formation. In adults, participates in wound healing as well as organ regeneration and tissue remodeling. Promotes also differentiation and proliferation of hematopoietic cells (By similarity). May regulate cortical bone osteogenesis.; (Microbial infection) Acts as a receptor for Listeria monocytogenes internalin InlB, mediating entry of the pathogen into cells.