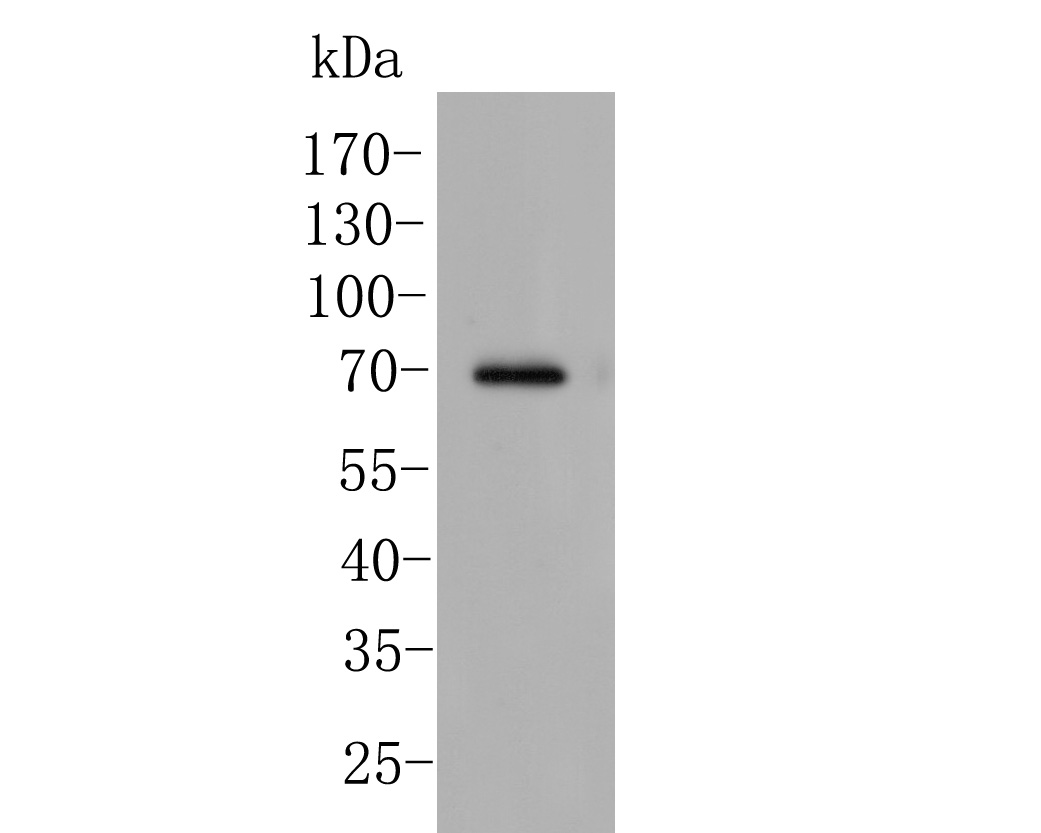 Western blot analysis of CDK5RAP3 on MCF-7 cell lysates. Proteins were transferred to a PVDF membrane and blocked with 5% BSA in PBS for 1 hour at room temperature. The primary antibody (ER1902-72, 1/500) was used in 5% BSA at room temperature for 2 hours. Goat Anti-Rabbit IgG - HRP Secondary Antibody (HA1001) at 1:5,000 dilution was used for 1 hour at room temperature.
SPECIFICATIONS
Product Type
Rabbit polyclonal primary
Product Name
CDK5RAP3 Antibody (ER1902-72)
Immunogen
Recombinant protein corresponding to n terminal human cdk5rap3.
Positive Control
MCF-7 cell lysates, LOVO, PC-3M, SHSY5Y.
PROPERTIES
Storage Condition
Store at +4C after thawing. Aliquot store at -20C. Avoid repeated freeze / thaw cycles.
Storage Buffer
1*PBS (pH7.4), 0.2% BSA, 50% Glycerol. Preservative: 0.05% Sodium Azide.
PURIFICATION
Protein affinity purified.
MOLECULAR WEIGHT
Predicted band size 60 kDa.
TARGET
PROTEIN NAME
CDK5 regulatory subunit-associated protein 3
SYNONYMS
CDK5 regulatory subunit-associated protein ,CDK5 activator-binding protein C53 LXXLL/leucine-zipper-containing ARF-binding protein Protein HSF-27 CDK5RAP3
SEQUENCE SIMILARITIES
Belongs to the CDK5RAP3 family.
TISSUE SPECIFICITY
Ubiquitously expressed. Expressed in heart, brain, placenta, lung, liver, skeletal muscle, kidney and pancreas. Isoform 3 is expressed in kidney, liver, skeletal muscle and placenta.
POST-TRANSLATIONAL MODIFICATION
May be phosphorylated by CDK5.; Ubiquitinated. Probably triggers proteasomal degradation and is negatively regulated by UFL1.; May be ufmylated.; Cleaved by caspases early during apoptosis, the resulting peptides may play a role in rupture of the nuclear envelope.
SUBCELLULAR LOCATION
Nucleus. Cytoplasm. Cytoplasm, cytoskeleton, microtubule organizing center, centrosome. Note=Colocalizes and associates with microtubules.
FUNCTION
Probable tumor suppressor initially identified as a CDK5R1 interactor controlling cell proliferation. Negatively regulates NF-kappa-B-mediated gene transcription through the control of RELA phosphorylation. Also regulates mitotic G2/M transition checkpoint and mitotic G2 DNA damage checkpoint. Through its interaction with CDKN2A/ARF and MDM2 may induce MDM2-dependent p53/TP53 ubiquitination, stabilization and activation in the nucleus, thereby promoting G1 cell cycle arrest and inhibition of cell proliferation. May play a role in the unfolded protein response, mediating the ufmylation of multiple proteins in response to endoplasmic reticulum stress. May also play a role in the rupture of the nuclear envelope during apoptosis. May regulate MAPK14 activity by regulating its dephosphorylation by PPM1D/WIP1.; (Microbial infection) May be negatively regulated by hepatitis B virus large envelope protein mutant pre-s2 to promote mitotic entry.