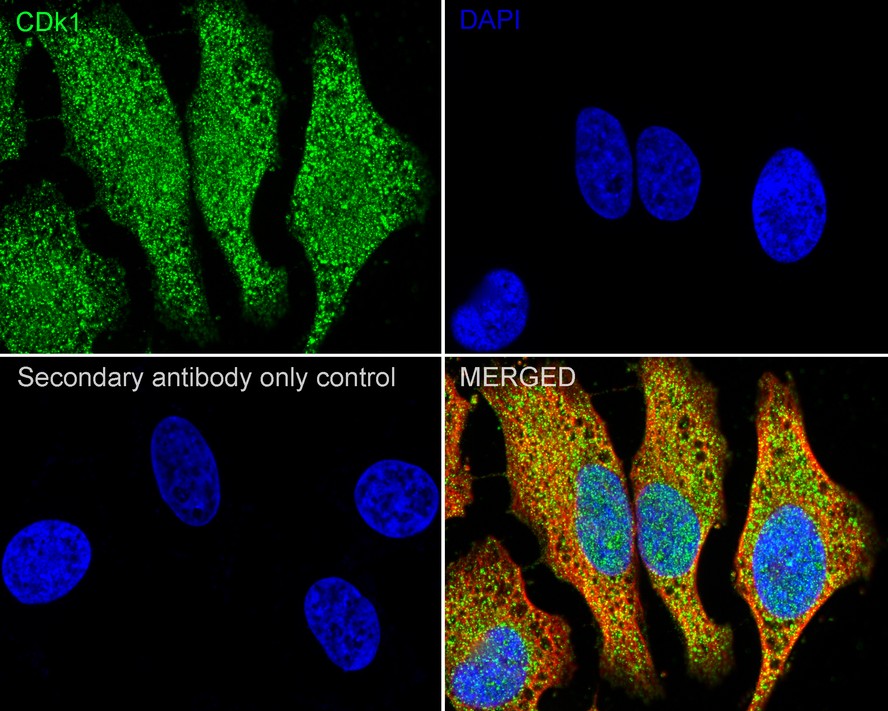 Western blot analysis of CDk1 on different cell lysates using anti-CDk1 antibody at 1/500 dilution.
Positive control:
Lane 1: MCF-7
Lane 2: Jurkat
Lane 3: PC12
Lane 4: HepG2
Lane 5: Hela
Lane 6: NIH/3T3
Lane 7: Mouse liver
Lane 8: SKBR3
SPECIFICATIONS
Product Type
Rabbit polyclonal primary
Positive Control
MCF-7, Jurkat, PC12, SKBR3, Hela, NIH/3T3, HepG2,rat liver tissue, mouse spleen tissue, human tonsil tissue, human breast cancer tissue, rat spleen tissue.
PROPERTIES
Storage Condition
Store at +4C after thawing. Aliquot store at -20C or -80C. Avoid repeated freeze / thaw cycles.
Storage Buffer
1*PBS (pH7.4), 0.2% BSA, 40% Glycerol. Preservative: 0.05% Sodium Azide.
PURIFICATION
Peptide affinity purified
TARGET
SYNONYMS
Cdc 2 antibody; Cdc2 antibody; CDC28A antibody; CDK 1 antibody; CDK1 antibody; CDK1_HUMAN antibody; CDKN1 antibody; CELL CYCLE CONTROLLER CDC2 antibody; Cell division control protein 2 antibody; Cell division control protein 2 homolog antibody; Cell division cycle 2 G1 to S and G2 to M antibody; Cell division protein kinase 1 antibody; Cell Divsion Cycle 2 Protein antibody; Cyclin Dependent Kinase 1 antibody; Cyclin-dependent kinase 1 antibody; DKFZp686L20222 antibody; MGC111195 antibody; p34 Cdk1 antibody; p34 protein kinase antibody; P34CDC2 antibody
SEQUENCE SIMILARITIES
Belongs to the protein kinase superfamily. CMGC Ser/Thr protein kinase family. CDC2/CDKX subfamily.
TISSUE SPECIFICITY
Isoform 2 is found in breast cancer tissues.
POST-TRANSLATIONAL MODIFICATION
Phosphorylation at Thr-161 by CAK/CDK7 activates kinase activity. Phosphorylation at Thr-14 and Tyr-15 by PKMYT1 prevents nuclear translocation. Phosphorylation at Tyr-15 by WEE1 and WEE2 inhibits the protein kinase activity and acts as a negative regulator of entry into mitosis (G2 to M transition). Phosphorylation by PKMYT1 and WEE1 takes place during mitosis to keep CDK1-cyclin-B complexes inactive until the end of G2. By the end of G2, PKMYT1 and WEE1 are inactivated, but CDC25A and CDC25B are activated. Dephosphorylation by active CDC25A and CDC25B at Thr-14 and Tyr-15, leads to CDK1 activation at the G2-M transition. Phosphorylation at Tyr-15 by WEE2 during oogenesis is required to maintain meiotic arrest in oocytes during the germinal vesicle (GV) stage, a long period of quiescence at dictyate prophase I, leading to prevent meiotic reentry. Phosphorylation by WEE2 is also required for metaphase II exit during egg activation to ensure exit from meiosis in oocytes and promote pronuclear formation. Phosphorylated at Tyr-4 by PKR/EIF2AK2 upon genotoxic stress. This phosphorylation triggers CDK1 polyubiquitination and subsequent proteolysis, thus leading to G2 arrest. In response to UV irradiation, phosphorylation at Tyr-15 by PRKCD activates the G2/M DNA damage checkpoint.; Polyubiquitinated upon genotoxic stress.
FUNCTION
Cdk1 is a small protein (approximately 34 kilodaltons), and is highly conserved. Cdk1 is comprised mostly by the bare protein kinase motif, which other protein kinases share. Cdk1, like other kinases, contains a cleft in which ATP fits. When bound to its cyclin partners, Cdk1 phosphorylation leads to cell cycle progression. Given its essential role in cell cycle progression, Cdk1 is highly regulated. Most obviously, Cdk1 is regulated by its binding with its cyclin partners. Cyclin binding alters access to the active site of Cdk1, allowing for Cdk1 activity; furthermore, cyclins impart specificity to Cdk1 activity. At least some cyclins contain a hydrophobic patch which may directly interact with substrates, conferring target specificity. Furthermore, cyclins can target Cdk1 to particular subcellular locations.