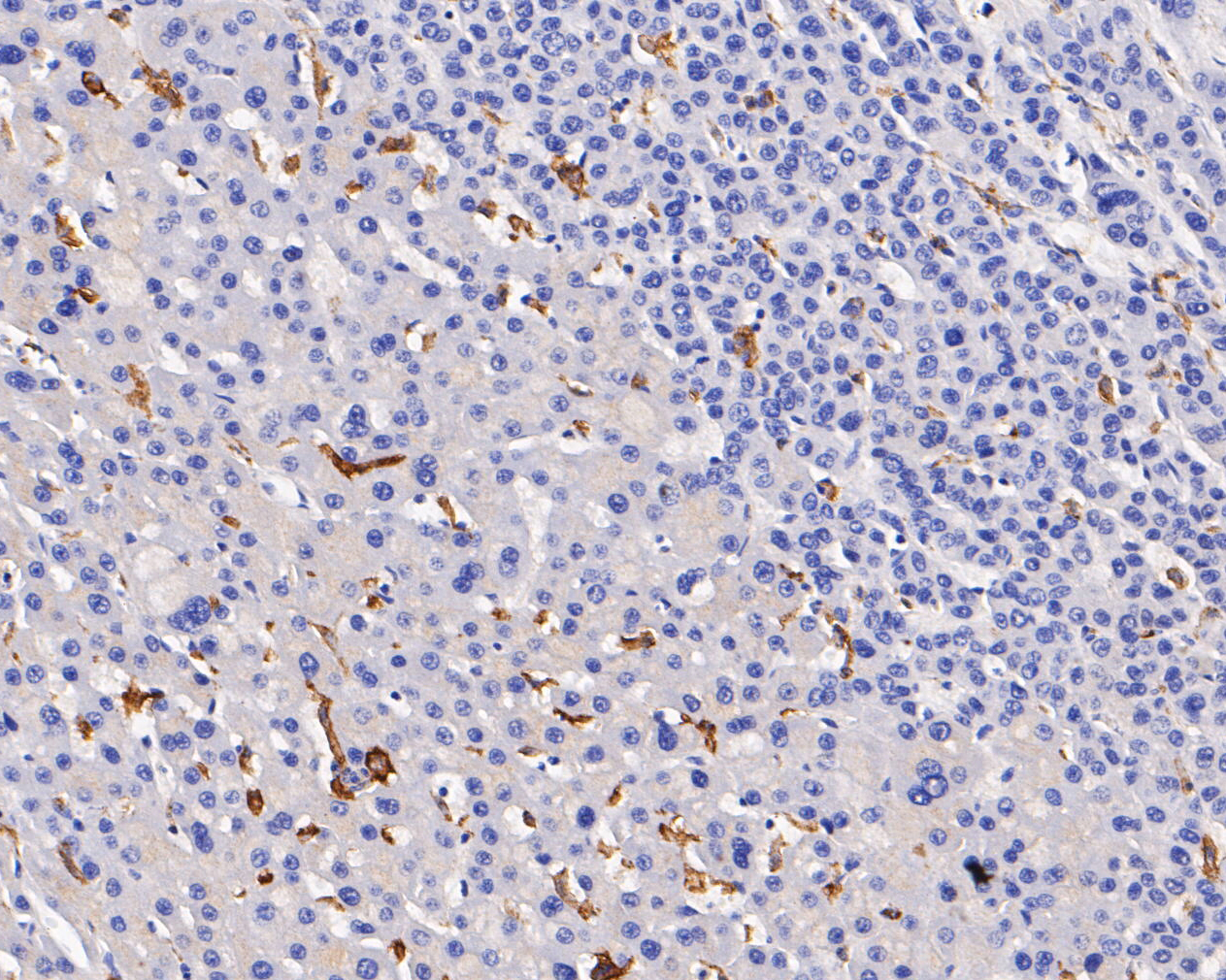 Immunohistochemical analysis of paraffin-embedded human liver carcinoma tissue using anti-CD163 antibody. The section was pre-treated using heat mediated antigen retrieval with Tris-EDTA buffer (pH 8.0-8.4) for 20 minutes.The tissues were blocked in 5% BSA for 30 minutes at room temperature, washed with ddH2O and PBS, and then probed with the primary antibody (EM1901-91, 1/200) for 30 minutes at room temperature. The detection was performed using an HRP conjugated compact polymer system. DAB was used as the chromogen. Tissues were counterstained with hematoxylin and mounted with DPX.
SPECIFICATIONS
Product Name
CD163 Monoclonal Antibody (EM1901-91)
Immunogen
Recombinant protein within human cd163 aa 1-170.
Positive Control
Human liver carcinoma tissue, human placenta tissue, human colon tissue, HT-29.
PROPERTIES
Storage Condition
Store at +4C after thawing. Aliquot store at -20C. Avoid repeated freeze / thaw cycles.
Storage Buffer
1*PBS (pH7.4), 0.2% BSA, 50% Glycerol. Preservative: 0.05% Sodium Azide.
PURIFICATION
Protein G affinity purified.
MOLECULAR WEIGHT
Predicted band size: 125 kDa.
TARGET
PROTEIN NAME
Scavenger receptor cysteine-rich type 1 protein M130
TISSUE SPECIFICITY
Expressed in monocytes and mature macrophages such as Kupffer cells in the liver, red pulp macrophages in the spleen, cortical macrophages in the thymus, resident bone marrow macrophages and meningeal macrophages of the central nervous system. Expressed also in blood. Isoform 1 is the lowest abundant in the blood. Isoform 2 is the lowest abundant in the liver and the spleen. Isoform 3 is the predominant isoform detected in the blood.
POST-TRANSLATIONAL MODIFICATION
A soluble form (sCD163) is produced by proteolytic shedding which can be induced by lipopolysaccharide, phorbol ester and Fc region of immunoglobulin gamma. This cleavage is dependent on protein kinase C and tyrosine kinases and can be blocked by protease inhibitors. The shedding is inhibited by the tissue inhibitor of metalloproteinase TIMP3, and thus probably induced by membrane-bound metalloproteinases ADAMs.; Phosphorylated.
SUBCELLULAR LOCATION
[Soluble CD163]: Secreted.; Cell membrane; Single-pass type I membrane protein. Note=Isoform 1 and isoform 2 show a lower surface expression when expressed in cells.
FUNCTION
Acute phase-regulated receptor involved in clearance and endocytosis of hemoglobin/haptoglobin complexes by macrophages and may thereby protect tissues from free hemoglobin-mediated oxidative damage. May play a role in the uptake and recycling of iron, via endocytosis of hemoglobin/haptoglobin and subsequent breakdown of heme. Binds hemoglobin/haptoglobin complexes in a calcium-dependent and pH-dependent manner. Exhibits a higher affinity for complexes of hemoglobin and multimeric haptoglobin of HP*1F phenotype than for complexes of hemoglobin and dimeric haptoglobin of HP*1S phenotype. Induces a cascade of intracellular signals that involves tyrosine kinase-dependent calcium mobilization, inositol triphosphate production and secretion of IL6 and CSF1. Isoform 3 exhibits the higher capacity for ligand endocytosis and the more pronounced surface expression when expressed in cells.; After shedding, the soluble form (sCD163) may play an anti-inflammatory role, and may be a valuable diagnostic parameter for monitoring macrophage activation in inflammatory conditions.