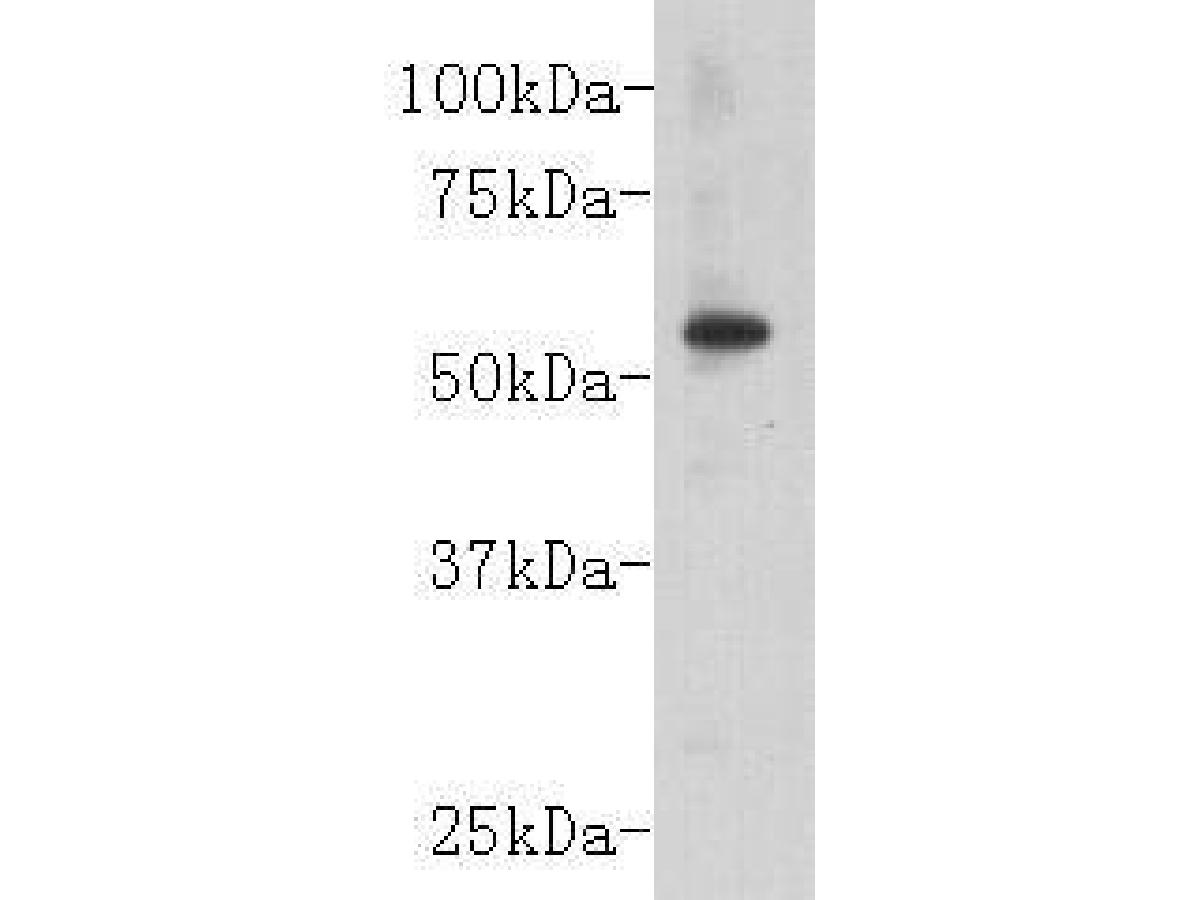 Western blot analysis on mouse embryo using anti-CD147 polyclonal antibody.
SPECIFICATIONS
Product Type
Rabbit polyclonal primary
PROPERTIES
Storage Condition
Store at +4C after thawing. Aliquot store at -20C or -80C. Avoid repeated freeze / thaw cycles.
Storage Buffer
1*PBS (pH7.4), 0.2% BSA, 40% Glycerol. Preservative: 0.05% Sodium Azide.
PURIFICATION
Immunogen affinity purified
TARGET
TISSUE SPECIFICITY
Isoform 1 is specifically expressed in retina. Isoform 2 is widely expressed, including adult organs, embryos and EC cells. Expressed in spermatozoa.
DEVELOPMENTAL STAGE
In developing eye expressed at embryonic days 12 dpc, 15 dpc and 18 dpc, and at postnatal days P1, P7, P14, and P21. Expression progressed from a more generalized distribution throughout the undifferentiated neural retina to specific staining of retina-pigmented epithilia, the MCs, photoreceptor cells and the ciliary apparatus. Expression is highest at P21. Isoform 1 and isoform 2 are expressed at equivalent levels at P7, isoform 1 is more abundant at P14, P21 and P28. In uterus during the peri-implantation period strongly expressed in luminal and glandular epithelium on day 1 of pregnancy and gradually decreased to a basal level from day 2-4 of pregnancy. Expression in the sub-luminal stroma was first detected on day 3 of pregnancy and increased on day 4 of pregnancy. On day 5 of pregnancy, the expression of basigin protein and mRNA was only detected in the implanting embryos, and the luminal epithelium and sub-luminal stroma surrounding the embryos. In ovary during sexual maturation expressed in the granulosa cells of preantral follicles at days 20 and 25 after birth. Expressed during corpus luteum formation.
POST-TRANSLATIONAL MODIFICATION
N-glycosylated. During spermatogenesis, probably deglycosylated during epididymal transit.
SUBCELLULAR LOCATION
Cell membrane; Single-pass type I membrane protein. Melanosome.
FUNCTION
Plays an important role in targeting the monocarboxylate transporters SLC16A1, SLC16A3, SLC16A8, SLC16A11 and SLC16A12 to the plasma membrane. Plays pivotal roles in spermatogenesis, embryo implantation, neural network formation and tumor progression. Stimulates adjacent fibroblasts to produce matrix metalloproteinases (MMPS). Seems to be a receptor for oligomannosidic glycans. In vitro, promotes outgrowth of astrocytic processes.