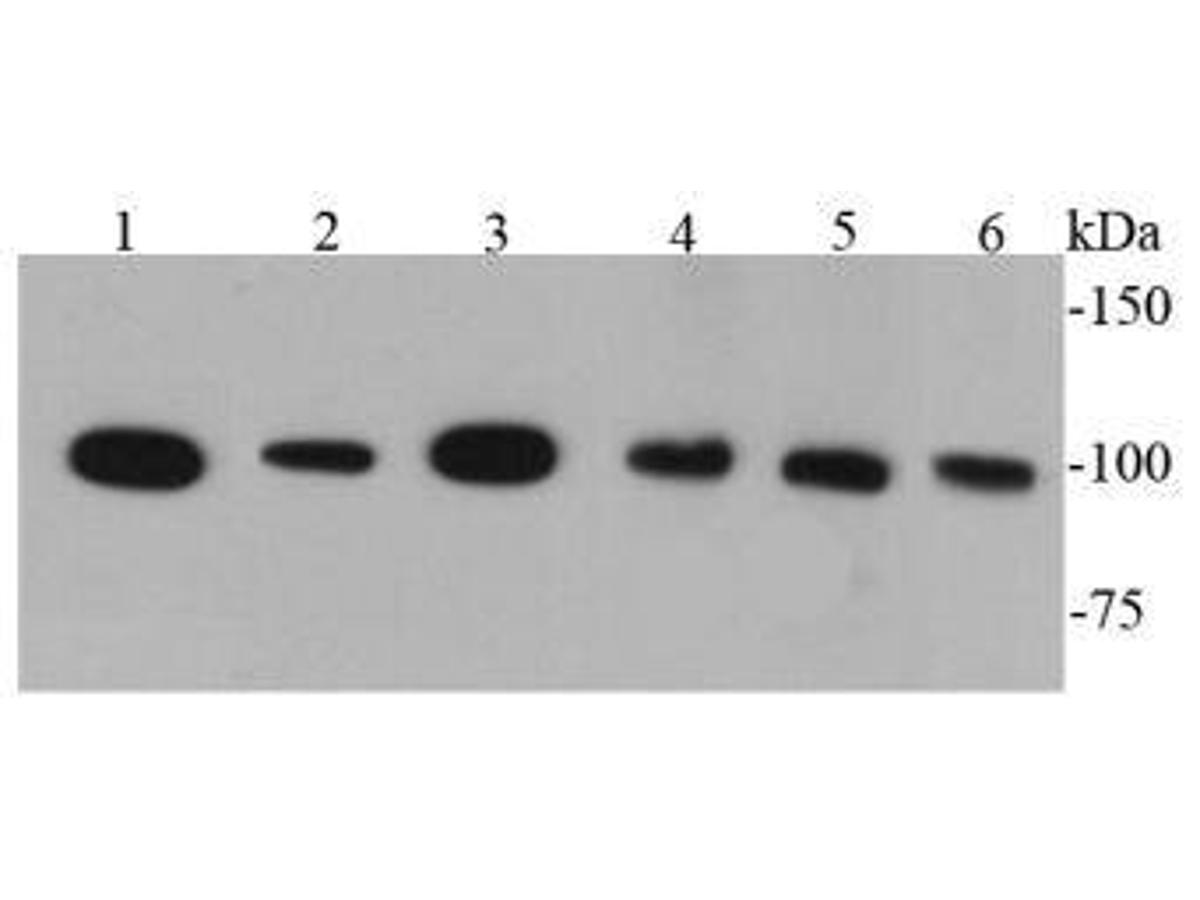 Western blot analysis of CD133 on different cell lysates using anti-CD133 antibody at 1/1000 dilution.
SPECIFICATIONS
Product Type
Rabbit polyclonal primary
Positive Control
SW480, Hela, HepG2, HCT116, HT29, 293, HUVEC, SHG-44, human kidney tissue
PROPERTIES
Storage Condition
Store at +4C after thawing. Aliquot store at -20C or -80C. Avoid repeated freeze / thaw cycles.
Storage Buffer
1*PBS (pH7.4), 0.2% BSA, 40% Glycerol. Preservative: 0.05% Sodium Azide.
PURIFICATION
Peptide affinity purified
TARGET
SEQUENCE SIMILARITIES
Belongs to the prominin family.
TISSUE SPECIFICITY
Isoform 1 is selectively expressed on CD34 hematopoietic stem and progenitor cells in adult and fetal bone marrow, fetal liver, cord blood and adult peripheral blood. Isoform 1 is not detected on other blood cells. Isoform 1 is also expressed in a number of non-lymphoid tissues including retina, pancreas, placenta, kidney, liver, lung, brain and heart. Found in saliva within small membrane particles. Isoform 2 is predominantly expressed in fetal liver, skeletal muscle, kidney, and heart as well as adult pancreas, kidney, liver, lung, and placenta. Isoform 2 is highly expressed in fetal liver, low in bone marrow, and barely detectable in peripheral blood. Isoform 2 is expressed on hematopoietic stem cells and in epidermal basal cells (at protein level). Expressed in adult retina by rod and cone photoreceptor cells (at protein level).
POST-TRANSLATIONAL MODIFICATION
Isoform 1 and isoform 2 are glycosylated.; Acetylation at Lys-225, Lys-257 and Lys-264 by NAT8 and NAT8B may control PROM1 protein expression and its function in cell apoptosis.
SUBCELLULAR LOCATION
Apical cell membrane; Multi-pass membrane protein. Cell projection, microvillus membrane; Multi-pass membrane protein. Cell projection, cilium, photoreceptor outer segment. Endoplasmic reticulum. Endoplasmic reticulum-Golgi intermediate compartment. Note=Found in extracellular membrane particles in various body fluids such as cerebrospinal fluid, saliva, seminal fluid and urine.
FUNCTION
May play a role in cell differentiation, proliferation and apoptosis. Binds cholesterol in cholesterol-containing plasma membrane microdomains and may play a role in the organization of the apical plasma membrane in epithelial cells. During early retinal development acts as a key regulator of disk morphogenesis. Involved in regulation of MAPK and Akt signaling pathways. In neuroblastoma cells suppresses cell differentiation such as neurite outgrowth in a RET-dependent manner.
CITATIONS
Zhu, Xinfeng et al.

All-Trans Retinoic Acid-Induced Deficiency of the Wnt/�_-Catenin Pathway Enhances Hepatic Carcinoma Stem Cell Differentiation. | PloS One [2015]