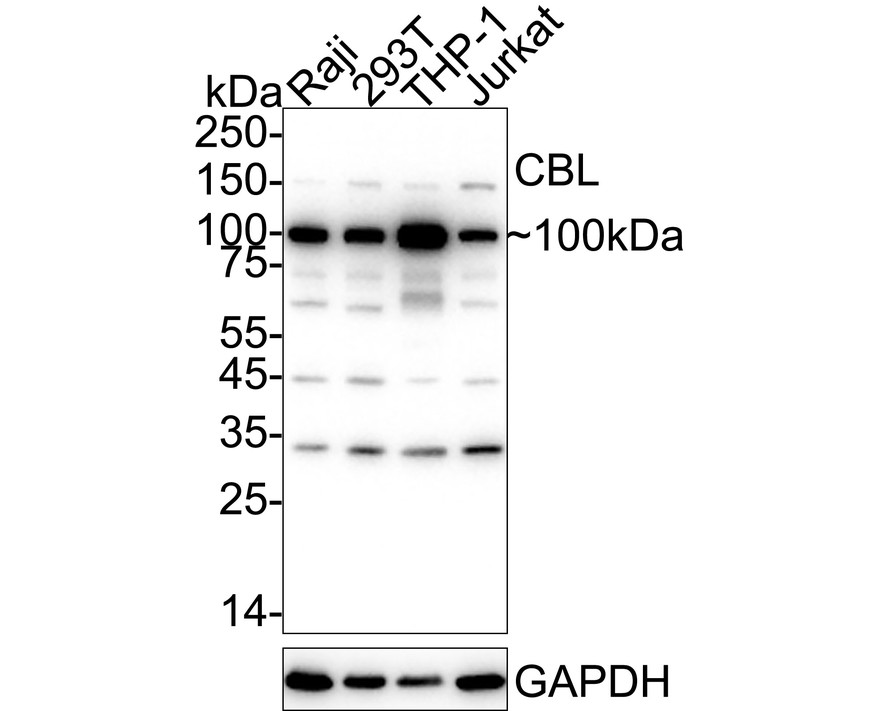 Western blot analysis of CBL on THP-1 cell lysates. Proteins were transferred to a PVDF membrane and blocked with 5% BSA in PBS for 1 hour at room temperature. The primary antibody (ER2001-61, 1/500) was used in 5% BSA at room temperature for 2 hours. Goat Anti-Rabbit IgG - HRP Secondary Antibody (HA1001) at 1:5,000 dilution was used for 1 hour at room temperature.
SPECIFICATIONS
Product Type
Rabbit polyclonal primary
Immunogen
Synthetic peptide within human c-cbl aa 580-630.
PROPERTIES
Storage Condition
Store at +4Á¾ after thawing. Aliquot store at -20Á¾. Avoid repeated freeze / thaw cycles.
Storage Buffer
1*TBS (pH7.4), 0.2% BSA, 50% Glycerol. Preservative: 0.05% Sodium Azide.
PURIFICATION
Peptide affinity purified.
TARGET
PROTEIN NAME
E3 ubiquitin-protein ligase CBL Casitas B-lineage lymphoma proto-oncogene Proto-oncogene c-Cbl RING finger protein 55 RING-type E3 ubiquitin transferase CBLC Signal transduction protein CBL
SUBCELLULAR LOCATION
Cell membrane, Cell projection, Cytoplasm, Golgi apparatus, Membrane.
FUNCTION
Adapter protein that functions as a negative regulator of many signaling pathways that are triggered by activation of cell surface receptors. Acts as an E3 ubiquitin-protein ligase, which accepts ubiquitin from specific E2 ubiquitin-conjugating enzymes, and then transfers it to substrates promoting their degradation by the proteasome . Ubiquitinates SPRED2 . Recognizes activated receptor tyrosine kinases, including KIT, FLT1, FGFR1, FGFR2, PDGFRA, PDGFRB, EGFR, CSF1R, EPHA8 and KDR and terminates signaling. Recognizes membrane-bound HCK, SRC and other kinases of the SRC family and mediates their ubiquitination and degradation. Participates in signal transduction in hematopoietic cells. Plays an important role in the regulation of osteoblast differentiation and apoptosis. Essential for osteoclastic bone resorption. The 'Tyr-731' phosphorylated form induces the activation and recruitment of phosphatidylinositol 3-kinase to the cell membrane in a signaling pathway that is critical for osteoclast function. May be functionally coupled with the E2 ubiquitin-protein ligase UB2D3. In association with CBLB, required for proper feedback inhibition of ciliary platelet-derived growth factor receptor-alpha (PDGFRA) signaling pathway via ubiquitination and internalization of PDGFRA (By similarity).