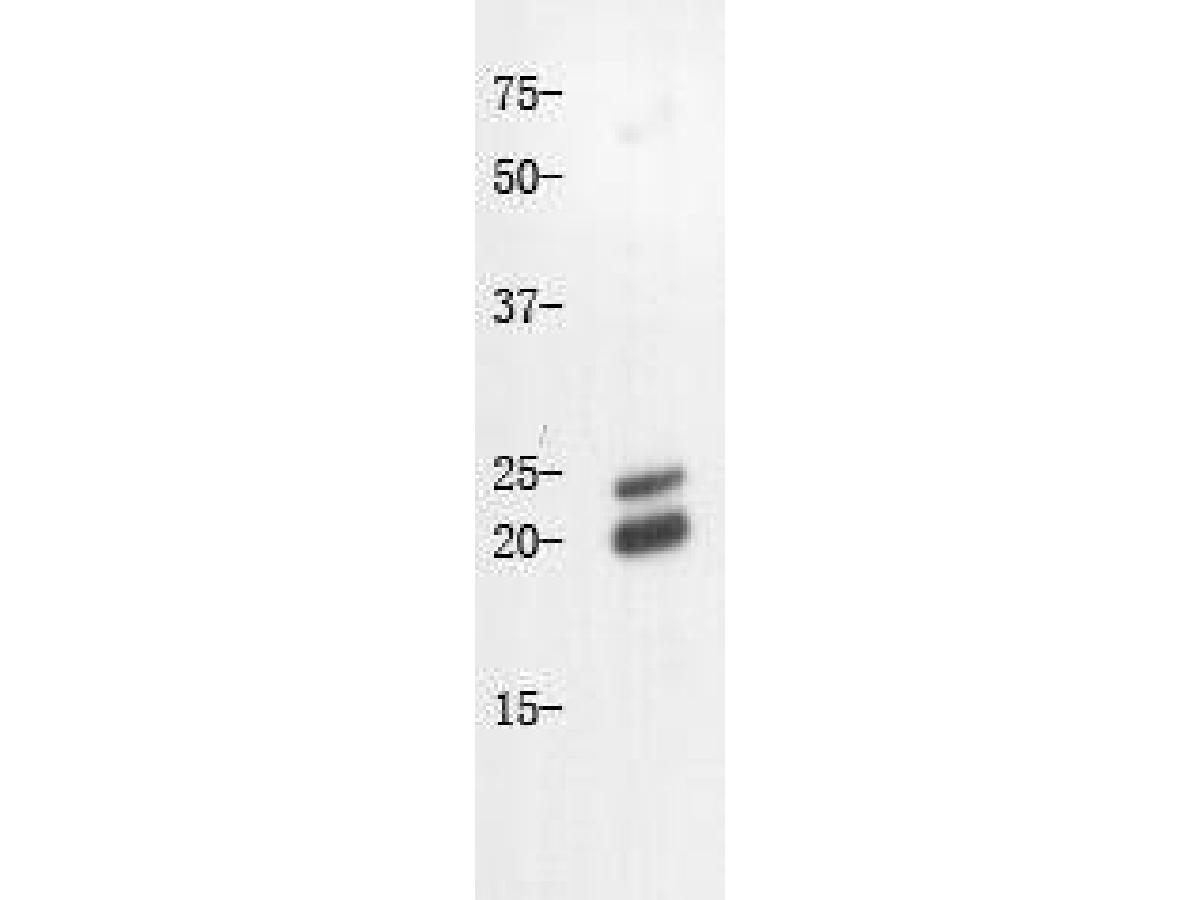 Western blot analysis on Mouse liver using anti-Caveolin-1 polyclonal antibody
SPECIFICATIONS
Product Type
Rabbit polyclonal primary
Product Name
Caveolin-1 Antibody (0407-6)
PROPERTIES
Storage Condition
Store at +4C after thawing. Aliquot store at -20C or -80C. Avoid repeated freeze / thaw cycles.
Storage Buffer
1*PBS (pH7.4), 0.2% BSA, 40% Glycerol. Preservative: 0.05% Sodium Azide.
PURIFICATION
Immunogen affinity purified
TARGET
SEQUENCE SIMILARITIES
Belongs to the caveolin family.
TISSUE SPECIFICITY
Adipose tissue, lung, heart, skeletal muscle, stomach, small bowel, kidney, spleen and testis (at protein level).
POST-TRANSLATIONAL MODIFICATION
The N-terminus of both isoforms are blocked.; Phosphorylated at Tyr-14 by ABL1 in response to oxidative stress.; Ubiquitinated. Undergo monoubiquitination and multi- and/or polyubiquitination. Monoubiquitination of N-terminal lysines promotes integration in a ternary complex with UBXN6 and VCP which promotes oligomeric CAV1 targeting to lysosomes for degradation.
SUBCELLULAR LOCATION
Golgi apparatus membrane; Peripheral membrane protein. Membrane raft. Golgi apparatus, trans-Golgi network. Note=Colocalized with DPP4 in membrane rafts. Potential hairpin-like structure in the membrane. Membrane protein of caveolae (By similarity).
FUNCTION
May act as a scaffolding protein within caveolar membranes (By similarity). Forms a stable heterooligomeric complex with CAV2 that targets to lipid rafts and drives caveolae formation. Mediates the recruitment of CAVIN proteins (CAVIN1/2/3/4) to the caveolae. Interacts directly with G-protein alpha subunits and can functionally regulate their activity (By similarity). Involved in the costimulatory signal essential for T-cell receptor (TCR)-mediated T-cell activation. Its binding to DPP4 induces T-cell proliferation and NF-kappa-B activation in a T-cell receptor/CD3-dependent manner (By similarity). Recruits CTNNB1 to caveolar membranes and may regulate CTNNB1-mediated signaling through the Wnt pathway. Negatively regulates TGFB1-mediated activation of SMAD2/3 by mediating the internalization of TGFBR1 from membrane rafts leading to its subsequent degradation (By similarity).