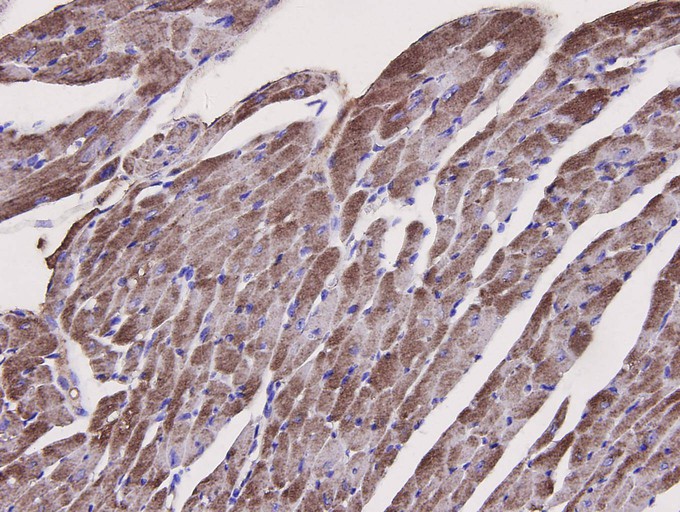 Immunohistochemical analysis of paraffin-embedded mouse heart tissue using anti-Caspase-1 antibody. The section was pre-treated using heat mediated antigen retrieval with Tris-EDTA buffer (pH 8.0-8.4) for 20 minutes.The tissues were blocked in 5% BSA for 30 minutes at room temperature, washed with ddH2O and PBS, and then probed with the primary antibody (M1505-2, 1/200) for 30 minutes at room temperature. The detection was performed using an HRP conjugated compact polymer system. DAB was used as the chromogen. Tissues were counterstained with hematoxylin and mounted with DPX.
SPECIFICATIONS
Product Name
Caspase-1 Mouse Monoclonal Antibody [B0-6] (M1505-2)
Immunogen
Recombinant protein with human caspase-1 aa 106-353 / 404.
Positive Control
Mouse heart, mouse spleen, human colon carcinoma tissue, human liver, NIH/3T3
PROPERTIES
Storage Condition
Store at +4C after thawing. Aliquot store at -20C or -80C. Avoid repeated freeze / thaw cycles.
Storage Buffer
1*PBS (pH7.4), 0.2% BSA, 40% Glycerol. Preservative: 0.05% Sodium Azide.
TARGET
SYNONYMS
CASP-1 antibody; CASP1 antibody; CASP1_HUMAN antibody; Caspase1 antibody; Caspase 1 antibody; Caspase-1 subunit p10 antibody; ICE antibody; IL-1 beta-converting enzyme antibody; IL-1BC antibody; IL1 beta converting enzyme antibody; IL1B convertase antibody; Interleukin 1 beta convertase antibody; Interleukin 1B converting enzyme antibody; Interleukin-1 beta convertase antibody; Interleukin-1 beta-converting enzyme antibody; p45 antibody
SEQUENCE SIMILARITIES
Belongs to the peptidase C14A family.
TISSUE SPECIFICITY
Expressed in larger amounts in spleen and lung. Detected in liver, heart, small intestine, colon, thymus, prostate, skeletal muscle, peripheral blood leukocytes, kidney and testis. No expression in the brain.
POST-TRANSLATIONAL MODIFICATION
The two subunits are derived from the precursor sequence by an autocatalytic mechanism.
FUNCTION
Caspase 1 is produced as a?zymogen?that is cleaved into 20 kDa (p20) and 10 kDa (p10) subunits that become part of the active enzyme. Active caspase 1 contains two?heterodimers?of p20 and p10. It interacts with another?CARD domain?containing protein called?PYCARD?(or ASC) and is involved in?inflammasome?formation and activation of?inflammatory?processes. Caspase 1 has been shown to induce cell?necrosis?or?pyroptosis?and may function in various developmental stages. Studies of a similar protein in mouse suggest a role in the pathogenesis of?Huntington's disease.?Alternative splicing?of the gene results in five transcript variants encoding distinct isoforms.?Recent studies implicated caspase 1 in promoting CD4 T-cell death and inflammation by HIV, two signature events that fuel HIV disease progression to AIDS.