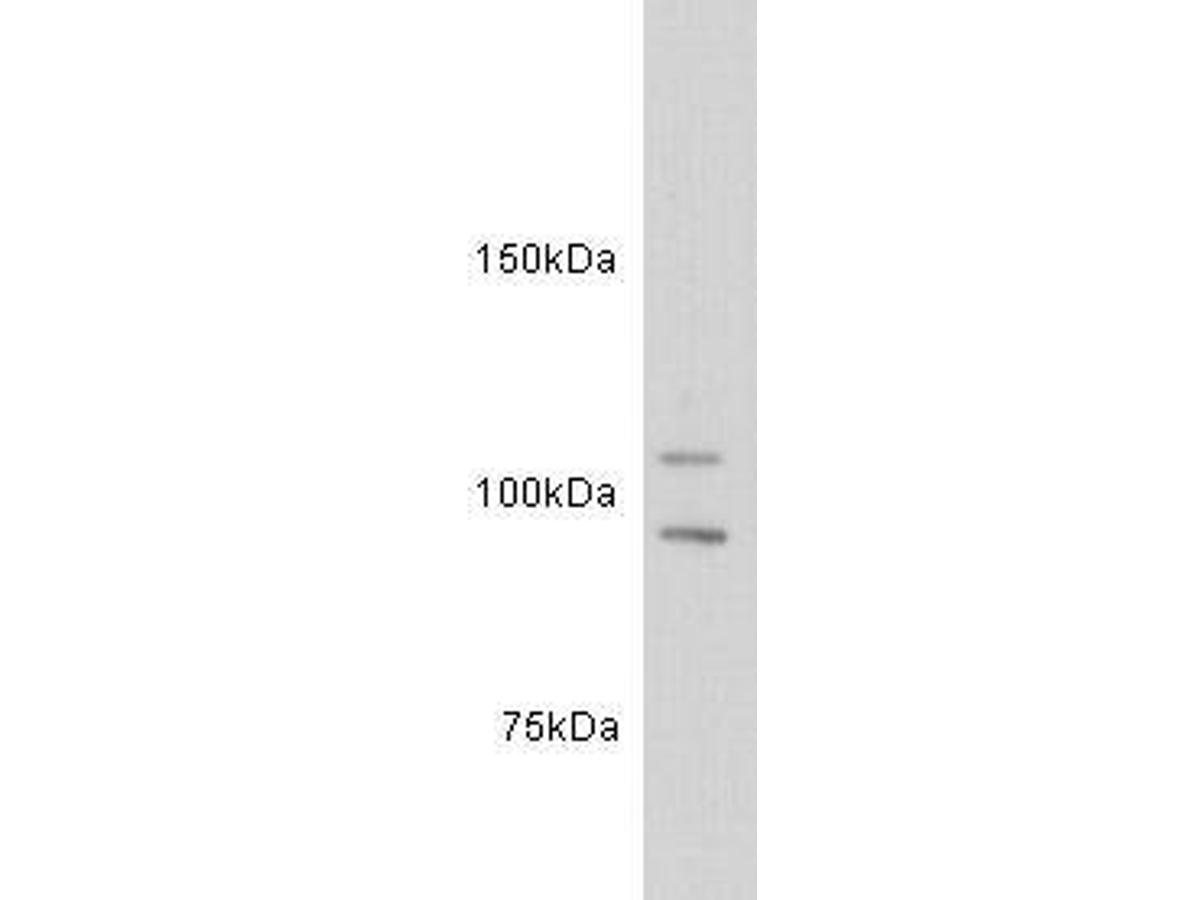 Western blot analysis on jurkat cell lysates using anti-c-kit polyclonal antibody
SPECIFICATIONS
Product Type
Rabbit polyclonal primary
PROPERTIES
Storage Condition
Store at +4C after thawing. Aliquot store at -20C or -80C. Avoid repeated freeze / thaw cycles.
Storage Buffer
1*PBS (pH7.4), 0.2% BSA, 40% Glycerol. Preservative: 0.05% Sodium Azide.
PURIFICATION
Immunogen affinity purified
TARGET
PROTEIN NAME
Mast/stem cell growth factor receptor Kit
SEQUENCE SIMILARITIES
Belongs to the protein kinase superfamily. Tyr protein kinase family. CSF-1/PDGF receptor subfamily.
TISSUE SPECIFICITY
Isoform 1 and isoform 2 are detected in spermatogonia and Leydig cells. Isoform 3 is detected in round spermatids, elongating spermatids and spermatozoa (at protein level). Widely expressed. Detected in the hematopoietic system, the gastrointestinal system, in melanocytes and in germ cells.
POST-TRANSLATIONAL MODIFICATION
Ubiquitinated by SOCS6. KIT is rapidly ubiquitinated after autophosphorylation induced by KITLG/SCF binding, leading to internalization and degradation.; Autophosphorylated on tyrosine residues. KITLG/SCF binding enhances autophosphorylation. Isoform 1 shows low levels of tyrosine phosphorylation in the absence of added KITLG/SCF (in vitro). Kinase activity is down-regulated by phosphorylation on serine residues by protein kinase C family members. Phosphorylation at Tyr-568 is required for interaction with PTPN11/SHP-2, CRK (isoform Crk-II) and members of the SRC tyrosine-protein kinase family. Phosphorylation at Tyr-570 is required for interaction with PTPN6/SHP-1. Phosphorylation at Tyr-703, Tyr-823 and Tyr-936 is important for interaction with GRB2. Phosphorylation at Tyr-721 is important for interaction with PIK3R1. Phosphorylation at Tyr-823 and Tyr-936 is important for interaction with GRB7.
SUBCELLULAR LOCATION
[Isoform 1]: Cell membrane; Single-pass type I membrane protein.; [Isoform 2]: Cell membrane; Single-pass type I membrane protein.; [Isoform 3]: Cytoplasm. Note=Detected in the cytoplasm of spermatozoa, especially in the equatorial and subacrosomal region of the sperm head.
FUNCTION
Tyrosine-protein kinase that acts as cell-surface receptor for the cytokine KITLG/SCF and plays an essential role in the regulation of cell survival and proliferation, hematopoiesis, stem cell maintenance, gametogenesis, mast cell development, migration and function, and in melanogenesis. In response to KITLG/SCF binding, KIT can activate several signaling pathways. Phosphorylates PIK3R1, PLCG1, SH2B2/APS and CBL. Activates the AKT1 signaling pathway by phosphorylation of PIK3R1, the regulatory subunit of phosphatidylinositol 3-kinase. Activated KIT also transmits signals via GRB2 and activation of RAS, RAF1 and the MAP kinases MAPK1/ERK2 and/or MAPK3/ERK1. Promotes activation of STAT family members STAT1, STAT3, STAT5A and STAT5B. Activation of PLCG1 leads to the production of the cellular signaling molecules diacylglycerol and inositol 1,4,5-trisphosphate. KIT signaling is modulated by protein phosphatases, and by rapid internalization and degradation of the receptor. Activated KIT promotes phosphorylation of the protein phosphatases PTPN6/SHP-1 and PTPRU, and of the transcription factors STAT1, STAT3, STAT5A and STAT5B. Promotes phosphorylation of PIK3R1, CBL, CRK (isoform Crk-II), LYN, MAPK1/ERK2 and/or MAPK3/ERK1, PLCG1, SRC and SHC1.