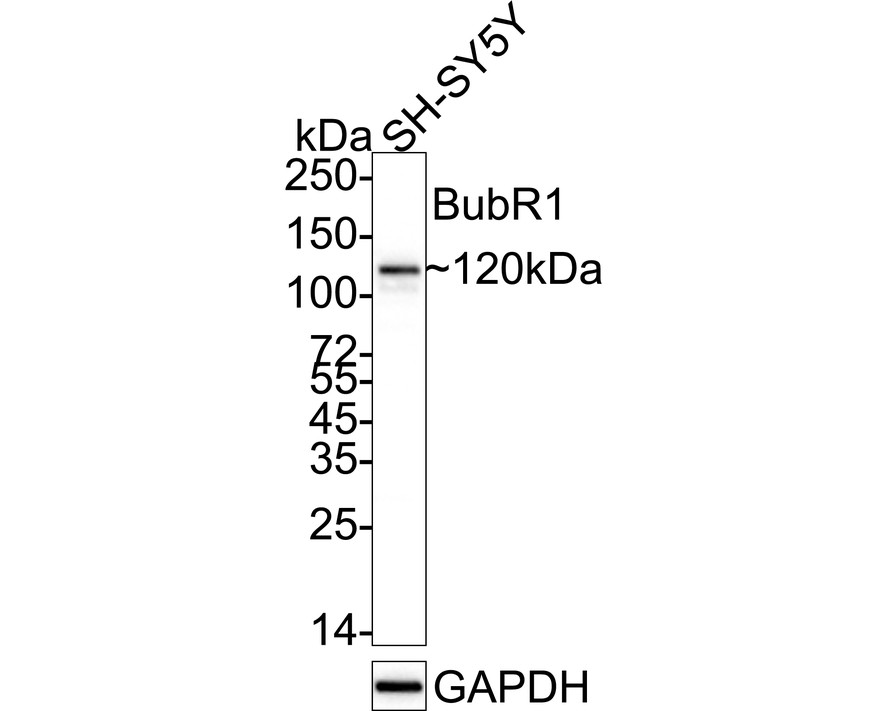 Western blot analysis of BubR1 on SH-SY-5Y cell lysate using anti-BubR1 antibody at 1/10,000 dilution.
SPECIFICATIONS
Product Type
Rabbit polyclonal primary
Product Name
BubR1 Antibody (ER1802-76)
Immunogen
Recombinant protein within human bubr1 330-600 aa.
Positive Control
Hela, SH-SY-5Y, SiHa, human spleen tissue, HL-60.
PROPERTIES
Storage Condition
Store at +4C after thawing. Aliquot store at -20C. Avoid repeated freeze / thaw cycles.
Storage Buffer
1*PBS (pH7.4), 0.2% BSA, 50% Glycerol. Preservative: 0.05% Sodium Azide.
PURIFICATION
Protein affinity purified.
TARGET
PROTEIN NAME
Mitotic checkpoint serine/threonine-protein kinase BUB1 beta
SYNONYMS
hBUBR1, BUB1B, BUBR1, MAD3L, SSK1
SEQUENCE SIMILARITIES
Belongs to the protein kinase superfamily. Ser/Thr protein kinase family. BUB1 subfamily.
TISSUE SPECIFICITY
Highly expressed in thymus followed by spleen. Preferentially expressed in tissues with a high mitotic index.
POST-TRANSLATIONAL MODIFICATION
Proteolytically cleaved by caspase-3 in a cell cycle specific manner. The cleavage might be involved in the durability of the cell cycle delay. Caspase-3 cleavage is associated with abrogation of the mitotic checkpoint. The major site of cleavage is at Asp-610.; Acetylation at Lys-250 regulates its degradation and timing in anaphase entry.; Ubiquitinated. Degraded by the proteasome.; Sumoylated with SUMO2 and SUMO3. The sumoylation mediates the association with CENPE at the kinetochore.; Autophosphorylated in vitro. Intramolecular autophosphorylation is stimulated by CENPE. Phosphorylated during mitosis and hyperphosphorylated in mitotically arrested cells. Phosphorylation at Ser-670 and Ser-1043 occurs at kinetochores upon mitotic entry with dephosphorylation at the onset of anaphase.
SUBCELLULAR LOCATION
Cytoplasm. Nucleus. Chromosome, centromere, kinetochore. Cytoplasm, cytoskeleton, microtubule organizing center, centrosome. Note=Cytoplasmic in interphase cells. Associates with the kinetochores in early prophase. Kinetochore localization requires BUB1, PLK1 and KNL1.
FUNCTION
Essential component of the mitotic checkpoint. Required for normal mitosis progression. The mitotic checkpoint delays anaphase until all chromosomes are properly attached to the mitotic spindle. One of its checkpoint functions is to inhibit the activity of the anaphase-promoting complex/cyclosome (APC/C) by blocking the binding of CDC20 to APC/C, independently of its kinase activity. The other is to monitor kinetochore activities that depend on the kinetochore motor CENPE. Required for kinetochore localization of CENPE. Negatively regulates PLK1 activity in interphase cells and suppresses centrosome amplification. Also implicated in triggering apoptosis in polyploid cells that exit aberrantly from mitotic arrest. May play a role for tumor suppression.