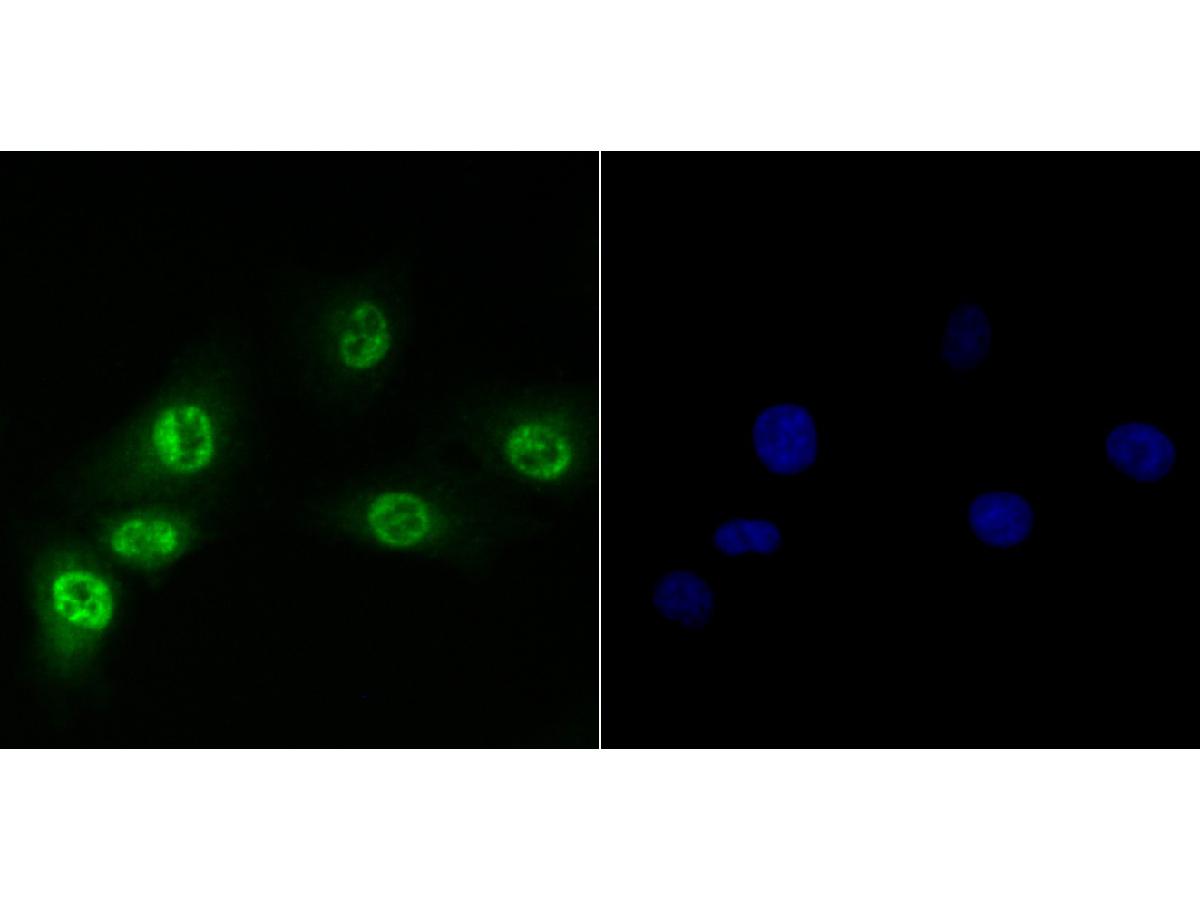 Western blot analysis of Brd4 on mouse brain tissue lysate. Proteins were transferred to a PVDF membrane and blocked with 5% BSA in PBS for 1 hour at room temperature. The primary antibody was used at a 1:500 dilution in 5% BSA at room temperature for 2 hours. Goat Anti-Rabbit IgG - HRP Secondary Antibody (HA1001) at 1:5,000 dilution was used for 1 hour at room temperature.
SPECIFICATIONS
Product Type
Rabbit polyclonal primary
Product Name
Brd4 Antibody (ER1901-02)
Immunogen
Recombinant protein within human brd4 aa 1-120.
Positive Control
Mouse brain tissue, A549, SiHa, mouse testis tissue.
PROPERTIES
Storage Condition
Store at +4C after thawing. Aliquot store at -20C. Avoid repeated freeze / thaw cycles.
Storage Buffer
1*PBS (pH7.4), 0.2% BSA, 50% Glycerol. Preservative: 0.05% Sodium Azide.
PURIFICATION
Protein affinity purified.
TARGET
PROTEIN NAME
Bromodomain-containing protein 4
POST-TRANSLATIONAL MODIFICATION
Phosphorylation by CK2 disrupt the intramolecular binding between the bromo domain 2 and the NPS region and promotes binding between the NPS and the BID regions, leading to activate the protein and promote binding to acetylated histones. In absence of phosphorylation, BRD4 does not localize to p53/TP53 target gene promoters, phosphorylation promoting recruitment to p53/TP53 target promoters.
SUBCELLULAR LOCATION
Nucleus. Chromosome. Note=Associates with acetylated chromatin. Released from chromatin upon deacetylation of histones that can be triggered by different signals such as activation of the JNK pathway or nocodazole treatment. Preferentially localizes to mitotic chromosomes, while it does not localizes to meiotic chromosomes.; [Isoform B]: Chromosome.
FUNCTION
Chromatin reader protein that recognizes and binds acetylated histones and plays a key role in transmission of epigenetic memory across cell divisions and transcription regulation. Remains associated with acetylated chromatin throughout the entire cell cycle and provides epigenetic memory for postmitotic G1 gene transcription by preserving acetylated chromatin status and maintaining high-order chromatin structure. During interphase, plays a key role in regulating the transcription of signal-inducible genes by associating with the P-TEFb complex and recruiting it to promoters. Also recruits P-TEFb complex to distal enhancers, so called anti-pause enhancers in collaboration with JMJD6. BRD4 and JMJD6 are required to form the transcriptionally active P-TEFb complex by displacing negative regulators such as HEXIM1 and 7SKsnRNA complex from P-TEFb, thereby transforming it into an active form that can then phosphorylate the C-terminal domain (CTD) of RNA polymerase II. Promotes phosphorylation of 'Ser-2' of the C-terminal domain (CTD) of RNA polymerase II. According to a report, directly acts as an atypical protein kinase and mediates phosphorylation of 'Ser-2' of the C-terminal domain (CTD) of RNA polymerase II; these data however need additional evidences in vivo. In addition to acetylated histones, also recognizes and binds acetylated RELA, leading to further recruitment of the P-TEFb complex and subsequent activation of NF-kappa-B. Also acts as a regulator of p53/TP53-mediated transcription: following phosphorylation by CK2, recruited to p53/TP53 specific target promoters.; [Isoform B]: Acts as a chromatin insulator in the DNA damage response pathway. Inhibits DNA damage response signaling by recruiting the condensin-2 complex to acetylated histones, leading to chromatin structure remodeling, insulating the region from DNA damage response by limiting spreading of histone H2AX/H2A.x phosphorylation.