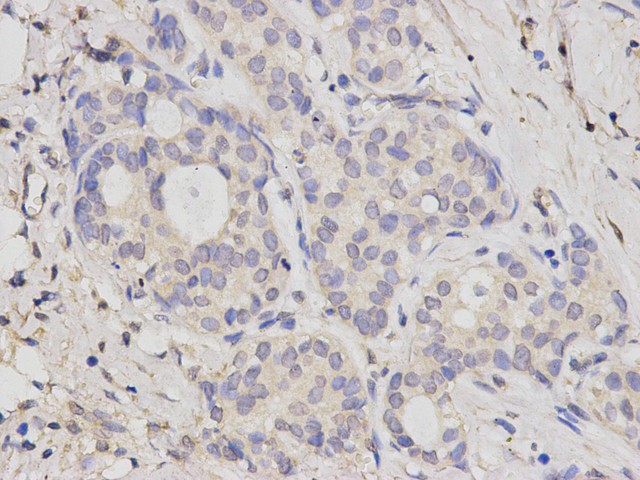 Immunohistochemical analysis of paraffin-embedded human breast carcinoma tissue using anti-BRCA2 antibody. The section was pre-treated using heat mediated antigen retrieval with sodium citrate buffer (pH 6.0) for 20 minutes. The tissues were blocked in 5% BSA for 30 minutes at room temperature, washed with ddH2O and PBS, and then probed with the primary antibody (M1310-4, 1/200) for 30 minutes at room temperature. The detection was performed using an HRP conjugated compact polymer system. DAB was used as the chromogen. Tissues were counterstained with hematoxylin and mounted with DPX.
SPECIFICATIONS
Product Name
BRCA2 Mouse Monoclonal Antibody [A2-B10] (M1310-4)
Positive Control
Human breast carcinoma tissue, A549, SKOV-3, MCF-7.
PROPERTIES
Storage Condition
Store at +4C after thawing. Aliquot store at -20C or -80C. Avoid repeated freeze / thaw cycles.
Storage Buffer
1*PBS (pH7.4), 0.2% BSA, 40% Glycerol. Preservative: 0.05% Sodium Azide.
TARGET
SYNONYMS
BRCA 2 antibody; BRCA1/BRCA2 containing complex subunit 2 antibody; Brca2 antibody; BRCA2, DNA repair associated antibody; BRCA2_HUMAN antibody; BRCC 2 antibody; BRCC2 antibody; Breast and ovarian cancer susceptibility gene early onset antibody; breast and ovarian cancer susceptibility protein 2 antibody; Breast cancer 2 early onset antibody; Breast Cancer 2 tumor suppressor antibody; Breast cancer susceptibility protein BRCA2 antibody; Breast cancer type 2 susceptibility protein antibody; BROVCA2 antibody; FACD antibody; FAD 1 antibody; FAD antibody; FAD1 antibody; FANCB antibody; FANCD 1 antibody; FANCD antibody; FANCD1 antibody; FANCD1 gene antibody; Fanconi anemia complementation group D1 antibody; Fanconi anemia group D1 protein antibody; GLM3 antibody; mutant BRCA2 antibody; OTTHUMP00000018803 antibody; OTTHUMP00000042401 antibody; PNCA2 antibody; XRCC11 antibody
TISSUE SPECIFICITY
Highest levels of expression in breast and thymus, with slightly lower levels in lung, ovary and spleen.
POST-TRANSLATIONAL MODIFICATION
Phosphorylated by ATM upon irradiation-induced DNA damage. Phosphorylation by CHEK1 and CHEK2 regulates interaction with RAD51. Phosphorylation at Ser-3291 by CDK1 and CDK2 is low in S phase when recombination is active, but increases as cells progress towards mitosis; this phosphorylation prevents homologous recombination-dependent repair during S phase and G2 by inhibiting RAD51 binding.; Ubiquitinated in the absence of DNA damage; this does not lead to proteasomal degradation. In contrast, ubiquitination in response to DNA damage leads to proteasomal degradation.
FUNCTION
BRCA2 (breast cancer type 2 susceptibility protein) belongs to the tumor suppressor gene family, and orthologs have been identified in most mammals for which complete genome data are available. The protein encoded by this gene is involved in the repair of chromosomal damage with an important role in the error-free repair of DNA double strand breaks. Certain variations of the BRCA2 gene increase risks for breast cancer as part of a hereditary breast-ovarian cancer syndrome. Researchers have identified hundreds of mutations in the BRCA2 gene, many of which cause an increased risk of cancer. BRCA2 mutations are usually insertions or deletions of a small number of DNA base pairs in the gene.