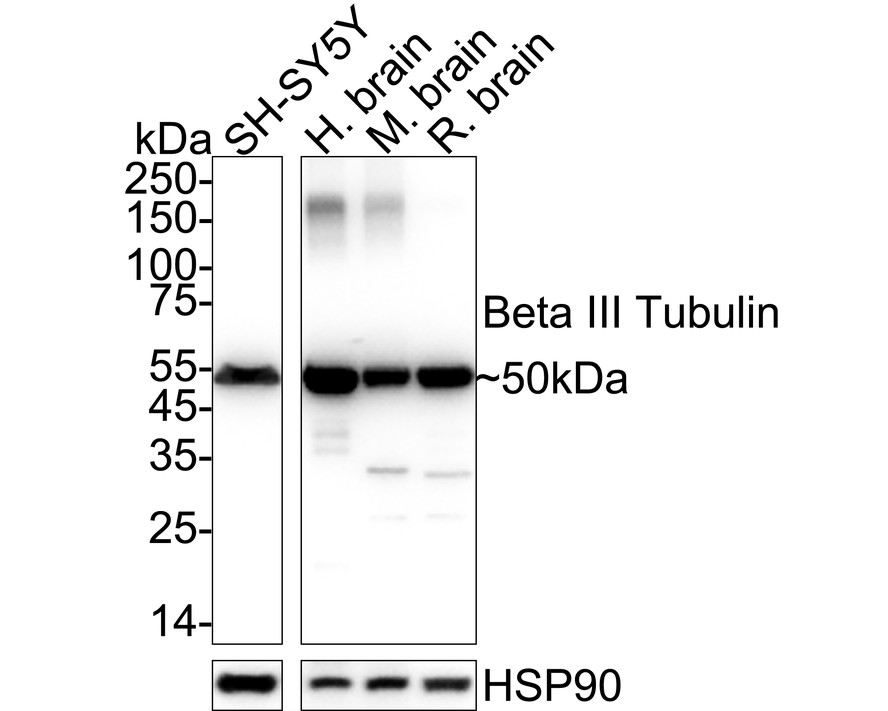 Western blot analysis of beta III Tubulin on PC-12 (1) and Hela (2) cell lysate using anti-beta III Tubulin antibody at 1/2,000 dilution.
SPECIFICATIONS
Product Type
Rabbit polyclonal primary
Product Name
beta III Tubulin Antibody (0807-2)
Immunogen
This antibody is produced by immunizing rabbits with a synthetic peptide (klh-coupled) corresponding to near c-terminal residues of human beta iii tubulin.
PROPERTIES
Storage Condition
Store at +4C after thawing. Aliquot store at -20C. Avoid repeated freeze / thaw cycles.
Storage Buffer
1*PBS (pH7.4), 0.2% BSA, 40% Glycerol. Preservative: 0.05% Sodium Azide.
PURIFICATION
Immunogen affinity purified
TARGET
SEQUENCE SIMILARITIES
Belongs to the tubulin family.
TISSUE SPECIFICITY
Expression is primarily restricted to central and peripheral nervous system. Greatly increased expression in most cancerous tissues.
POST-TRANSLATIONAL MODIFICATION
Some glutamate residues at the C-terminus are polyglutamylated, resulting in polyglutamate chains on the gamma-carboxyl group. Polyglutamylation plays a key role in microtubule severing by spastin (SPAST). SPAST preferentially recognizes and acts on microtubules decorated with short polyglutamate tails: severing activity by SPAST increases as the number of glutamates per tubulin rises from one to eight, but decreases beyond this glutamylation threshold.; Some glutamate residues at the C-terminus are monoglycylated but not polyglycylated due to the absence of functional TTLL10 in human. Monoglycylation is mainly limited to tubulin incorporated into axonemes (cilia and flagella). Both polyglutamylation and monoglycylation can coexist on the same protein on adjacent residues, and lowering glycylation levels increases polyglutamylation, and reciprocally. The precise function of monoglycylation is still unclear (Probable).; Phosphorylated on Ser-172 by CDK1 during the cell cycle, from metaphase to telophase, but not in interphase. This phosphorylation inhibits tubulin incorporation into microtubules.
SUBCELLULAR LOCATION
Cytoplasm, cytoskeleton. Cell projection, lamellipodium. Cell projection, filopodium.
FUNCTION
Tubulin is the major constituent of microtubules. It binds two moles of GTP, one at an exchangeable site on the beta chain and one at a non-exchangeable site on the alpha chain. TUBB3 plays a critical role in proper axon guidance and mantainance. Binding of NTN1/Netrin-1 to its receptor UNC5C might cause dissociation of UNC5C from polymerized TUBB3 in microtubules and thereby lead to increased microtubule dynamics and axon repulsion. Plays a role in dorsal root ganglion axon projection towards the spinal cord.
CITATIONS
Lin, Cui et al.

Caspase-Dependent Apoptosis Induction via Viral Protein ORF4 of Porcine Circovirus 2 Binding to Mitochondrial Adenine Nucleotide Translocase 3. | Journal of Virology [2018]