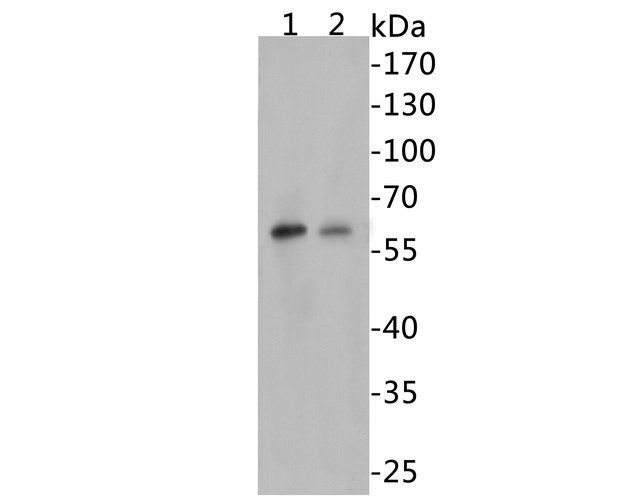 Western blot analysis of Beclin 1 on different lysates. Proteins were transferred to a PVDF membrane and blocked with 5% BSA in PBS for 1 hour at room temperature. The primary antibody (R1509-1, 1/500) was used in 5% BSA at room temperature for 2 hours. Goat Anti-Rabbit IgG - HRP Secondary Antibody (HA1001) at 1:5,000 dilution was used for 1 hour at room temperature.
Positive control:
Lane 1: Jurkat cell lysates
Lane 2: 293 cell lysates
SPECIFICATIONS
Product Type
Rabbit polyclonal primary
Product Name
Beclin 1 Antibody (R1509-1)
Immunogen
Synthetic peptide (klh-coupled) within human beclin 1 aa 380-450.
Positive Control
Human liver carcinoma tissue, mouse brain, mouse kidney, Ags, Hela.
PROPERTIES
Storage Condition
Store at +4C after thawing. Aliquot store at -20C. Avoid repeated freeze / thaw cycles.
Storage Buffer
1*PBS (pH7.4), 0.2% BSA, 40% Glycerol. Preservative: 0.05% Sodium Azide.
PURIFICATION
Peptide affinity purified
TARGET
SYNONYMS
APG6 antibody; ATG 6 antibody; ATG6 antibody; ATG6 autophagy related 6 homolog antibody; Bcl-2-interacting protein beclin antibody; Beclin 1 (coiled coil moesin like BCL2 interacting protein) antibody; Beclin 1 autophagy related antibody; Beclin-1 antibody; Beclin1 antibody; BECN 1 antibody; Becn1 antibody; BECN1_HUMAN antibody; Coiled coil myosin like BCL2 interacting protein antibody; Coiled-coil myosin-like BCL2-interacting protein antibody; GT197 antibody; Protein GT197 antibody; VPS 30 antibody; VPS30 antibody
SEQUENCE SIMILARITIES
Belongs to the beclin family.
POST-TRANSLATIONAL MODIFICATION
Phosphorylation at Thr-119 by DAPK1 reduces its interaction with BCL2 and BCL2L1 and promotes induction of autophagy. In response to autophagic stimuli, phosphorylated at serine residues by AMPK in an ATG14-dependent manner, and this phosphorylation is critical for maximally efficient autophagy.; Polyubiquitinated by NEDD4, both with 'Lys-11'- and 'Lys-63'-linkages. 'Lys-11'-linked polyubiquitination leads to degradation and is enhanced when the stabilizing interaction partner VPS34 is depleted. Deubiquitinated by USP10 and USP13, leading to stabilize the PIK3C3/VPS34-containing complexes. Polyubiquitinated at Lys-402 with 'Lys-48'-linkages. 'Lys-48'-linked polyubiquitination of Lys-402 leads to degradation. Deubiquitinated by ATXN3, leading to stabilization.; Proteolytically processed by caspases including CASP8 and CASP3; the C-terminal fragments lack autophagy-inducing capacity and are proposed to induce apoptosis. Thus the cleavage is proposed to be an determinant to switch from autophagy to apoptosis pathways affecting cellular homeostasis including viral infections and survival of tumor cells.
SUBCELLULAR LOCATION
Endoplasmic reticulum membrane.
FUNCTION
Plays a central role in autophagy. Acts as core subunit of the PI3K complex that mediates formation of phosphatidylinositol 3-phosphate; different complex forms are believed to play a role in multiple membrane trafficking pathways: PI3KC3-C1 is involved in initiation of autophagosomes and PI3KC3-C2 in maturation of autophagosomes and endocytosis. Involved in regulation of degradative endocytic trafficking and required for the abcission step in cytokinesis, probably in the context of PI3KC3-C2. Essential for the formation of PI3KC3-C2 but not PI3KC3-C1 PI3K complex forms. Involved in endocytosis. Protects against infection by a neurovirulent strain of Sindbis virus. May play a role in antiviral host defense.