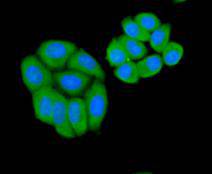 Immunocytochemical staining of HepG2 cells using anti-Bad rabbit polyclonal antibody.
SPECIFICATIONS
Product Type
Rabbit polyclonal primary
Immunogen
Synthetic peptide within human bad n-terminal (klh-coupled).
Positive Control
HepG2, SK-BR-3, SW480, human breast carcinoma tissue, MCF-7
PROPERTIES
Storage Condition
Store at +4C after thawing. Aliquot store at -20C or -80C. Avoid repeated freeze / thaw cycles.
Storage Buffer
1*PBS (pH7.4), 0.2% BSA, 40% Glycerol. Preservative: 0.05% Sodium Azide.
PURIFICATION
Peptide affinity purified
TARGET
SYNONYMS
AI325008 antibody; BAD antibody; BAD_HUMAN antibody; BBC 2 antibody; BBC2 antibody; BBC6 antibody; Bcl 2 Antagonist of Cell Death antibody; Bcl 2 Binding Component 6 antibody; BCL X / BCL 2 Binding Protein antibody; BCL X Binding Protein antibody; Bcl XL/Bcl 2 Associated Death Promoter antibody; Bcl-2-binding component 6 antibody; Bcl-2-like protein 8 antibody; Bcl-XL/Bcl-2-associated death promoter antibody; Bcl2 antagonist of cell death antibody; BCL2 antagonist of cell death protein antibody; BCL2 associated agonist of cell death antibody; Bcl2 Associated Death Promoter antibody; BCL2 binding component 6 antibody; BCL2 binding protein antibody; Bcl2 Like 8 Protein antibody; Bcl2-L-8 antibody; BCL2L8 antibody; Proapoptotic BH3 Only Protein antibody
SEQUENCE SIMILARITIES
Belongs to the Bcl-2 family.
TISSUE SPECIFICITY
Expressed in a wide variety of tissues.
POST-TRANSLATIONAL MODIFICATION
Phosphorylated on one or more of Ser-75, Ser-99, Ser-118 and Ser-134 in response to survival stimuli, which blocks its pro-apoptotic activity. Phosphorylation on Ser-99 or Ser-75 promotes heterodimerization with 14-3-3 proteins. This interaction then facilitates the phosphorylation at Ser-118, a site within the BH3 motif, leading to the release of Bcl-X(L) and the promotion of cell survival. Ser-99 is the major site of AKT/PKB phosphorylation, Ser-118 the major site of protein kinase A (CAPK) phosphorylation. Phosphorylation at Ser-99 by PKB/AKT1 is almost completely blocked by the apoptotic C-terminus cleavage product of PKN2 generated by caspases-3 activity during apoptosis.; Methylation at Arg-94 and Arg-96 by PRMT1 inhibits Akt-mediated phosphorylation at Ser-99.
SUBCELLULAR LOCATION
Mitochondrion outer membrane, Cytoplasm
FUNCTION
The Bcl-2 family of proteins is characterized by its ability to modulate cell death (apoptosis) under a broad range of physiologic conditions. Bcl-2 and several related proteins function to inhibit apoptosis while other members of the Bcl-2 family, such as Bax and Bak, enhance cell death under various conditions. For instance, Bcl-xL represses cell death, while its shorter form, Bcl-xS, promotes apoptosis. A protein designated Bad exhibits homology to Bcl-2 limited to the BH1 and BH2 domains. Bad functions to dimerize with Bcl-xL and with Bcl-2, but not with Bax, Bcl-xS, Mcl-1, A1 or itself. In mammalian cells, Bad binds with greater affinity to Bcl-xL than to Bcl-2 and reverses the death repressor activity of Bcl-xL but not Bcl-2. Dimerization of Bad with Bcl-xL results in displacement of Bax from Bcl-xL:Bax complexes thereby causing restoration of Bax-mediated apoptosis.