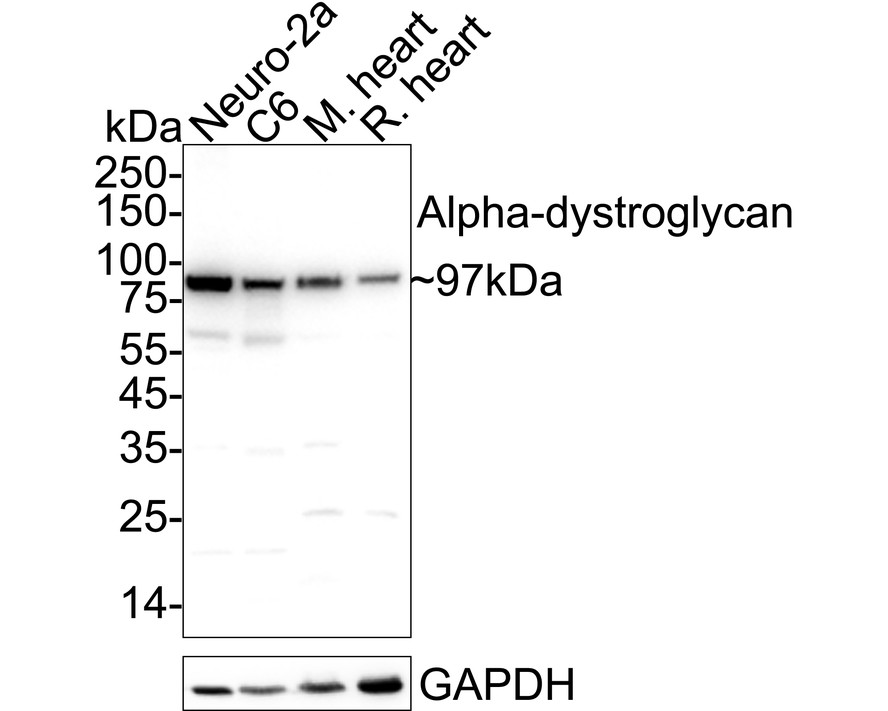 Western blot analysis of Alpha-dystroglycan on different lysates. Proteins were transferred to a PVDF membrane and blocked with 5% BSA in PBS for 1 hour at room temperature. The primary antibody (ER1901-72, 1/1000) was used in 5% BSA at room temperature for 2 hours. Goat Anti-Rabbit IgG - HRP Secondary Antibody (HA1001) at 1:5,000 dilution was used for 1 hour at room temperature.
Positive control:
Lane 1: SkBr3 cell lysate
Lane 2: Mouse placenta tissue lysate
Lane3: Siha cell lysate
SPECIFICATIONS
Product Type
Rabbit polyclonal primary
Product Name
Alpha-dystroglycan Antibody (ER1901-72)
Immunogen
Synthetic peptide within human alpha-dystroglycan aa 20-55.
Positive Control
SkBr3 cell lysate, mouse placenta tissue lysate, SkBr3, Rat skeletal muscle tissue, human placenta tissue, Mouse heart tissue, A431.
PROPERTIES
Storage Condition
Store at +4C after thawing. Aliquot store at -20C. Avoid repeated freeze / thaw cycles.
Storage Buffer
1*PBS (pH7.4), 0.2% BSA, 50% Glycerol. Preservative: 0.05% Sodium Azide.
PURIFICATION
Peptide affinity purified.
MOLECULAR WEIGHT
Predicted band size 97 kDa.
TARGET
SYNONYMS
Dystroglycan,Dystrophin-associated glycoprotein 1,Alpha-dystroglycan,Alpha-DG,DAG1,Beta-dystroglycan,Beta-DG
TISSUE SPECIFICITY
Expressed in a variety of fetal and adult tissues. In epidermal tissue, located to the basement membrane. Also expressed in keratinocytes and fibroblasts.
POST-TRANSLATIONAL MODIFICATION
O-glycosylated. POMGNT1 catalyzes the initial addition of N-acetylglucosamine, giving rise to the GlcNAc(beta1-2)Man(alpha1-)O-Ser/Thr moiety and thus providing the necessary basis for the addition of further carbohydrate moieties. Alpha-dystroglycan is heavily O-glycosylated comprising of up to two thirds of its mass and the carbohydrate composition differs depending on tissue type. Mucin-type O-glycosylation is important for ligand binding activity. O-mannosylation of alpha-DAG1 is found in high abundance in both brain and muscle where the most abundant glycan is Sia-alpha-2-3-Gal-beta-1-4-Glc-NAc-beta-1-2-Man. In muscle, glycosylation on Thr-317, Thr-319 and Thr-379 by a phosphorylated O-mannosyl glycan with the structure 2-(N-acetylamido)-2-deoxygalactosyl-beta-1,3-2-(N-acetylamido)-2-deoxyglucosyl-beta-1,4-6-phosphomannose is mediated by like-acetylglucosaminyltransferase (LARGE1) protein and is required for laminin binding. O-mannosylation is also required for binding lymphocytic choriomeningitis virus, Old World Lassa fever virus, and clade C New World arenaviruses. The O-glycosyl hexose on Thr-367, Thr-369, Thr-372, Thr-381 and Thr-388 is probably mannose. O-glycosylated in the N-terminal region with a core 1 or possibly core 8 glycan.; The beta subunit is N-glycosylated.; Autolytic cleavage produces the alpha and beta subunits. In cutaneous cells, as well as in certain pathological conditions, shedding of beta-dystroglcan can occur releasing a peptide of about 30 kDa.; SRC-mediated phosphorylation of the PPXY motif of the beta subunit recruits SH2 domain-containing proteins, but inhibits binding to WWW domain-containing proteins, DMD and UTRN. This phosphorylation also inhibits nuclear entry.
SUBCELLULAR LOCATION
[Alpha-dystroglycan]: Secreted, extracellular space.; [Beta-dystroglycan]: Cell membrane; Single-pass type I membrane protein. Cytoplasm, cytoskeleton. Nucleus, nucleoplasm. Cell membrane, sarcolemma. Cell junction, synapse, postsynaptic cell membrane. Note=The monomeric form translocates to the nucleus via the action of importins and depends on RAN. Nuclear transport is inhibited by Tyr-892 phosphorylation. In skeletal muscle, this phosphorylated form locates to a vesicular internal membrane compartment. In muscle cells, sarcolemma localization requires the presence of ANK2, while localization to costameres requires the presence of ANK3. Localizes to neuromuscular junctions (NMJs) in the presence of ANK2 (By similarity). In peripheral nerves, localizes to the Schwann cell membrane. Colocalizes with ERM proteins in Schwann-cell microvilli.
FUNCTION
The dystroglycan complex is involved in a number of processes including laminin and basement membrane assembly, sarcolemmal stability, cell survival, peripheral nerve myelination, nodal structure, cell migration, and epithelial polarization.; Alpha-dystroglycan is an extracellular peripheral glycoprotein that acts as a receptor for both extracellular matrix proteins containing laminin-G domains. Receptor for laminin-2 (LAMA2) and agrin in peripheral nerve Schwann cells.; Beta-dystroglycan is a transmembrane protein that plays important roles in connecting the extracellular matrix to the cytoskeleton. Acts as a cell adhesion receptor in both muscle and non-muscle tissues. Receptor for both DMD and UTRN and, through these interactions, scaffolds axin to the cytoskeleton. Also functions in cell adhesion-mediated signaling and implicated in cell polarity.; (Microbial infection) Alpha-dystroglycan acts as a receptor for lassa virus and lymphocytic choriomeningitis virus glycoprotein and class C new-world arenaviruses. Alpha-dystroglycan acts as a Schwann cell receptor for Mycobacterium leprae, the causative organism of leprosy, but only in the presence of the G-domain of LAMA2.