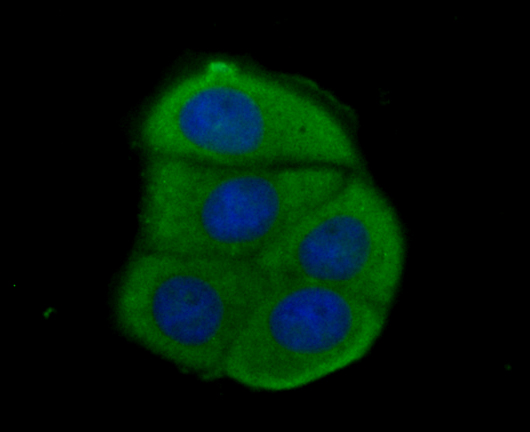 ICC staining Acetyl CoA Carboxylase 1 (ACC1) in MCF-7 cells (green). Formalin fixed cells were permeabilized with 0.1% Triton X-100 in TBS for 10 minutes at room temperature and blocked with 1% Blocker BSA for 15 minutes at room temperature. Cells were probed with the antibody (ER1803-80) at a dilution of 1:100 for 1 hour at room temperature, washed with PBS. Alexa Fluorc™ 488 Goat anti-Rabbit IgG was used as the secondary antibody at 1/100 dilution. The nuclear counter stain is DAPI (blue).
SPECIFICATIONS
Product Type
Rabbit polyclonal primary
Product Name
Acetyl CoA Carboxylase 1 (ACC1) Rabbit Polyclonal Antibody (ER1803-80)
Immunogen
Recombinant protein within human acetyl coa carboxylase 1 (acc1) aa 1150-1400.
Positive Control
MCF-7, SiHa, rat skeletal muscle tissue, human liver tissue, human kidney tissue, mouse brain tissue.
PROPERTIES
Storage Condition
Store at +4C after thawing. Aliquot store at -20C. Avoid repeated freeze / thaw cycles.
Storage Buffer
1*PBS (pH7.4), 0.2% BSA, 50% Glycerol. Preservative: 0.05% Sodium Azide.
PURIFICATION
Protein affinity purified.
TARGET
PROTEIN NAME
Acetyl CoA Carboxylase 1 (ACC1)
SYNONYMS
ACAC antibody; ACACA antibody; ACACA_HUMAN antibody; ACACB antibody; ACC alpha antibody; ACC antibody; ACC beta antibody; ACC-alpha antibody; ACC1 antibody; ACC2 antibody; ACCA antibody; ACCB antibody; Acetyl CoA carboxylase 1 antibody; Acetyl CoA carboxylase 2 antibody; Acetyl CoA carboxylase alpha antibody; Acetyl CoA carboxylase beta antibody; Acetyl Coenzyme A carboxylase alpha antibody; Acetyl Coenzyme A carboxylase beta antibody; Biotin carboxylase antibody; COA1 antibody; COA2 antibody; HACC275 antibody; OTTHUMP00000164069 antibody; OTTHUMP00000164070 antibody; OTTHUMP00000164076 antibody; OTTHUMP00000240532 antibody
TISSUE SPECIFICITY
Expressed in brain, placenta, skeletal muscle, renal, pancreatic and adipose tissues; expressed at low level in pulmonary tissue; not detected in the liver.
POST-TRANSLATIONAL MODIFICATION
Phosphorylation on Ser-1263 is required for interaction with BRCA1.; Phosphorylation at Ser-80 by AMPK inactivates enzyme activity.; The biotin cofactor is covalently attached to the central biotinyl-binding domain and is required for the catalytic activity.
FUNCTION
Acetyl-CoA carboxylase (ACC) is a complex multifunctional enzyme system which catalyzes the carboxylation of acetyl-CoA to malonyl-CoA, the rate-limiting step in fatty acid synthesis. Exercise diminishes the activity of acetyl-CoA carboxylase in human muscle. ACCα (ACC1) is the rate-limiting enzyme in the biogenesis of long-chain fatty acids, and ACCβ (ACC2) may control mitochondrial fatty acid oxidation. These two isoforms of ACC control the amount of fatty acids in the cells. The catalytic function of ACCα is regulated by phosphorylation (inactive) and dephosphorylation (active) of targeted serine residues and by allosteric transformation by citrate or palmitoyl-CoA, which serve as the enzyme's short-term regulatory mechanism. The gene encoding ACCα maps to human chromosome 17 and encodes a form of ACC, which is the major ACC in lipogenic tissues. The catalytic core of ACCβ is homologous to that of the ACCα, except for an additional peptide of about 150 amino acids at the N-terminus.